NHL Playoffs 2012: Top 10 Conn Smythe Trophy Candidates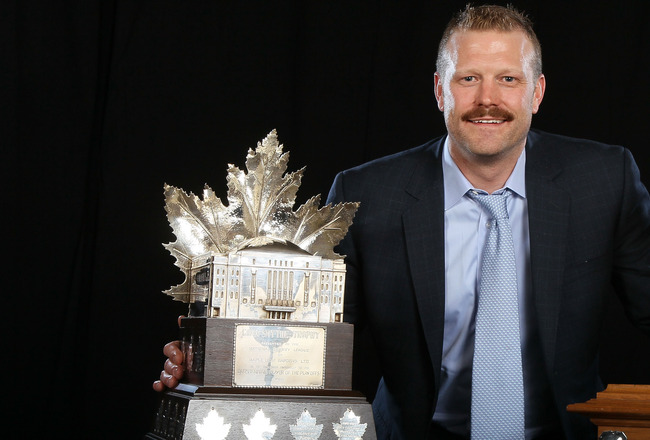 Tim Thomas won the Conn Smythe for 2011
Jeff Gross/Getty Images
Now that the conference finals have begun, speculation for the Conn Smythe Trophy has heated up. Some names are still coming up in connection to the Stanley Cup MVP, such as Mike Smith of Phoenix.
Unlike other sports, where the MVP is selected by one game or one series, the Conn Smythe winner is based on the entire postseason play.
One other thing that makes the Conn Smythe a unique award is that a member of a losing team can still win the award. It has only happened five times since the award's inception, though—most recently in 2003 when J.S. Giguere won despite a losing effort for Anaheim.
In the slides that follow, we'll look at 10 players whose hard work thus far has them in consideration for the Conn Smythe. These slides are in no particular order.
Keith Yandle: Phoenix Coyotes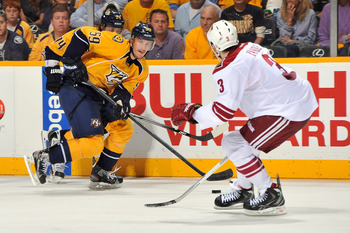 Frederick Breedon/Getty Images
The Phoenix Coyotes play this year has been a very defensive game. Their style has worked well for them, allowing them to take advantage of their opponents' mistakes.
A large part of this system working well rests on the Coyotes defensemen, and Keith Yandle tops the list.
In 12 games, Yandle has seven assists and is currently a plus-seven, while only garnering four penalty minutes.
He makes the list as one of the top remaining defensemen. Yandle has done a great job in his own zone while adding to the offense.
Dustin Brown: Los Angeles Kings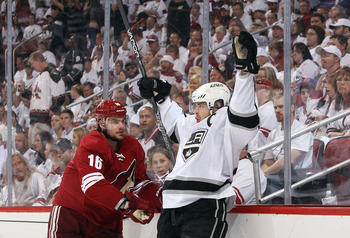 Christian Petersen/Getty Images
This postseason, the Kings have been a force to be reckoned with. Their defense has been solid and their goalie has been stellar, but their forwards are also not to be taken lightly.
Captain Dustin Brown is making a strong case for his nomination. He is the Kings' top producer and of the teams that remain, he leads in points.
He has posted seven goals and six assists in 10 games for a plus-11.
His leadership has helped the eighth-seeded Kings make history by defeating the two top-seeded Western Conference teams in the same playoffs, and are looking to make it the top three by defeating Phoenix.
Ilya Kovalchuk: New Jersey Devils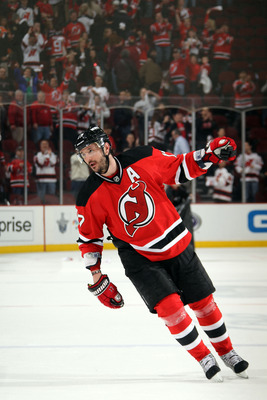 Bruce Bennett/Getty Images
Like the Kings, the Devils have played very well-rounded hockey during these playoffs and have turned themselves into serious contenders for the cup.
Ilya Kovalchuk is making his case as the MVP for the Devils, leading the team in scoring and points. He is one point behind the Kings captain, though his plus/minus is not as good.
Kovalchuk scored the final goal against the Flyers, completely ending their hopes for a comeback.
He has played through pain in these playoffs, needing a game off for a herniated disc, but he has made the difference every time he has been on the ice.
Henrik Lundqvist: New York Rangers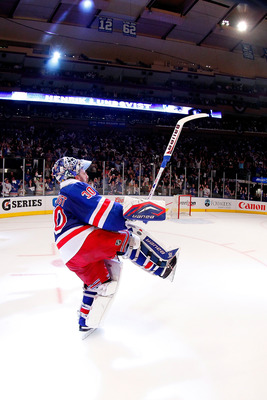 Paul Bereswill/Getty Images
The Rangers were the most dominant team in the East throughout the regular season. In these playoffs, they have been pushed to seven games in both the first and second round.
Netminder Henrik Lundqvist seems to be the major problem their opponents need to figure out. He already has the Devils trying to figure out the best way to beat him.
He has a .937 save percentage, having allowed 25 goals over 14 games.
He has been nominated for the Vezina this season, and his play so far in the postseason is showing why he got the nod.

Bryce Salvador: New Jersey Devils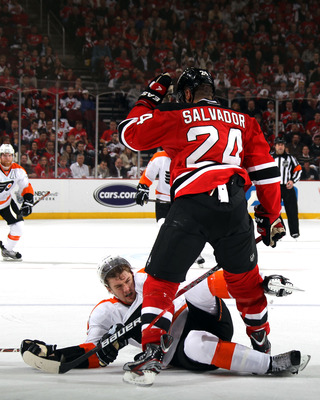 Bruce Bennett/Getty Images
As the playoffs continue, the Devils have tightened their defense. The Panthers may have pushed them to seven, but they downed the Flyers in five.
A major factor to this is Bryce Salvador. He has been one of New Jersey's better D-men and tops the defensemen in the plus/minus rating.
He may only have six points, but a plus-eight rating shows that Salvador is making key plays and has been a key factor in keeping the puck away from the New Jersey net.
While it is not common for a defenseman to win the Conn Smythe, Salvador's solid defensive play is making a strong case.
Willie Mitchell: Los Angeles Kings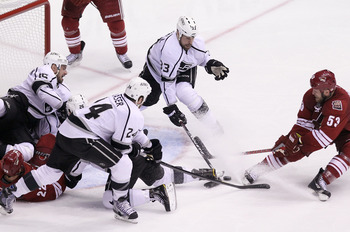 Jeff Gross/Getty Images
The Kings defense has been a large part of their series victories over the Canucks and Blues. They have allowed the lowest amount of shots on net of any of the remaining teams.
Willie Mitchell has been a large piece of the defensive puzzle in L.A. He is tied with New Jersey's Salvador for plus/minus.
His plus-eight rating is offset by his point totals; he only has two points in the playoffs so far.
A shutdown defenseman, Mitchell is making his case for the Conn Smythe by utilizing his great defensive skills in front of the net.
Martin Brodeur: New Jersey Devils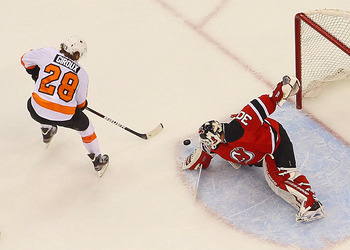 Bruce Bennett/Getty Images
When the New Jersey Devils defense does allow a shot on net, their veteran goalie has been playing like he is still in his prime.
Martin Broduer turned 40 during this year's playoffs and marked his birthday with a win. The oldest of the remaining goalies, he is having a great postseason.
He has the second-best win-loss ratio, with eight wins and four losses, including an overtime loss, though he has the lowest save percentage at .920.
The Devils know that Brodeur is quite possibly in his last season of an amazing career, and they have seemed to rally around their netminder in an attempt to win one last cup before he retires.
With him being a playoff veteran, the Devils have looked to him as a leader. As these playoffs continue, Brodeur looks to be getting better with each round, which could see him win another Stanley Cup, and the Conn Smythe Trophy.
Brad Richards: New York Rangers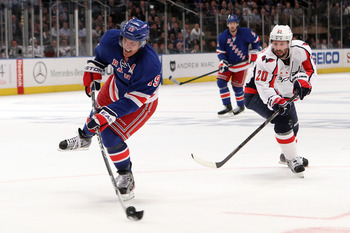 Bruce Bennett/Getty Images
Of all the past Conn Smythe winners, more have been centres than any other position and the New York Rangers' Brad Richards is making a strong case to be among them.
Richards was the most sought-after free agent last summer, and the Rangers are happy they landed him.
He leads the Rangers in points and is one point behind New Jersey's Ilya Kovalchuk.
His skill and leadership have been invaluable to the Rangers success thus far. Expect him to be a major factor in the upcoming series.
Mike Smith: Phoenix Coyotes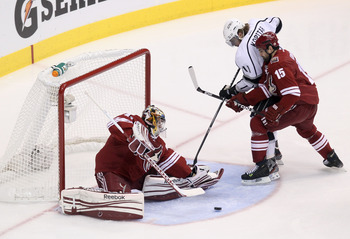 Jeff Gross/Getty Images
The Coyotes have been a strong defensive team, but they would not have gone as deep into the playoffs had it not been for the play of goaltender Mike Smith.
Smith has been the surprise name for goaltending in these playoffs. Last season, he was backup to Tampa Bay's Dwayne Roloson, before being picked up by Phoenix in the offseason.
He has had an outstanding year, capped off with a phenomenal playoff run. He has posted a . .946 save percentage, stopping all but 24 of the 447 shots he's faced.
Phoenix has emerged as a tough team, but the main reason for this is Smith. Even if the Coyotes do not make it past the red-hot Kings, their success in this postseason is largely due to him.
Jonathan Quick: Los Angeles Kings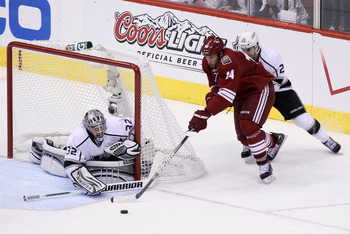 Jeff Gross/Getty Images
The Kings have emerged as a favourite to win the Stanley Cup this season with Vezina-nominated Jonathan Quick leading the charge.
His win-loss record is the best in the postseason with nine wins and only one loss. He has a playoff-leading .947 save percentage. Only the eliminated Cory Schneider had a better stat.
Quick has also allowed the fewest goals of the remaining netminders, with 16.
The L.A. goaltender has faced the least amount of shots, compared to his three remaining counterparts, but he has been absolutely spectacular when needed.
The Kings have been able to rest easy, knowing that even if their opponents make it past the defense, Quick will be there to stop the puck.
Keep Reading