Fantasy Baseball Waiver Wire: Pickups You Need to Make Before It's Too Late
May 14, 2012

Stephen Dunn/Getty Images
The 2012 MLB fantasy baseball season is well underway and with players either struggling or going down with injuries, now is as good a time as ever to look to the waiver wires to find a solid player to pick up.
With so many great players in baseball right now putting up monster numbers, there are some players still on the waiver wires who are deserving of a roster spot on a fantasy team.
Let's take a look at four players you should consider adding to your team before they get snatched up by an opposing owner.
Josh Reddick, OF, Oakland A's
The A's have been doing surprisingly well this season thanks to help from the young outfielder Josh Reddick.  So far this season he has posted numbers of a .290 average with eight homeruns, 19 RBIs and 23 runs scored.
Those numbers are plenty of reason to replace other not-so-stellar outfielders like Alex Rios or Jason Kubel, who are slowly dropping in their owned percentage.  
Reddick will continue to put up his great numbers since the A's don't have a whole lot of hitting talent in their lineup.  Without anyone else to threaten him, Reddick will become a mainstay in the heart of the A's batting order and could maintain his numbers throughout the season.
He's trending upward right now and his ownage percentage has increased to 95% in ESPN Fantasy Baseball leagues after a recent 55% increase.  This trend is not for nothing as other fantasy owners are beginning to take notice of this great hitter who may only continue to go up.
Edison Volquez, SP, San Diego Padres
Volquez has struggled since his 2008 All-Star campaign but he may be finding new life in his tenure as a San Diego Padre.  Though his first few starts were shaky, Volquez has stepped it up as of late and has only allowed four earned runs in his last four starts while striking out 21 batters in the process.
With his recent trend of good pitching, Volquez still hasn't been picked up by too many fantasy owners who may be worried about his inconsistency.  However, he is a low-risk pitcher with a lot of upside if he returns to his All-Star form.  
Currently, Volquez is only owned in 29.3% of ESPN Fantasy Baseball leagues so look to pick him up if your starting rotation needs a boost.
Aroldis Chapman, RP, Cincinnati Reds
We all knew that Chapman could throw some heat, but he is proving himself to be one of the most reliable relief pitchers in baseball.
In 17.2 innings of relief this season, Chapman has only allowed six hits with no earned runs and 31 strikeouts. He has been a lights out middle reliever and doesn't allow a lot of walks or hits which minimizes the potential of other teams scoring runs off of him.
While he is owned in about 89% of ESPN Fantasy Baseball leagues, there is still a possibility that he is available.  Since he doesn't really get saves or wins, he is a good pitcher to pick up if you are looking to bring down your staff's ERA and WHIP and increase the number of strikeouts.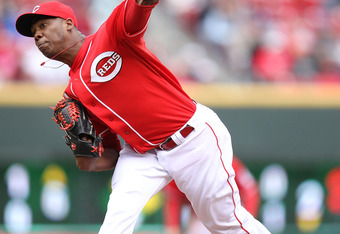 Andy Lyons/Getty Images
Raul Ibanez, OF, New York Yankees
With the injury to left fielder Brett Gardner, Ibanez has seen an increase in playing time and is proving his worth as an everyday player even at the age of 39.  
Ibanez is hitting .272 with eight homeruns and 22 RBIs and has given the Yankees a boost in the hitting department.  The downside here is that Ibanez is old and may have to take occasional days off to rest.  However, that is what the bench is for on your team and he is still very much worth a pickup for a team that needs a good bat.
If you're in serious need of power, Ibanez is a threat to go deep at any time, especially with the small porch in the right field of Yankee Stadium.  He's owned in 47.2% of ESPN Fantasy Baseball leagues, but is trending upwards and has seen an increase of 25% ownership in the past week or so.