Philadelphia 76ers vs. Boston Celtics Game 2: Live Scores, Analysis & Reaction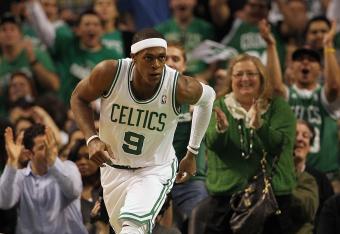 Rajon Rondo will try and lead Boston to a commanding 2-0 lead Monday night.
Jim Rogash/Getty Images
The Boston Celtics took care of business in Game 1, beating the Philadelphia 76ers 92-91 to take a 1-0 lead in this best-of-seven series. Tonight, the Sixers will look to pull off a road upset and negate Boston's home-court advantage.
It's Game 2 from TD Garden in Boston and it tips off at 7:00 p.m. ET. Keep it here for starting lineups, instant in-game updates and analysis.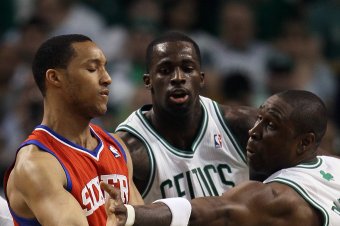 Elsa/Getty Images
Final Score Sixers 82 Celtics 81
Celtics fans will complain but the offensive foul called on Kevin Garnett was a legit call.
Celtics fans looking to heap blame somewhere can place it squarely on the entire team for basically taking the second half of the third quarter off. The 10 point lead that Philadelphia opened up was too much for Boston to come back against and then maintain their consistency.
This was the biggest win of the postseason for the Philadelphia 76ers who had not won a road playoff game in Boston since 1982.
The Celtics were paced by Ray Allen who scored 17 points, Kevin Garnett had 15 points and 12 rebounds. Brandon Bass had 12 points but had to hoist up 15 shots ( and make 5) to get there.
Paul Pierce? He took the night off scoring just 7 points on 2-9 shooting.
Boston shot 41.8 percent from the floor.
Philadelphia was led by Jrue Holiday's 18 points. Andre Iguodala had 13 points, 7 assists and 6 rebounds. It was Evan Turner who came up big in the final minutes. Turner had 10 points.
The Sixers won the battle of the boards by a 47-36 margin and 11-6 on the offensive glass.
Game 3 is Wednesday night in Philadelphia and the pressure is now on the Boston Celtics.
Sixers 78 Celtics 75: 12 seconds 4th Quarter
Evan Turner drops in two huge free throws to extend the Sixers lead to three points. Philadelphia has a foul to give and the Celtics have the ball with 12 seconds left.
Sixers 76 Celtics 75: 14.4 seconds 4th Quarter
The Celtics are on the verge of paying a high price for their third quarter malaise.
Philadelphia has the ball and the lead with only 14 seconds left.
Sixers 76 Celtics 75: 40 seconds 4th Quarter
A ugly as the third quarter was the fourth has been a great display of two teams fighting to win a crucial playoff game.
The teams have exchanged dramatic three pointers and the lead has see-sawed back-and-forth.
Evan Turner just gave the Sixers a one point lead on a beautiful drive to the basket.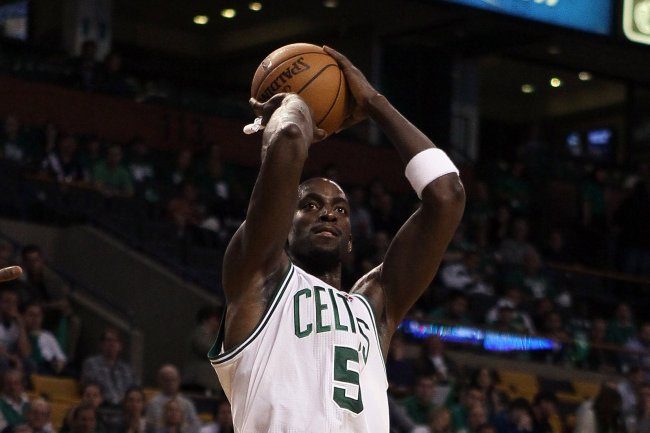 Elsa/Getty Images
Celtics 65 Sixers 65: 4:33 4th Quarter
These types of battles often are decided by the team that makes the last run of the game.
The Celtics hope that's them.
Bolstered by Kevin Garnett's two baskets the Celtics have tied the game and seem to have momentum tilting in their favor.
Philadelphia hasn't scored in over two minutes and the dry spell couldn't come at a worse time. Game 2 as ugly as it's been may end up with an exciting finish.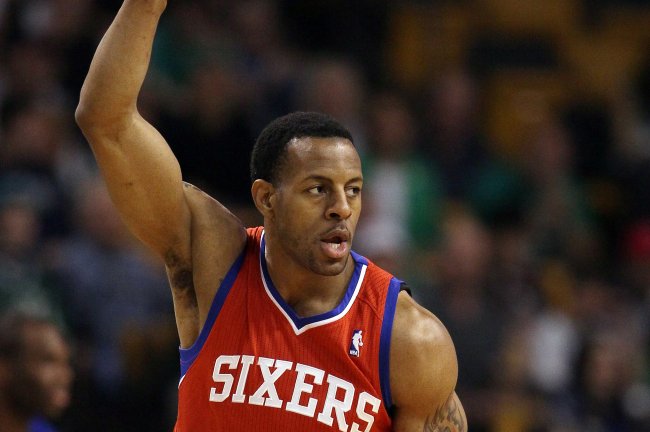 Elsa/Getty Images
Sixers 65 Celtics 61: 6:50 4th Quarter
The Sixers are often accused of lacking a player to step up when the game is on the line.
Well with the Celtics making a push and the crowd behind the them it's been Andre Iguodala who has stepped up and made some big shots.
His elbow jumper with 6:50 left has pushed the Philadelphia lead back up to four points.
Still plenty of time for Boston to come back but they're going to have to make a move soon.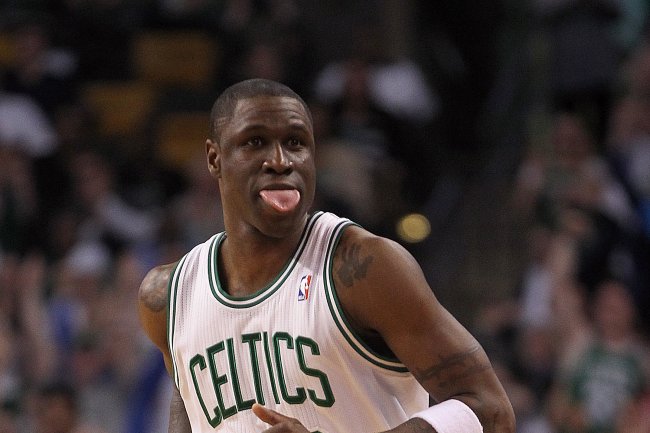 Jim Rogash/Getty Images
Sixers 61 Celtics 59: 9:15 4th Quarter
The Celtics are looking for a spark. It doesn't have to be one of the stars. It could be anyone. Avery Bradley has emerged from the locker room with his shoulder wrapped and entered the game.
Michael Pietrus nailed a three pointer off a broken play and then nailed another one. The Celtics have opened the fourth quarter on a 10-4 run.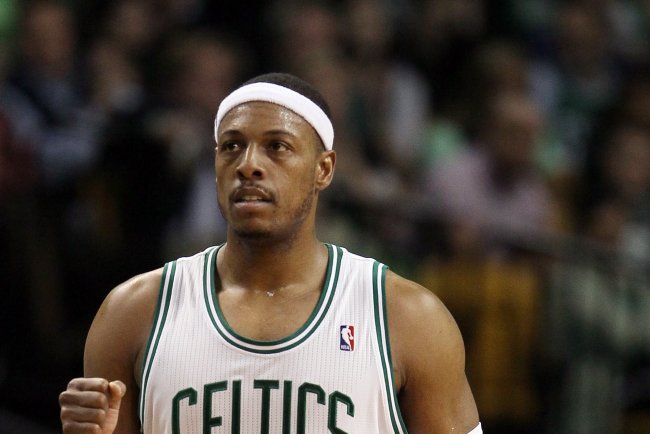 Elsa/Getty Images
Sixers 57 Celtics 49: End of 3rd Quarter
The Celtics had chances to take control of the game but failed to do so.
Philadelphia? They may be in the process of showing Boston how to assume control of a game. The Sixers closed the quarter on a 14-2 run and Boston didn't have single made field goal in the final 4:43 of the quarter.
The eight point lead is the largest of the game for Philadelphia and the Celtics are now faced with the daunting task of coming back in the fourth quarter.
Sixers 51 Celtics 47: 2:46 3rd Quarter
The Celtics seem far too content to go through the motions in this quarter.
An 8-0 run punctuated by a non-stop stream of ugly missed jump shots and missed defensive assignments forced Doc Rivers to call a timeout. The Celtics have been outscored 15-9 in the quarter and it's almost over. Nine point quarters won't win you too many games no matter how experienced your players are.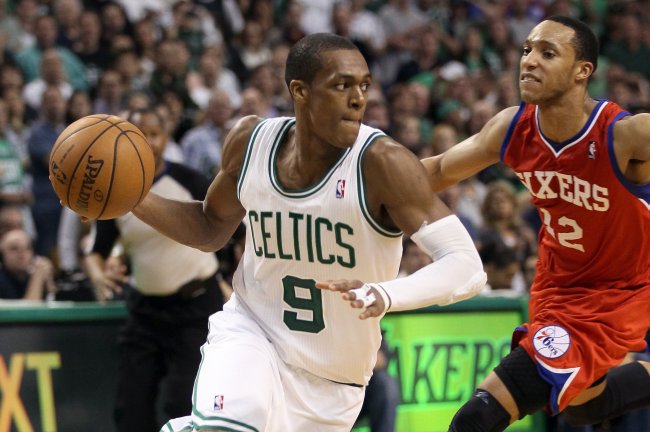 Elsa/Getty Images
Celtics 43 Sixers 40: 5:46 3rd Quarter
Over six minutes have elapsed in the third quarter and the two teams have combined to score a total of nine points.
This game is ugly and filled with poor play but one team will eventually come out on top and it will count the same as any other game.
Both teams are playing good defense but the play is also very sloppy and the shooting is uncharacteristically bad, even for these two low scoring squads.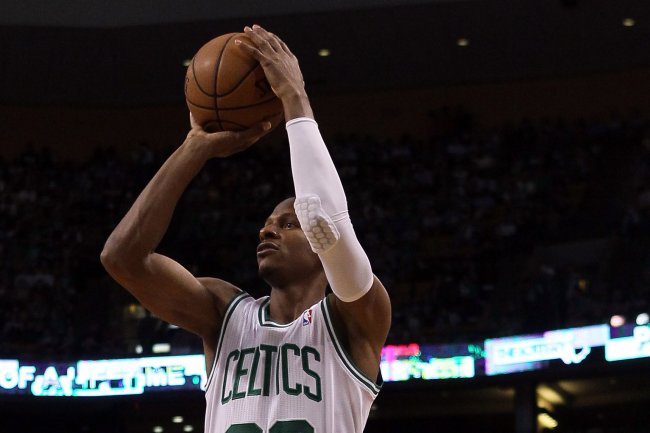 Elsa/Getty Images
Celtics 43 Sixers 38: 8:56 3rd Quarter
If you were hoping to tune in and watch some ugly basketball you've found it.
The two teams aren't shooting well but they're also being careless with the basketball and passes are being tipped.
How ugly is it? Ray Allen has missed a free throw and then missed a corner three-point attempt so badly it hit the side of the back board.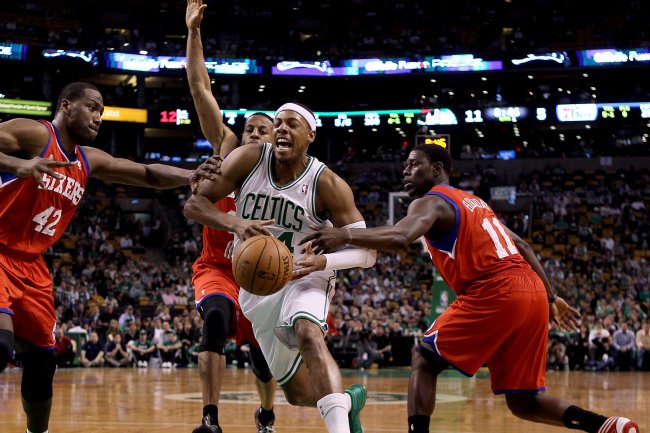 Elsa/Getty Images
At The Half: Celtics 38 Sixers 36
This is familiar territory for the Celtics. A tight game in which they play solid defense but can't buy a basket.
Boston's veterans don't seem too engaged in the action. Paul Pierce and Kevin Garnett both lacked fire in the first half.
Philadelphia will continue to gain confidence and momentum the longer this game stays within their reach. Iguodala has yet to make a major impact on this game and if Boston allows the Sixers to hang around too long the team could steal a much needed road victory.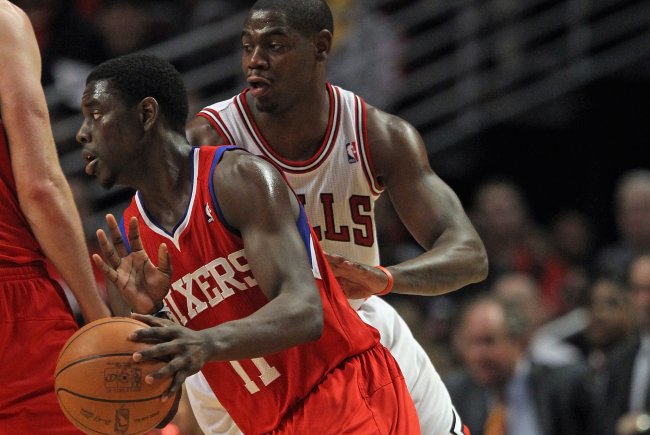 Jonathan Daniel/Getty Images
Celtics 38 Sixers 36: Halftime
It wasn't pretty but the Celtics managed to take a lead into the locker room.
Paul Pierce who had been awful for most of the first half drained a three pointer with just 3.1 seconds remaining.
That gave the Celtics the two point lead.
Boston was paced by Brandon Bass's 8 points but he was 3-12 from the field. Kevin Garnett had four points and six rebounds. Rajon Rondo had 4 points, 8 assists and 3 rebounds. The Celtics shot 38.1 percent and were were outworked on the glass by a 23-20 margin.
Philadelphia was led by Jrue Holiday who has a game high 13 points along with 3 assists and 2 steals. Holiday also shot an impressive 5-9 from the floor and 3-3 from long range. Spencer Hawes has 6 points and 6 rebounds at the half.
The Sixers shot 36.6 percent from the floor.
Ice cold.
The Celtics are shooting an anemic 15 of 40 from the floor and are 1-6 from three-point range. The Sixers aren't much better at 15-38 but they're 3-7 from long range.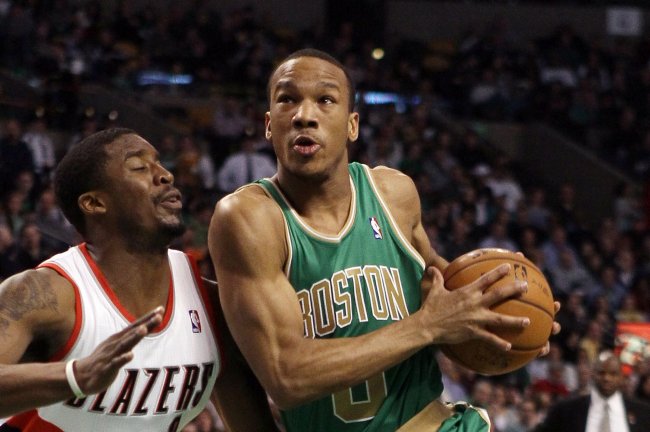 Elsa/Getty Images
Celtics 35 Sixers 33: 2:56 2nd Quarter
Avery Bradley just left the game with a shoulder issue. There was some contact on a lay-up attempt and he winced in pain when he landed.
Meanwhile both teams have really picked up the defensive intensity. There have been a number of steals, blocks and tipped passes.
Boston has gone cold but luckily the Sixers have also gone cold. Ray Allen is in the game for Bradley and he was able to knock down a mid-range jump shot.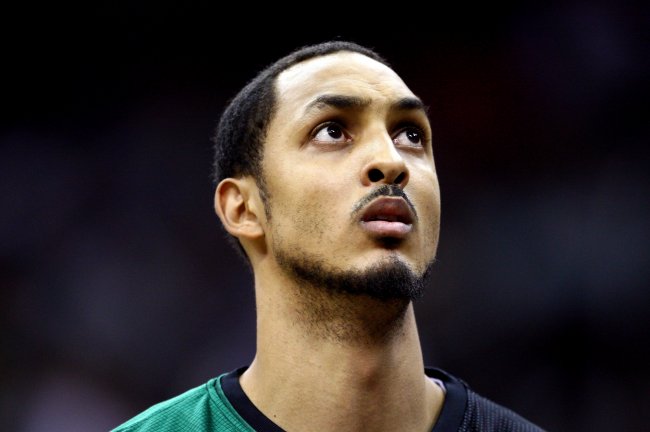 Chris Chambers/Getty Images
Celtics 33 Sixers 29: 6:08 2nd Quarter
The Celtics are in the midst of a 6-0 run punctuated by a nifty Rondo-to-Hollins alley-opp dunk.
Rondo now has has four points and seven assists.
The Celtics have tightened up the defense and forced a few turnovers.
The Sixers aren't the type of team that will shoot the ball well for an entire game. They're going to go through some cold stretches and they appear to be in one right now.
Sixers 29 Celtics 27: 7:47 2nd Quarter
The Celtics started this game 4-4 from the field. Since then they're just 8-25. Give credit to the Sixers who have been playing tough defense. Boston has missed a number of make-able shots which has helped the Sixers' comeback effort.
That 9-0 run to open the game has been totally eliminated the Sixers. They have outscored Boston 29-18 since then and this game is now being played on the Sixers terms.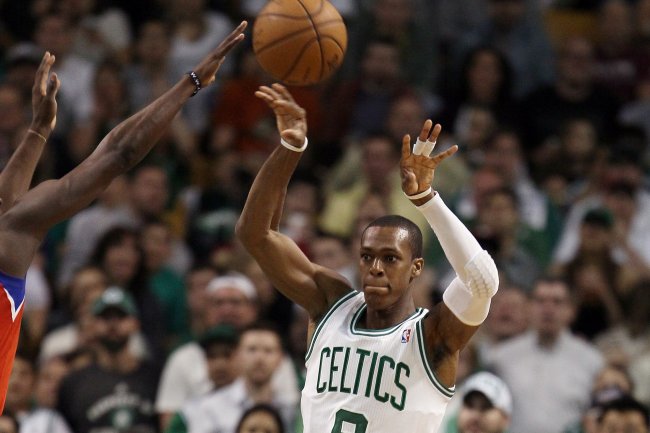 Elsa/Getty Images
Celtics 25 Sixers 21: End of 1st Quarter
Rajon Rondo seems almost too determined to pass the ball.
He's dished the ball a number of times while nearly at the rim. The teammates he's dishing to are open but they're still taking mid-range jumpers as opposed to near lay-ups. Rondo has six assists but two points and he's only attempted three shots.
Brandon Bass started this game red hot but since then he's cooled off considerably.
The first quarter featured a nice opening run by the Celtics, a solid answer by the Sixers and settled into the type of back-and-forth close knit affair many people had predicted.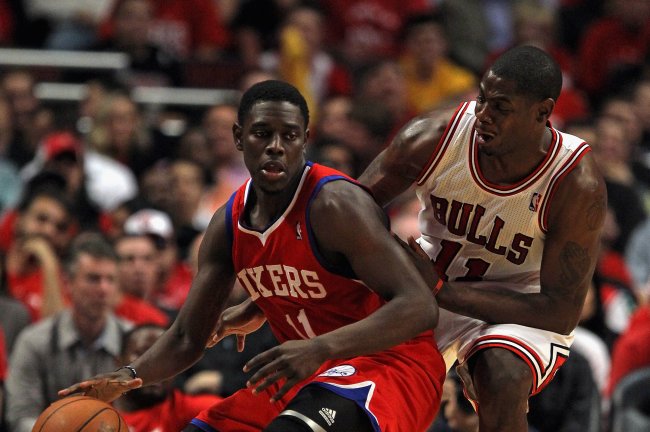 Jonathan Daniel/Getty Images
Celtics 15 Sixers 13: 4:56 1st Quarter
Philadelphia finally settled down and the 9-0 Boston lead has been answered with a 13-5 run by the Sixers.
Jrue Holiday has keyed the run with two three-point shots.
Boston has gone a little cold. Rajon Rondo has been dribble penetrating with ease but he's been dishing to open teammates on the perimeter. The shots haven't been falling. The Celtics started 4-4 from the field but are just 3-10 since then.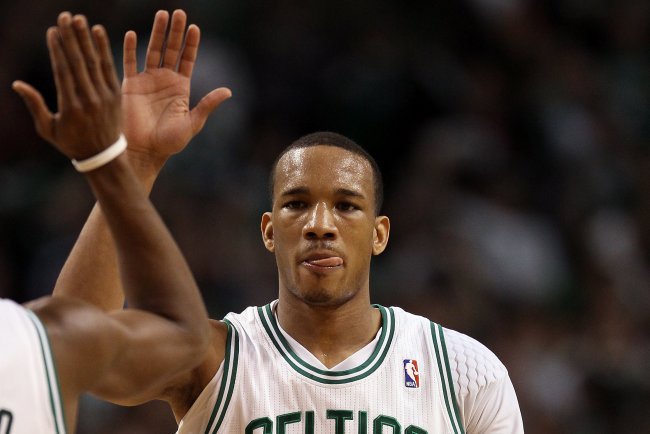 Elsa/Getty Images
Celtics 9 Sixers 0: 9:44 1st Quarter
Celtics tempo early.
The Celtics have come out hitting open shot and playing tight defense. Philadelphia's defense has allowed Boston to take open shots. The Sixers got away with that on Saturday but not tonight. Boston is 4-4 from the floor while Philly is struggling to make a basket. They're 0-5 shooting so far.
This won't keep up all night but the Sixers are not a great comeback team. Falling behind by a large margin on the road would present a very tough test for this team that lacks playoff experience.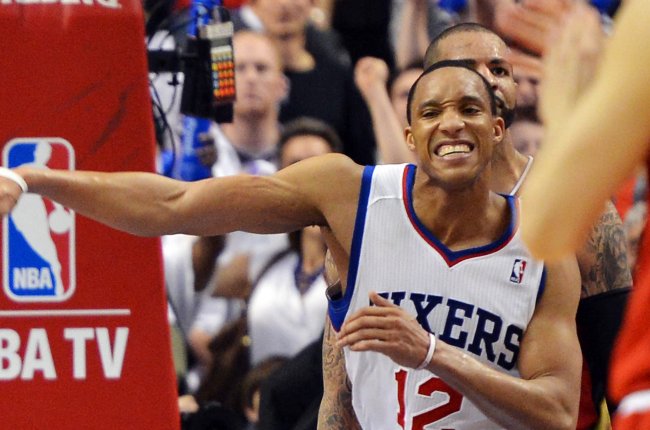 Drew Hallowell/Getty Images
Starting Lineups for Game 2: Philadelphia 76ers vs Boston Celtics
Philadelphia 76ers ( 35-31, 16-17 away)
PG Jrue Holiday
SG: Evan Turner
SF Andre Iguodala
PF Elton Brand
C Spencer Hawes
Boston Celtics ( 39-27, 24-9 home)
PG Rajon Rondo
SG Avery Bradley
SF Paul Pierce
PF Brandon Bass
C Kevin Garnett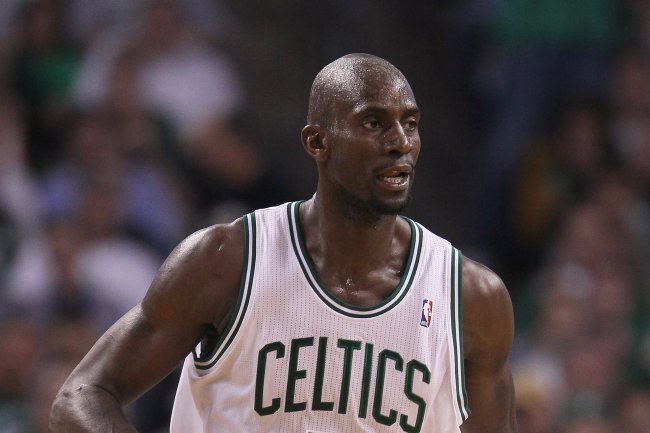 Elsa/Getty Images
The Boston Celtics scrapped and fought and in the end they came out one point ahead of the Sixers in game one of the Eastern Conference Semifinals.
Only one point, but a win nonetheless.
The Celtics got big performances from veteran Kevin Garnett and point guard Rajon Rondo. The league's weakest rebounding team during the regular season made a herculean effort on the glass and it paid off. Boston won the battle of the board 45-41 and got a triple double from Rondo who went off for 13 points, 12 rebounds and 17 assists.
With numbers like that it's probably tempting to ask why this game was so close in the first place.
Philadelphia plays defense that's why.
Scoring hasn't been easy for Boston all season, the Celtics finished 26th in scoring and the Sixers allowed the third least amount of points per game.
Philadelphia makes even the most gifted offensive teams work for their points. The Celtics aren't among the league's most gifted when it comes to scoring. Boston doesn't have too many players who can create their own shots and the outside shooting is somewhat inconsistent.
The Celtics were 2-18 from three-point range on Saturday and will need to improve on that if they hope to win with consistency.
Philadelphia's major concern in the aftermath of game one has to be the team's inability to close the game out.
The Sixers were leading in this game at numerous points. It was 28-18 after the first quarter. It was 47-42 at the half, it was 77-67 with 10:36 remaining in the fourth quarter.
Philadelphia even clung to an 84-83 lead with 2:57 remaining in the game.
They couldn't close it out though. Philadelphia wilted as Garnett, Pierce and Rondo scored Boston's final 15 points over the last seven minutes of the fourth quarter.
Tonight Philadelphia will bring their tough in-your-face defense and hope that they can hold a lead. Boston will need to keep the focus on rebounding and hitting shots.
Game 2 tips off just after 7 p.m.
Check back here for the starting lineups and then keep it here for live updates, stats and analysis.
This article is
What is the duplicate article?
Why is this article offensive?
Where is this article plagiarized from?
Why is this article poorly edited?