Fantasy Baseball Weekly Waiver-Wire Pickups by Position
May 15, 2012

Thearon W. Henderson/Getty Images
The 2012 Fantasy Baseball season is a month-and-a-half old. Since the opening series in Japan, fantasy owners have been over-analyzing statistics to determine which players they want to start for their team. While fantasy teams appear flawless on draft day, weaknesses begin to emerge as the season goes on. Injuries happen and players can slump at any time. Sometimes the best place to turn to is the waivers to fix a problem on your team.
I've compiled a list of eight players who should be available on the waiver wire. If you are dealing with injuries or just need to drop an ice-cold player, look for the following names to help your team out.
Catcher: A.J. Ellis (Los Angeles Dodgers)
Now, A.J. Ellis is not a name that is going to bring about a ton of fantasy excitement, but he's riding a bit of a hot streak recently. He's belted two home runs since the turn of the month and has eight RBI  during that stretch. He has a .314 batting average and an even more impressive .954 OPS that is second among all starting catchers. Ellis is also third among all active catchers in walks with 21. That puts him behind only Carlos Santana and Joe Mauer in that category.
Ellis is a reliable backstop that isn't going to hurt your fantasy squad anywhere and there is a good chance you can find him on your waivers.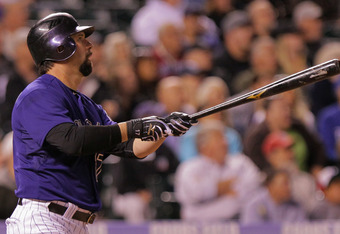 Doug Pensinger/Getty Images
First Base: Todd Helton (Colorado Rockies)
Now believe it or not, Todd Helton is still a fantasy-relevant name. I know he's been in the league for a long time, but the Rockies first baseman is still a worthy plug-in. Helton has a career .322 batting average and still calls Coors Field his home. He ranks eighth among all first basemen in RBI with 21, six weeks into the season. While he's not drawing the walks he used too, he's also not striking out a lot at the plate.
You can expect Helton's average to rise from the .250 it currently stands at, while he'll continue to be a steady source of RBI and carry the potential to hit 20 home runs.
Second Base: Mark Ellis (Los Angeles Dodgers)
Now I didn't want to pick two players that play for the same team (and they have same last name for that matter), but the second base pool is pretty thin. Jemile Weeks is currently getting over a minor injury and I'd like to see more out of Gordon Beckham before I recommend him to my readers. So in my opinion, that leaves Mark Ellis as the best pickup available.
Ellis has 25 runs so far this season, ranking him fourth among all second basemen behind Dustin Pedroia, Dan Uggla and Ian Kinsler. As long as Matt Kemp and Andre Ethier are batting behind Ellis, there is no reason to believe that number will falter at all during the season. Ellis has a respectable .272 batting average that he should be able to sustain throughout the year.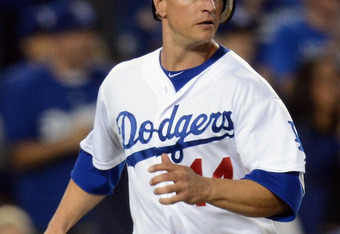 Harry How/Getty Images
Third Base: Chris Johnson (Houston Astros)
Chris Johnson has really turned it on since the beginning of May. He's hit four home runs with 20 RBI, two stolen bases and has raised his batting average to .298. Johnson is 27 years old, so theoretically he's entering his prime years.
The Astros are having no problem putting up runs to start the 2012 season, so it may be a good idea to scoop up some of their streaky young players while they're hot. Time is running out to pick up Johnson though, as his own percentage is on the rise. If you need a temporary third baseman, grab Johnson while you still can.
Shortstop: Alcides Escobar (Kansas City Royals)
If you're looking to add a shortstop, it may as well be Escobar. He's swiped seven bags so far this year, putting him on pace to surpass last year's total of 26. His average is sitting at an impressive .297 for the year, but that may be a little harder to maintain. Escobar's career average is a lot closer to .250, so you can expect his average to decline as the year goes on.
Still, Escobar is finding ways to get on base, and when Eric Hosmer and Billy Butler can both put it together, Escobar will turn into a reliable source of runs and steals.
John Gress/Getty Images
Outfield: Daniel Nava (Boston Red Sox)
Daniel Nava may take a backseat to Will Middlebrooks as Boston's most coveted prospects (it doesn't help that Nava is 29 years old), but Nava is making his name known. Ever since being called up this year, Nava is 7-for-12 at the plate with one home run, six RBI and one steal. It also helps that he is a part of one of the most potent lineups in the majors.
Nava should be able to resume routine playing time in the Sox outfield until Jacoby Ellsbury returns from his shoulder injury, which isn't expected for another month. Until then, feel free to pick up Nava from your waivers and play him with confidence.
Starting Pitcher: Jerome Williams (Los Angeles Angels)
Williams has an unimpressive ERA of 4.19 and a WHIP of 1.29, the reason being two rough starts on the road at New York and at Texas where he gave up 11 runs.
Subtract those two starts against tough teams, and Williams has a 3-0 record over 29.1 innings with only seven earned runs allowed and 22 strikeouts. Williams has his next scheduled start Wednesday against a very beatable White Sox lineup. After that, he'll pitch against Oakland. If the matchup is right, I say grab Williams as a spot starter whenever you can.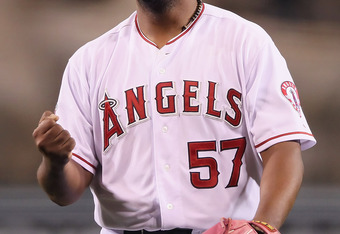 Jeff Gross/Getty Images
Relief Pitcher: Scott Downs (Los Angeles Angels)
Downs is still the Angels closer the last time I checked, but you wouldn't guess that based on his own percentage. He's available in most leagues and appears to be healthy once again. He suffered an injury on May 8th, but he recorded a one-out save just three days ago.
Downs is a solid relief pitcher with great stuff, and he's yet to let up an earned run this year. The Angels are going to start winning games sooner or later, and that will give Downs a lot of save opportunities down the road.
I appreciate any comments people want to leave, and if you enjoyed my article please follow my Fantasy Baseball Twitter account. @FantasyMLB_2012