Predicting 5 Problem Spots for the Minnesota Vikings in 2012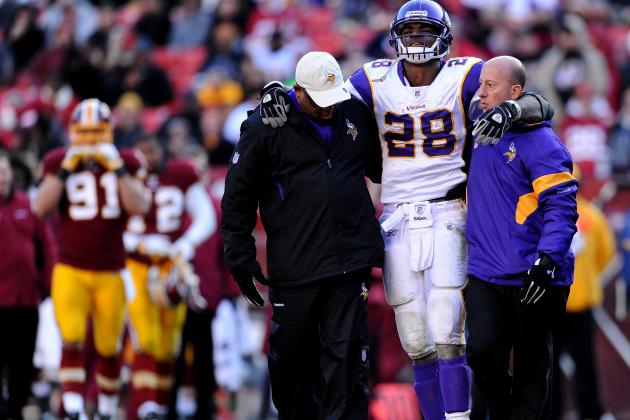 Patrick Smith/Getty Images

Minnesota Vikings fans will have to take solace in the fact that their biggest win of the 2012 season came Monday morning when Minnesota Governor Mark Dayton signed off on a bill that will let the Vikings build a $975 million dollar stadium in downtown Minneapolis that will be ready for play in 2016.
Faced with the possibility of owner Zygi Wilf growing tired of waiting around for a new stadium and looking to sell or move the team somewhere else, Minnesota politicians finally agreed to giving state dollars toward building a new stadium.
So the Vikings will stay in Minnesota. Now the question becomes, who among the current organization will be around by 2016? It's no secret the Vikings are in a rebuilding mode and they will certainly suffer through some growing pains over the next few seasons.
The stadium battle will help put the current team's troubles in perspective; if nothing else, at least Vikings fans still have a team. And while spring mini-camps and summer OTAs are full of optimism and the hope of better days ahead, most of the Vikings faithful are fully aware that a tough couple of seasons lie ahead.
What is expected however, are signs of improvement, proof that better days are indeed on the way.
With that in mind we take a look at what might be the five biggest problem spots for the Vikings heading into the 2012 season.
Begin Slideshow

»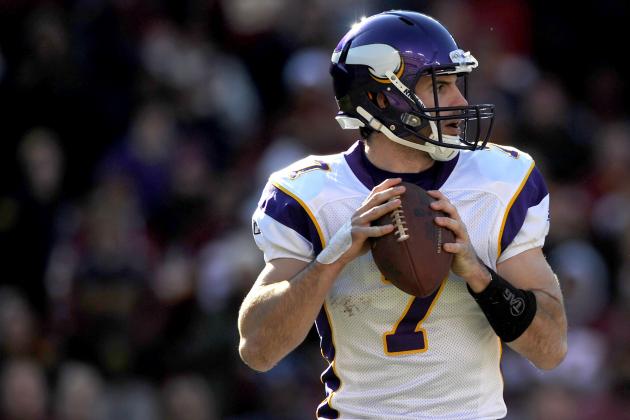 Patrick Smith/Getty Images

Christian Ponder is a second-year quarterback on a bad football team. Any evaluation of him has to have that at the front and center of its reasoning. Having said that, I'll also say that Ponder will have an up and down 2012, but the Vikings are hoping for more up than down, in fact they've banked their future on it.
Ponder is playing not only the single most important position in professional sports, but the most complicated as well. The learning curve is very steep and much of your success and failure depends on the people around you. The people around Ponder are almost all a work in progress.
While it's true that Ponder showed some promise in his rookie season, the negatives certainly outweighed the positives, but no smart football person is making any conclusions about Ponder after such a small sample size. In an NFL that still hasn't given its full seal of approval to the likes of Tony Romo, Matt Ryan or Joe Flacco, it would be hideously premature to make a final judgment on Ponder so soon.
Will he ever be a top 5 quarterback in the league? Probably not. Will he ever be good enough to lead a great team to a Super Bowl? That remains to be seen.
What the Vikings and their fan base want to see out of Ponder in 2012 is signs of improvement. While he showed plenty of positives with both his arm and his legs in 2011, he also made far too many mistakes. He was playing behind a bad offensive line and throwing to a miserable receiving corps, we know that, and Ponder gets a pass because of it.
The problem for Ponder is that figuring out the quarterback position in the NFL is a hell of a lot harder to do when the guys around you aren't very good. Another problem is that he's the quarterback, so he'll be first in line when frustrated fans are looking for scapegoats. That's just the nature of the position.
Bottom line: expect a lot of growing pains from Ponder in 2012. He's not an elite level talent and few of the players on his offense will be either. Ponder will have to eliminate some of the dumb throws he made as a rookie and show improvement at managing the environment around him.
In turn, the Vikings coaches also have to manage their expectations of Ponder. It's a near-impossible position to excel at when nobody around you is doing their part.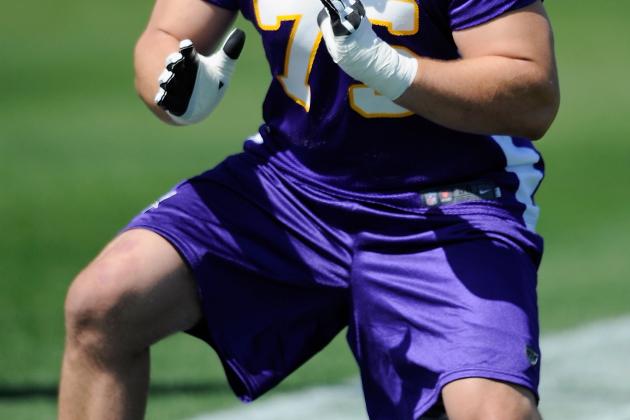 Hannah Foslien/Getty Images

The good news for the Vikings offensive line is that they can hardly be as bad as they were last season. With that being said, it will still be an inferior unit in 2012 for several reasons: youth, lack of cohesion and possibly less-than-average talent at three of the five positions.
When the best player on your offensive line has never played a snap in the NFL, it might be a problem. The Vikings are hoping that number one pick Matt Kalil can step in right away and be a dominating left tackle along the lines of Joe Thomas and Jake Long.
The reality for Kalil is that he has the potential to be as good as those two are, but he's not quite as groomed as they were as rookies. Kalil will have to become physically stronger over the summer and while he's ready to be a elite pass protector right now, he needs some work to become elite as a run blocker.
Whatever the time table for Kalil to become an All-Pro, he and center John Sullivan are the least of the Vikings' problems up front. It's at the other three spots, left and right guard and right tackle that will be the problem areas.
Charles Johnson was simply overmatched at left tackle and it was assumed about midway through last season that he would make the switch to guard in 2012. Being an overmatched tackle isn't the best way to become a guard, but Johnson is a hard worker and has good technique and will be a good veteran presence on the left side to help groom Kalil.
The right guard spot is up for grabs among second year man Brandon Fusco and free agent signee Geoff Schwartz. Without seeing much of either of them, it's still pretty easy to say either one will be an upgrade over Anthony Herrera, whose body was just too broken down to be effective at all last season.
The Vikings are hoping for a big bounce-back season from right tackle Phil Loadholt, who looked out of shape and uninterested for most of 2011. Loadholt needs to have a great summer of training and regain some of the fire he showed his first two years in the league. Loadholt has always had the size and athletic ability to be a stud, he just hasn't had the mentality. He needs a big year or his time as a starter in the NFL could be waning.
Bottom line: The offensive line should be an improvement over the 2011 version, but it will still be a work-in-progress. GM Rick Spielman has added plenty of blocking backs to help in pass protection, which will be needed. If Kalil steps in the way he's expected to and Loadholt can regain some of his previous form, the offensive line should be greatly improved.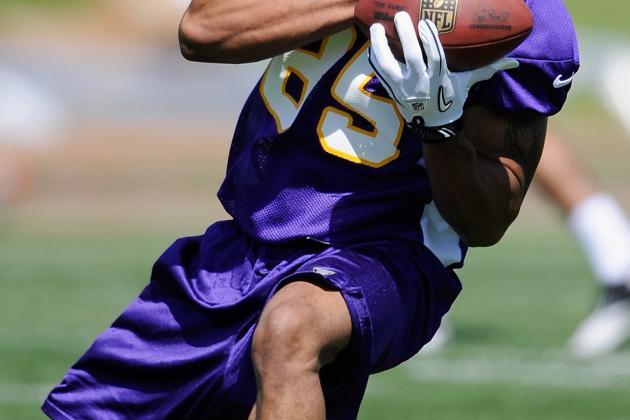 Hannah Foslien/Getty Images

For a team that needed to upgrade the wide receiver position as badly as the Vikings did, we'll take a wait-and-see approach to the 2012 cast, though we're certainly more optimistic about this group than the one they had heading into 2011.
The Vikings have added three players to the mix at wideout and there are high hopes that all three can eventually be big contributors. Michael Jenkins and Devin Aromashodu were both underwhelming in their first seasons with the team and they will both be pushed to keep their jobs.
The newcomers are headed by Jerome Simpson, "the guy who did the flip for the Bengals." Simpson could be free agent gold as the Vikings signed him at a discounted rate as Simpson was facing jail time on a marijuana charge. Simpson is suspended for the first three games of the season, but after that he should be an exciting addition for Minnesota. Big and fast, Simpson showed signs of breakout stardom for the Bengals in 2011 and the Vikings will need him to continue a career uptick that might make him an ideal outside threat to compliment Percy Harvin in the slot.
Also coming on board for George Stewart's receiving group are a pair of rookies out of Arkansas, Jarius Wright and Greg Childs. Though Wright seems like the same type of player as Percy Harvin, it's never a bad idea to add playmakers to your offense and Wright certainly has the potential to add some spice to the Vikings' offense.
Minnesota is hoping they got a steal in Childs, whose stock dropped probably a full round after playing with a knee injury in 2011. Childs is fully healthy again and at an athletic 6'3", 220lbs, he could be the type of player that in a few years people are amazed that he went as low as the fourth round.
Bottom line: Will certainly be better than what the Vikings had in 2011. All players can ask for in the NFL is an opportunity, and that will certainly be available to the three newcomers. A receiver can really only be as good as his quarterback, so the progression of Christian Ponder is essential for this group to thrive. Hopefully someone will step up or the Vikings might be looking at the top receivers in the 2013 draft.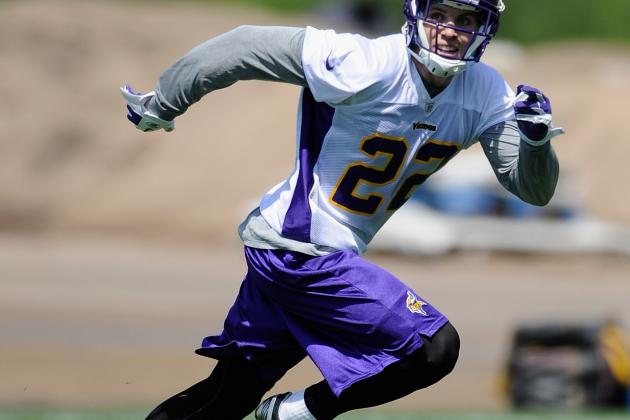 Hannah Foslien/Getty Images

The Vikings' secondary will be much better in 2012, but that's certainly not saying a whole lot. The Vikings' front office heard all season long from the media and their fan base how bad their defensive backs were and they obviously knew they had to do something about it.
A team that plays against Aaron Rodgers, Jay Cutler and Matthew Stafford six times a season needs a quarterback in the secondary; a take-charge guy who can almost act as another coach on the field. The Vikings think they've found that guy in Harrison Smith, a four-year starter at Notre Dame who Minnesota felt highly enough that they traded up and back into the first round to grab him.
Smith might not bring the other-wordly athleticism of Janoris Jenkins, but the Vikings are hoping that what he does bring is a lot more valuable than that. Smith is student of the game, a leader, and plays with a passion that the Vikings' secondary just hasn't had for the last couple of seasons. At 6'2", 215lbs, Smith is a hitter and run-stuffer who is more than adequate against the pass. The two-time captain at Notre Dame has a great feel for the game and maxes out in all the intangibles.
Smith will join veteran Antoine Winfield as the leaders of a completely re-fitted secondary. Chris Cook will return at corner after a lost season and the Vikings spent a third-round pick on corner Josh Robinson, an electric athlete who will contribute immediately in the return game and hopefully can challenge for a starting corner spot at some point in the season.
Bottom line: With Smith, Robinson and fellow rookie Robert Blanton all possibilities to be in the playing rotation, the Vikings will be young on the back line. There will be growing pains to be sure, and the group will certainly be exploited by the gunslingers in their division. 2012 will be a year of learning and growth for the Vikings' defensive backs. It might not be pretty at times, but with this infusion of talent, better days are certainly ahead.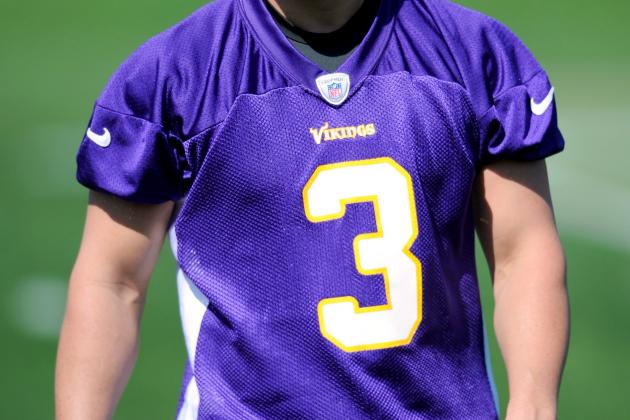 Hannah Foslien/Getty Images

If the Minnesota Vikings win seven games in 2012, head coach Leslie Frazier will have done a great job.
That's not a sentence fans of this football team have had to accept in a couple of decades, but after a disastrous 2011, it's a simple truth. After six or seven great players on last year's club, the rest of the roster was just plain bad.
So bad that it wasn't a one-year fix. Where Frazier will have to do his coaching will be as much between the ears as it will on the field. This is not going to be a great team in 2012. There are going to be some bad losses and a lot of growing pains. What Frazier and his staff will have to do is convince the players that better days are ahead.
One of the worst characteristics of the 2011 version of the Vikings was their demeanor. Jared Allen aside, it was a team that looked like it knew it was going to lose and almost curled up to take their lickings. The wins may not come in 2012, but an improved attitude can.
The reason I'm listing intangibles as a problem spot for the Vikings is that I didn't see enough attitude out of Frazier last season. He certainly doesn't need to be a Jon Gruden or Bill Cowher on the sidelines, but he can't carry the deer-in-the-headlights look he had for most of 2011.
Bottom line: The Vikings will have a second-year quarterback, their best offensive lineman will be a rookie, their best running back is coming off of major reconstructive knee surgery, they have one proven receiver and an untested secondary. Throw in a rookie kicker and a division with three Super Bowl contenders and it doesn't add up to much.
All the summer preview magazines will have Minnesota as one of the worst teams in the league. But the rebuild has begun. Better days are ahead.