Devils vs. Rangers: 5 Questions for the Eastern Conference Finals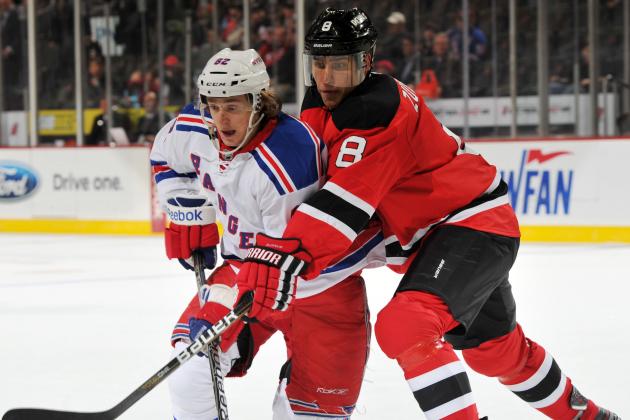 Christopher Pasatieri/Getty Images

The New Jersey Devils and the New York Rangers kick off their Eastern Conference finals series tonight at 8 PM ET.
Many anticipate the cross-town rivals to provide hockey fans with the most exciting series of the playoffs thus far.
The Devils have had five full days to rest and prepare for the Rangers, while New York is just one day removed from their Game 7 triumph over the Washington Capitals.
Here are five questions for both teams heading into tonight's Game 1 matchup and beyond in what is destined to be an extraordinary series.
Begin Slideshow

»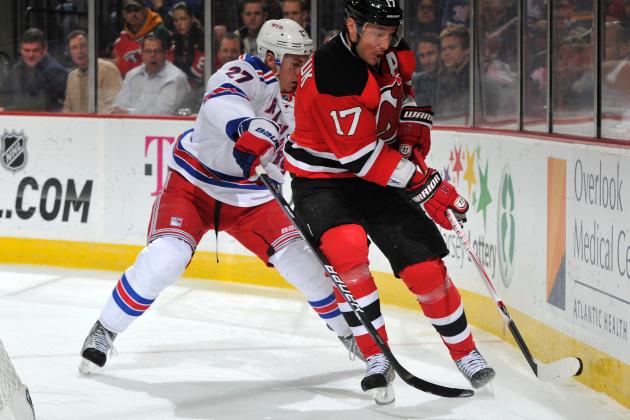 Christopher Pasatieri/Getty Images

Coming into tonight's game, both teams sit at opposites ends of this question.
The Rangers are fresh off a battle of a seven-game series with the Washington Capitals, in which every game but one was decided by a single goal.
Will this type of playoff grind effect New York's play early on in Game 1? Or will they still be riding high on the momentum gained from an emotional Game 7 victory?
Then there's the Devils, who are almost a week removed from their five-game dismantling of the Philadelphia Flyers.
The long rest period can either work for or against New Jersey.
Time to strategize against future opponents is very valuable in the postseason, however a rusty start could cost the Devils a victory in Game 1.
Also, will another long series spell danger for New York? Can they win yet another seven-game war?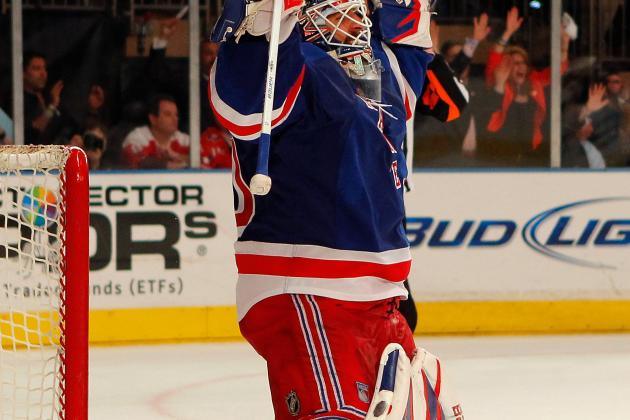 Paul Bereswill/Getty Images

Many fans and experts alike have argued that the Devils have not faced a goalie this playoff season with skill that even comes close to that of New York's Henrik Lundqvist.
However, it is also fair to argue that Lundqvist has not faced an offensive attack that equals that of New Jersey.
To put it simply, the Devils shoot a ton. They have averaged 32.33 shots per game this postseason. New Jersey is also 7-1 in these playoffs when firing 30 or more shots at the net.
Even when faced with a hot netminder, New Jersey has found a way to win more times than not. The Devils have a 3-2 record in games where the opposing goalie had a .92 save percentage or better.
Also, Lundqvist is a less-than-impressive 3-3 this postseason when facing 30 or more shots.
These stats coupled with the fact that the Devils' offensive stars are executing a very effective forecheck at the moment could spell trouble for New York.
It is possible that this series may turn out to be a more challenging test for Lundqvist than it will be for New Jersey's offensive core.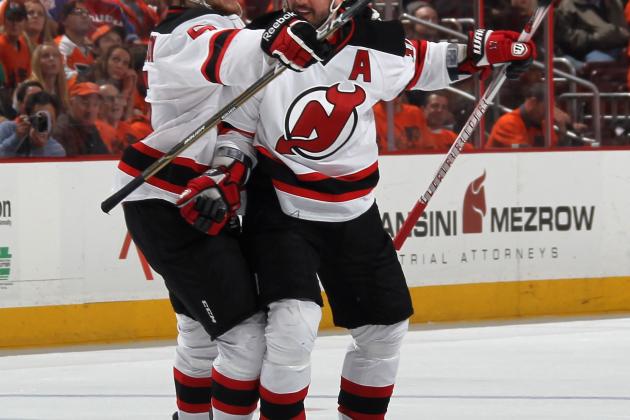 Bruce Bennett/Getty Images

During the regular season, the Devils' penalty-killing unit boasted a record-breaking efficiency rating of 89.6 percent.
New Jersey's penalty-killing prowess took somewhat of a dive in Round 1, but managed to regain itself in a big way in Round 2, killing off 16 of 19 chances against the Philadelphia Flyers' high-powered power-play unit.
The Rangers have converted on only 15.8 percent of their man advantage chances this postseason, while New Jersey has scored on 20.9 percent of their opportunities.
Currently, the Devils seem to hold a very slight advantage in this category. However, the impact of special teams in this series will only matter depending on the answer to our next question.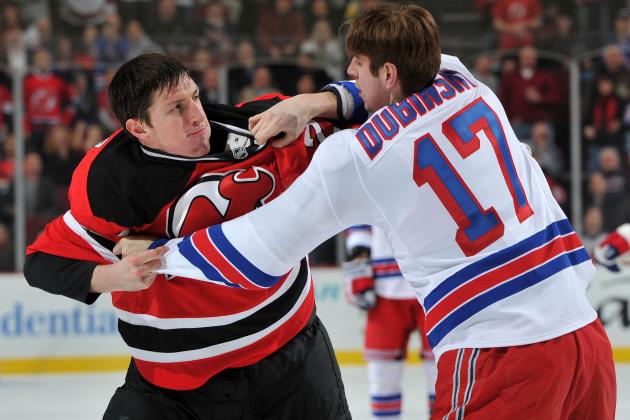 Christopher Pasatieri/Getty Images

With these two teams, the answer to this question is usually a resounding and obvious yes.
I mean, these are the two exact squads that dropped the gloves directly after the opening faceoff on March 19th of this year.
However, recently in these playoffs, both teams have not been throwing fists with much regularity.
After a first-round series with the Ottawa Senators that was boiling with animosity, the Rangers' second-round meeting with the Capitals was somewhat subdued.
Also, New Jersey decided to eliminate the Philadelphia Flyers with their scoring touch rather than the rough stuff in their second-round matchup, a strategy that paid off very well for the Devils.
Ultimately, it is still a Devils vs. Rangers playoff series—those words alone spell confrontation.
If I had to make a prediction, I would say that the series may start off calm in Game 1. However, the hate and hostility these teams have for each other will eventually give way to some fisticuffs.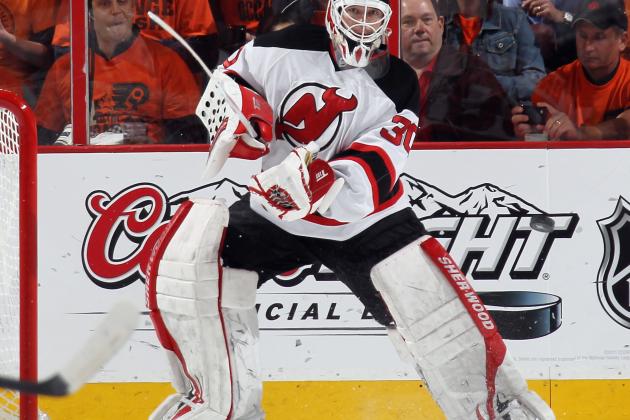 Bruce Bennett/Getty Images

Martin Brodeur has found a way to turn back the clock this postseason.
After turning 40 just over one week ago, Brodeur is playing like its 2003 once again.
His teammates trust him immensely and his propensity to come up with timely saves has been evident in these playoffs.
However, in order for the Devils to move on, Brodeur must at least match the play of Henrik Lundqvist, considered by many to be the NHL's best goaltender.
Lundqvist has a dominating record of 23-6-5 against Brodeur in head-to-head matchups.
So is it possible for Brodeur to lead his team to victory in this series?
Yes, it is.
It will really come down to the Devils defense aiding Brodeur when the offensive pressure gets out of hand in New Jersey's end.
The Devils must continue to do everything they can to lessen Brodeur's work load against the Rangers, just as they have against their past opponents in these playoffs.
Brodeur still has the ability to give his team a chance to win every game. However, this chance increases greatly when he only has to face 25 to 30 shots each contest.
If New Jersey can do this and also outshoot the Rangers by five to 10 shots per game, Brodeur will likely be on his way to the fifth Stanley Cup Final of his career.