Five Potential Stumbling Blocks for Christian Ponder and Vikings in 2012
May 14, 2012

Adam Bettcher/Getty Images
One thing the Vikings definitely did in the 2012 NFL draft is get second-year quarterback Christian Ponder some help.
In fact, if there is a tag to be applied to Rick Spielman's first full offseason as Vikings general manager, it's "get them weapons."
Along with rookies Greg Childs and Jarius Wright, the team added Jerome Simpson (though he'll be suspended the first three games of the season) and tight end John Carlson.
Cap this off with what appears to be a very close to healthy Adrian Peterson and the addition of rookie left tackle Matt Kalil to the offensive line—things look decidedly rosy for Ponder and the offense.
However, as they said in the blockbuster classic film Young Guns, "There's many a slip, twixt the cup and the lip."
In other words, there are plenty of things that can go wrong for them.
Here are five potential stumbling blocks for Christian Ponder and the Vikings.
Offensive Line
We've spoken in the past about how well the line actually played last year, though it was far more effective blocking for the run than protecting the quarterback. Adding Matt Kalil should help in several ways, first and foremost of them being protecting Ponder's blind side.
It also allows Charlie Johnson to (most likely) kick to left guard and with those two and John Sullivan, that should lock the left side down.
Two hurdles to greatness here. First, the right side is still problematic. Phil Loadholt is pretty consistent, but to me, Geoff Schwartz is a question mark with some inconsistency. So the left side might be fine, but the right still needs help.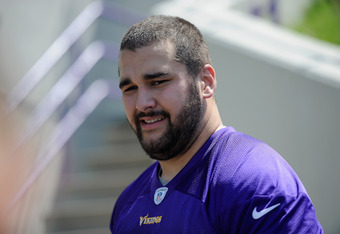 Hannah Foslien/Getty Images
I say the left "might" be fine because most of the strength banks on the ability of Matt Kalil. I love Kalil and believe he is going to be a cornerstone franchise tackle. That said, until he steps out on the field Week 1, it's all just a nice theory.
As is the move of Johnson to guard. He should do better there than at tackle, but until he's done it we just don't know.
If Johnson struggles, Kalil won't be in a position to bail him out and while I think Sullivan is a solid center, he's not good enough to cover for his position and Johnson's as well.
There's a lot riding on this line and yet still many questions.
If they want Ponder better, this line has to play better than it did last year on pass plays.
Otherwise their second-year quarterback is in for a long season.
Wide Receivers
Speaking of question marks, we aren't sure will pan out. Childs and Wright are very talented players, but as with all rookie wide receivers, there is only so much you can ask for them. For every Randy Moss or A.J. Green who comes hard out of the gate, there are far more players who struggle with the transition from the collegiate game to the pro level.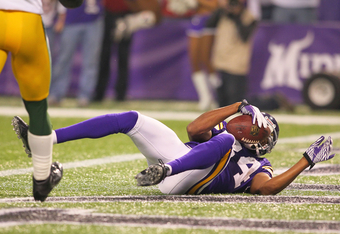 Adam Bettcher/Getty Images
Behind them are some very iffy players. Michael Jenkins is hurt far too often and not all that inspiring when he isn't banged up. Jerome Simpson was finally rounding into form for the Bengals and could carry that momentum over for the Vikings, but he's suspended for the first three games of the season.
Devin Aromashodu is all potential and no pop and the rest of the roster as it stands—Emmanuel Arceneaux, Stephen Burton, Bryan Walters, Kris Adams, Kerry Taylor—are a mix of special teams players and bench warmers.
There's potential here—potential for a very effective passing offense and potential for disaster.
The team got some weapons for Ponder, but did they get the right ones and are they enough?
The one stable, firm player here is Percy Harvin, who finally played a full season in 2011. Even he needs help though, and if the other receivers cannot pull coverage off him, Ponder's development—as well as that of the whole offense—will suffer.

Adrian Peterson
I can't stress enough how vital it is that Peterson be 100 percent as early in the season as possible. You don't want him back before he is ready—re-aggravating his ACL/MCL injuries would send too many fans (and probably Zygi Wilf) diving off the top of the Metrodome.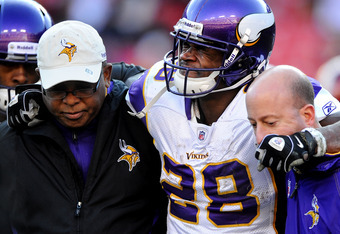 Patrick Smith/Getty Images
However, Ponder will need him to keep the opposing defenses honest. Peterson is a fantastic back, not that anyone with eyes needs me to tell them that. We're not sure if he'll be the Peterson of old, given the seriousness of injury. As I've said before though, 75 percent of Peterson is better than 90 percent of the backs in the league.
Peterson is the X-factor in this offense that has to be accounted for every Sunday without fail.
Unless he's hurt again.
I don't expect it to happen, but couldn't it? If Peterson goes down, as solid as Toby Gerhart is, defenses will not respect the run the way they have to when he's in.
They'll hang back and focus on Ponder and his band of shaky wide receivers.
That could spell real trouble for the Vikings offense this year.
Note: It's always a risk Peterson comes back and is really not close to the back he once was. He might lack the overall speed and burst which has allowed him to dominate for his career, despite sometimes mediocre offenses around him.
If Peterson is a shadow of his former self, it could be as damaging as not being there at all.
Defensive Collapse
The defense ranked 11th in the league against the rush, but just 26th in the league against the pass and 21st overall.
It could be worse; it could—and should—be much better. The team acquired some help for the secondary in the 2012 NFL draft but it always takes time for players to acclimate, so it's hard to say if the impact will be instantaneous.
The team needs to lock down the defense and do it now. They have to work to keep games closer because, frankly, Ponder and his offense are not built for shootouts yet.
One thing you'd like to avoid happening to your second-year quarterback as he develops is to have to throw a zillion times a game and repeatedly come back from large deficits.
For the most part, the Vikings did all right keeping things in control, though a few games near the end of the year were runaway freight trains.
The defense needs to keep stepping up the overall level of play and the secondary has to find a way to play better in 2012.
Ponder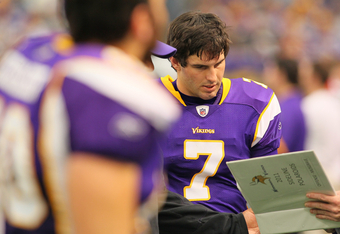 Adam Bettcher/Getty Images
The truth is that more than anything else, Ponder needs to do a better job regardless of the rest of the team. He played well, despite being banged up and not quite ready to take the role of starter on.
However, he needs to make better decisions, check down more effectively and trust both his line and his receivers more.
Undoubtedly trusting his receivers might be hard to do, as most of them are inconsistent or unproven.
Still, he has to find a way.
Ultimately, a player's biggest stumbling block is the one he sees in the mirror each day.
DON'T FORGET TO CHECK OUT THE NEW B/R NFC NORTH FACEBOOK PAGE - GO AHEAD AND LIKE US TO KEEP UP TO DATE ON ALL THE ACTION IN THE NFC NORTH!