4 Areas Where Mark Sanchez Must Improve for Jets to Have a Chance 2012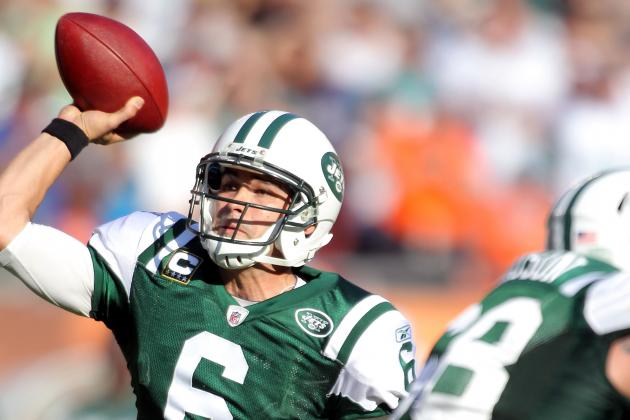 Marc Serota/Getty Images

Mark Sanchez has all the tools to be an elite quarterback in the NFL. But the 25-year-old has yet to establish himself as one of the league's top signal-callers after three indifferent seasons.
Sanchez was able to lead the New York Jets to the AFC Championship Game in each of his fist two seasons but after an 8-8 regular season in 2011 questions surrounded his job security for 2012. The Jets contemplated a pursuit of free agent quarterback Peyton Manning, but instead decided to lock Sanchez up with a three-year extension that will keep him in New York through 2016.
Now, with Tim Tebow added to the roster, the pressure is on Sanchez to perform in 2012. There are four specific areas in which he needs to improve immediately if he wants to raise the Jets back up to contender status this season.
The following is a breakdown of exactly what the USC product must improve upon in 2012.
Begin Slideshow

»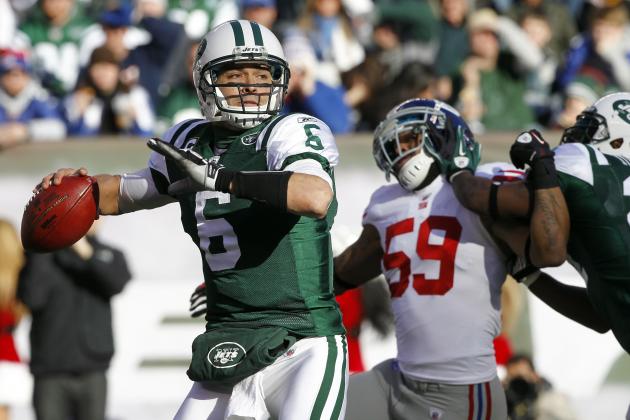 Rich Schultz/Getty Images

Sanchez's accuracy has improved every year he has been in the league, but that is not saying much. As a rookie in 2009 he completed 53.8 percent of his passes and improved that number to 54.8 percent in 2010. Last season he finished by completing 56.7 percent of his passes.
His completion percentage ranked 28th out of the 34 quarterbacks who qualified in 2011. That simply has to improve.
Sanchez often misses open targets because he tends to try and force the ball into tight spaces, as opposed to anticipating where his receivers will be and throwing the ball to a spot.
Part of Sanchez's problem is the Jets receiving corps. I do not see Santonio Holmes as a legitimate No. 1 receiver, and a group of Chaz Schilens, Jeremy Kerley, Patrick Turner and raw rookie Stephen Hill is not going to scare defenses.
Sanchez needs to work his tail off this offseason and get on the same page with his receivers. That is the only way he can hope for his accuracy to improve.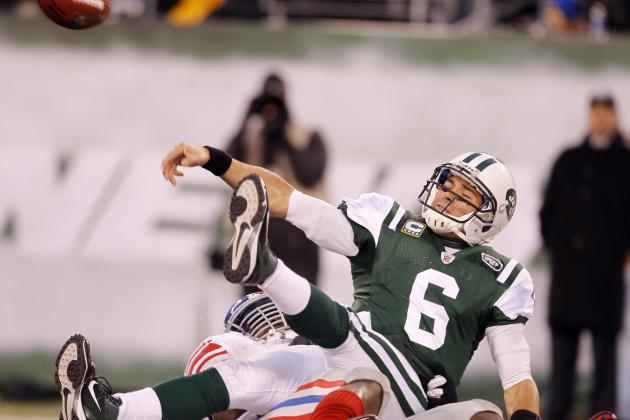 Rich Schultz/Getty Images

Sanchez was sacked a whopping 39 times in 2011, which was the fifth-most of any quarterback league-wide. Part of the reason is his awareness and overall pocket presence.
The 25-year-old often either bails out of the pocket too quickly, forcing him to make throws on the run, or doesn't feel the rush properly and ends up on his back. But what happens far too much is Sanchez assuming the rush is closing in on him and he pulls what I call the "turtle move" where he tucks the ball and prepares for a hit rather than trying to find a way out.
I'm not sure if this is something that just comes naturally or if it can be taught, but Sanchez really must improve in this area.
Part of the equation would be the Jets getting better along the offensive line, but until that happens Sanchez needs to get better at recognizing the rush and learning when to stand tall, and when to bail out.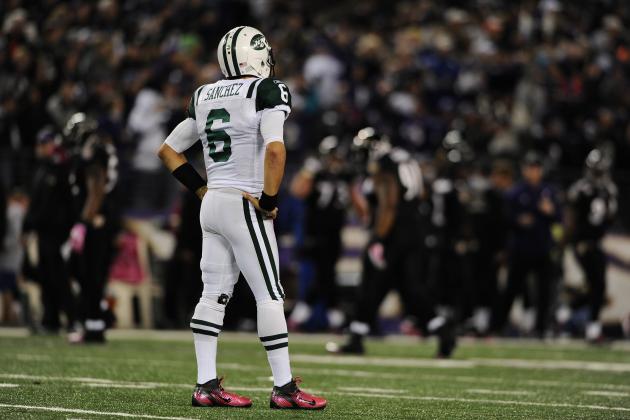 Patrick Smith/Getty Images

In his first three NFL seasons Sanchez has combined to throw 51 interceptions. That's just far too many.
In 2011 he had 26 touchdown passes, far surpassing his previous career-high of 17, but he threw 18 interceptions as well.
The reason for Sanchez's high interception totals is his questionable decision-making. Whether it is throwing the ball across his body, or relying too heavily on his arm strength to fit balls into tight spaces, he just simply does not take care of or make smart decisions with the football.
Sanchez has some outstanding natural gifts, but those are not enough to get by in the NFL. He has to get better and learning when to force the ball and when to simply just throw it away. If Sanchez can rein in the turnovers the Jets will be a whole lot better offensively in 2012.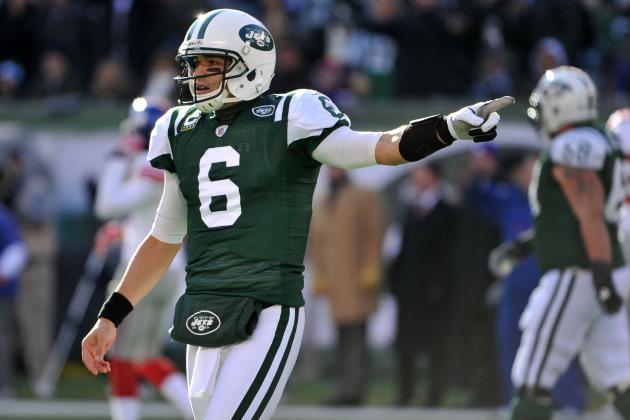 Christopher Pasatieri/Getty Images

Let's face it, the Jets were not exactly thrilled with their quarterback last season. It was revealed that there was a serious rift between Santonio Holmes and Sanchez during the season—to be fair, Holmes was fighting with everyone—and other players came forward to voice their displeasure with their quarterback later in the offseason.
Now that Tim Tebow is on the roster Sanchez needs to grab hold of the team's offense and step up as a leader. He clearly has not done that to this point in his career and maybe it's not in his nature to do so.
Sanchez is a nice guy who is well-spoken and always seems to say the right thing. But he does not always come across as the aggressive type of guy who can control a huddle full of guys older and more experienced than him.
That needs to change immediately. Sanchez needs to let his teammates know that this is his offense and they are his players. He needs to be sure to embrace Tebow and not make the situation awkward, while at the same time firmly establishing himself as the team's No. 1 quarterback.
He must be the first person to show up to the team facility and the last to leave. And he has to lead not only by example but also with his words on the sidelines and in the huddle. He cannot be worried about being a nice guy.
If Sanchez can finally grow into that person and dedicate himself to his craft, leading by example as well as vocally, his teammates will immediately respect him. If the Jets have a clear leader on offense they will be improved instantly.