Washington Redskins Are Giving Robert Griffin III Everything He Needs to Win Now
May 14, 2012

Patrick McDermott/Getty Images
As sceptical as this author was about the high trade price paid for Robert Griffin III, the Washington Redskins are certainly matching their ambitions for their new star asset, to the fee they paid. After 11 wins in two seasons, Mike Shanahan and Bruce Allen need Griffin to win now, regardless of how those two seasons are excused as a necessary sacrifice to the cause of rebuilding. 
The duo have certainly assembled everything Griffin will need to win from day one as an NFL quarterback. The news that Tim Hightower has agreed a one-year deal is the latest indication of the Redskins' intention to surround Griffin with the tools for success
This positive trend began in free agency, with the acquisitions of Pierre Garcon and Josh Morgan and signing Fred Davis to a franchise tender. If second-year pro Leonard Hankerson can build on the brief potential he displayed in 2011, then Washington's receiving corps is very well-stocked.
Add in the pass-catching talents of Hightower and Roy Helu, along with possible supporting roles for reliable Chris Cooley and Santana Moss and Griffin will have no shortage of quality targets. With this supporting cast, Griffin won't need to excel, just quickly master the basics.
While the decision to bypass the offensive line in free-agency merited concern, any fears were assuaged when Shanahan and Allen select three young blockers in the draft. If even two of Josh LeRibeus, Adam Gettis and Tom Compton come through, the Redskins will have significantly improved their front-five rotation.
By increasing competition along the front, the Redskins will encourage more consistency from the likes of Trent Williams. It also prompts promising youngsters Maurice Hurt and Willie Smith to work that much harder to secure a roster spot.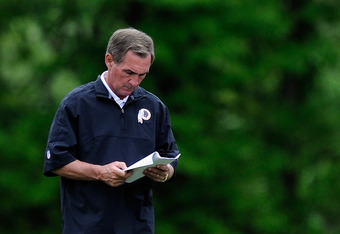 Patrick McDermott/Getty Images
Once the season begins, the Redskins could have credible depth at every position along the front. That kind of commitment to building the strongest possible line, is only good news for Griffin.
Yet by far the biggest sign of encouragement that Griffin can win early, comes from Shanahan himself. His recent suggestions that he will modify his system to fit Griffin's individual skills is the best possible news heading into the season.
Shanahan's intransigence has plagued his tenure in D.C. It contributed in no small part to the Donovan McNabb fiasco. It also led to the messy merry-go-round involving John Beck and Rex Grossman, which served to cripple the 2011 campaign.
Having a spread-style, freelancing quarterback play for a coach with schemes as rigid as his demeanour, was this author's biggest concerns regarding the selection of Griffin. Avid supporters of the Heisman Trophy winner point to the pro success of spread passers like Cam Newton and Sam Bradford.
However, it's important to note that both players had the offense moulded to them, incorporating a lot of what they did best at the collegiate level. Utterances from Shanahan suggesting a similar willingness to adapt, put everything in place for Griffin to be an instant winner in Washington.