WWE Rumors: Mason Ryan Working as Dolph Ziggler's Bodyguard Is Perfect
May 14, 2012

While WWE fans know that Dolph Ziggler is one of the best in the business, his lack of a substantial push from the company has many people wondering what's going wrong.
It looks like the WWE was just slow playing the star and not rushing anything, but now may be Ziggler's time to shine—with a little help from his friend Mason Ryan.
As much as Ryan is despised by the WWE Universe for being a big man with little in-ring skill, Vince McMahon loves the look the star brings. As much as fans don't want to admit it, the jacked Ryan would make an amazing bodyguard for Dolph.
With Ziggler doing most of the speaking and Mason Ryan doing the majority of the heavy lifting, the duo could run roughshod through whatever the WWE puts in front of them.
WrestleZone is reporting about Ryan's new gimmick and how the WWE is committing to it:
For those keeping track, Mason Ryan continued to work as a bodyguard during this weekend's WWE house shows. Ryan worked as a bodyguard for Dolph Ziggler, but not Jack Swagger.
As much as Vickie Guerrero has done wonders for the Zig-Zag Man and his heel persona, it's time for the star to lead his own stable. With Ryan interfering all the time to keep Ziggler winning, fans will really start to bring heat on the duo.
Ryan has absolutely nothing going, but he is too powerful and fits the perfect WWE mold not to be used for this long. With Ziggler working as well as anyone in the business right now, the heel duo might be the perfect matchup for a top face as the summer progresses.
Whether it's CM Punk, Sheamus or John Cena, Ziggler with Ryan backing him up are worthy of main-event consideration right now, but they will be even more so as this storyline makes its way to TV.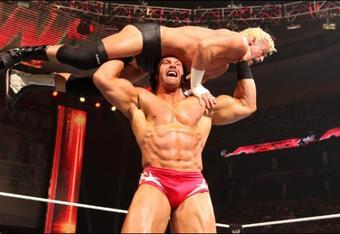 With a jam-packed schedule, Ziggler and Ryan may just run through the mid-card until after SummerSlam when they can take on a top star. Either way, let's just hope Ziggler and his soon-to-be TV bodyguard get the push they deserve.
Check back for more on the World Wrestling Entertainment as it comes, and visit Bleacher Report's Wrestling Page to get your fill of WWE/TNA. For more Wrestling talk, listen to Ring Rust Radio for all of the hot topics you just can't miss (some language NSFW).