NFC North Daily: Hot Links for May 14th, 2012
May 14, 2012

Welcome back to another week of NFC North rumblings and stumblings.
We've got a few rookie camp reports, more stadium info for Minnesota, some injury/suspension fallout in Green Bay and a touching reunion in Chicago.
Plus I get to continue running Jim Isray's Zygi the Biggie name for Wilf into the ground.
Minnesota Vikings
Now that the stadium issue has been resolved, Vikings downer Zygi 'The Biggie' Wilf is turning his attention to important things like landing a Super Bowl. They've got the venue—might as well flaunt it.
Also in the Tribune, Rich Mayhew looks at the way you plan a stadium once you have to funding, and do it on a tight time frame.
Finally new receiver Jerome Simpson just spent 15 days behind bars. His tip to kids? Don't be me. Simpson is also suspended for three games to open the season.
Green Bay Packers
Tyler Dunne catches us up on the good and bad news regarding Alex Green, Derek Sherrod and Andrew Quarless—three players who ended 2011 on injured reserve.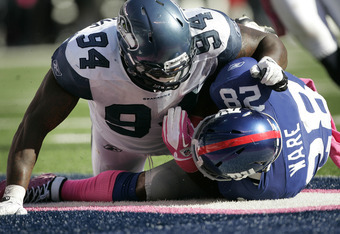 Rich Schultz/Getty Images
Over at ESPNWisconsin, Jason Wilde has some quotes from head coach Mike McCarthy about suspended players Anthony Hargrove and Mike Neal. Hargrove is still appealing so this might change, but McCarthy says it will be tough for the suspended players to get a lot of reps in camp.
Which just reminds us how important rookie Jerel Worthy's ability to catch on quick might be.
Detroit Lions
Justin Rogers talks about the chances rookie quarterback Kellen Moore has to make the 53 man roster. He also has some observations from this past weekend's rookie camp.
Meanwhile Dave Birkett has a piece at the Free Press about rookie Ryan Broyle's anxious weekend watching the action from the sideline.
Chicago Bears
Remember the fuss about a month ago when the Bears said they were thinking of moving Devin Hester off kick returns? Brad Biggs informs us that special teams coordinator scoffs at that notion.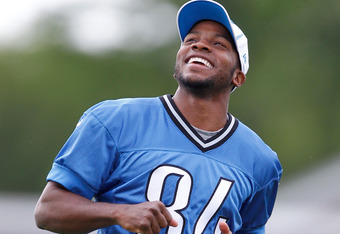 Gregory Shamus/Getty Images
He really should—it's a foolish notion.
Jeff Dickerson let's us know who the seven rookies were that impressed the Bears enough to sign them after the rookie mini-camp.
He also has a nice piece about the reunion of Jay Cutler and quarterbacks coach Jeremy Bates.
Finally, Michael Wright talks to receivers coach Darryl Drake about the depth at the receiver position heading into the 2012 season.
If you like the stories above, follow the writers on Twitter:
@tydunne, @jasonwilde, @Justin_Rogers, @freeplions, @BradBiggs, @ESPNChiBears, @MichaelCWright