UFC on Fuel TV 3: All Eyes on Dustin Poirier Against the Korean Zombie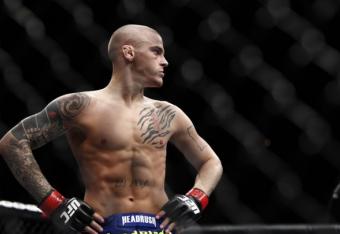 Source: mmaconvert.com

In the film Fightville, which charts the trials and tribulations of a group of MMA fighters in Lafayette, La., filmmaker Michael Tucker asks local promoter Gil "The Thrill" Guillory about the prospects of young fighter Dustin "The Diamond" Poirier. Guillory responds, "Will he fight for the UFC? Will he become champion? Ummm, potential… but potential has a time limit on it. Potential has a time frame."
At 23 years old, that potential has been half realised already after Poirier stormed into a four-fight winning streak in the UFC since entering the Octagon in 2011. Now only one fight stands between him and a title shot against featherweight champion Jose Aldo, in what could go down as the making of an MMA superstar.
That fight will take place this Tuesday on May 15, as Poirier headlines against Chan-Sung Jung at UFC on Fuel TV 3. The event is perfectly timed with the release of the film, which showcases Poirier's rise through the Louisiana MMA scene, with both fighter and film poised to capitalise on each other's success.
Watching Poirier in those early days in Louisiana three years ago, in what is an all too familiar story of a troubled kid finding an outlet in fighting, his unassailable path into the big leagues is the culmination of a destiny carved in a blood and sweat gym in Lafayette. Hard work pays off, and Poirier has worked tirelessly, racking up 13 fights in his short career to get to where he is.
But the man standing in his way has his own story to write. Jung, also known as the Korean Zombie for his ability to endure punches, is undefeated in the UFC. In his last two matches, he's secured both the submission of the night and the knockout of the night—the last a seven-second KO of former title prospect Mark Hominick.
Jung knows what the fight against Poirier will mean for him. "I think right now Dustin and I are the main contenders for a fight against Aldo, for a number of reasons, so it makes sense that the winner of our fight would be the next in line for Aldo," he told Ariel Helwani of MMA fighting.com.
Should the winner of the fight between Poirier and Jung get the title shot?
The Korean is unfazed by all the hype surrounding Poirier, and he believes he betters the Louisiana native both on the ground and standing.
"His biggest strengths are that he's tough and he's very composed, especially for a relatively young guy," Jung tells Helwani. "I think that his weakness is that while he's well-rounded, he doesn't stand out in one particular area."
Both fighters have proven themselves high-level submission artists, but most commentators are giving Poirier the edge in the stand-up. After all, Jung only has three knockouts in his five-year career, compared to the five Poirier has notched up in only three years.
But Poirier is happy to take the fight anywhere. As he told UFC Tonight (h/t MMAfighters.com), "I really see him having a tough time of getting him [sic] down so I think that's gonna be up to me. I think I might be able to use my wrestling a little bit better than he can to dictate where the fight takes place," explained Poirier before referring to Jung's memorable finish of Leonard Garcia last year. "Just because a guy does a Twister, I'm not 100% convinced that he's a brilliant jiu-jitsu practitioner. I'll find out when we get in there and start moving around."
In the run-up to the fight, Poirier released a video which features zombies invading his gym. As both a promotion for the film Fightville and the fight against Jung, the video fades to black just as the zombies surround him.
What happens next is left to be decided on Tuesday, where only one of the fighters will walk away with an ending worthy of the big screen.
For more MMA goodness, check out my blog: The Fight Week
This article is
What is the duplicate article?
Why is this article offensive?
Where is this article plagiarized from?
Why is this article poorly edited?