10 LA Dodgers Who Need to Step Up When Teams Start Walking Matt Kemp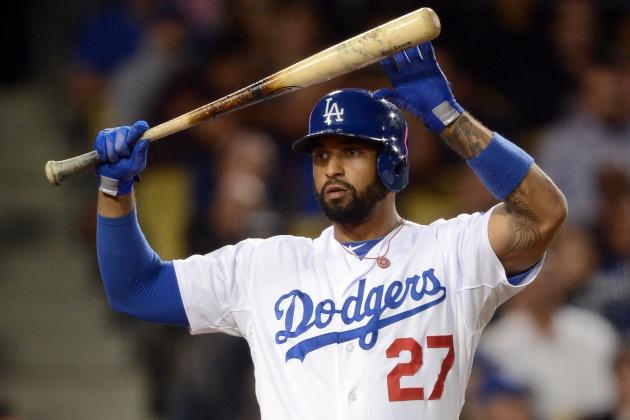 Harry How/Getty Images

It may seem like an odd question to pose considering Matt Kemp left yesterday's game with an irritated left hamstring, but in all actuality, this question could apply more so now should Kemp end up on the shelf for a couple of weeks.
What Dodgers are going to need to step up when pitchers start walking Matt Kemp?
While he is no Cal Ripken Jr., the All-Star center fielder has played in 399 consecutive games, the longest current streak in the majors, but that streak is in serious jeopardy.
It looks as though Kemp will be taking some time off to heal up, which in the long run is best for him and the Dodgers as a whole.
In the interim, who will step up to help lift this team and keep the winning ways?
Begin Slideshow

»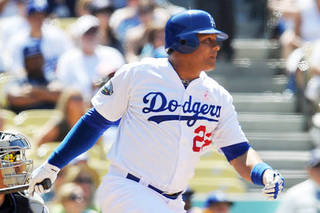 Bobby Abreu added a critical three-run triple in Sunday's game against the Colorado Rockies.
He managed to raise his batting average to .304 and his slugging percentage to .478. While he has only played in nine games for the Dodgers, games like yesterday are a solid indication that Abreu can still produce.
The team doesn't need him to be an All-Star by any stretch, but what they do need is to see flashes of his former self.
Its likely that Abreu will not see all too many pitchers when Kemp returns to the lineup, but in the event that he does, he will need to take advantage of every look he gets.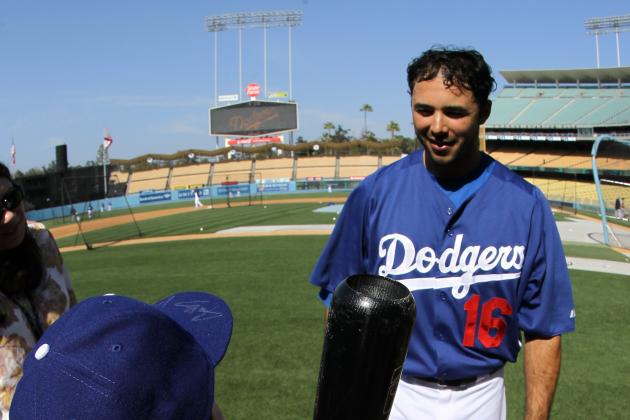 Stephen Dunn/Getty Images

It might seem silly to say that Andre Ethier needs to step up when teams start walking Kemp, considering he is already having a great season in his own right.
That being said, perhaps this slide could read slightly different.
Ethier needs to continue being consistent when teams start walking Kemp. So far, Ethier is second on the team in home runs and first in RBI.
If that trend continues, teams may think twice about walking Kemp.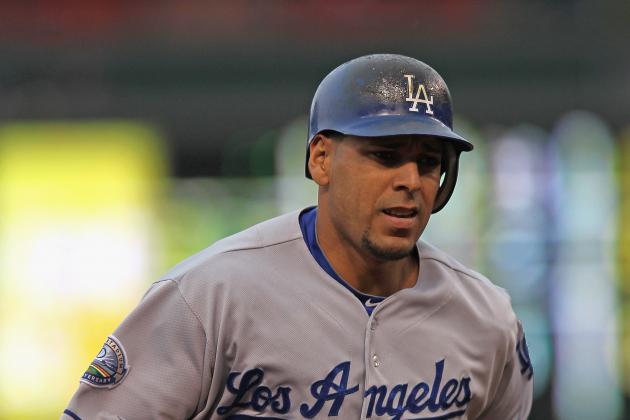 Jonathan Daniel/Getty Images

When he returns from his stint on the disabled list, Juan Rivera is going to need to step up his game.
Before going out, Rivera was off to a slow start. His .248 batting average leaves something to be desired.
By sheer luck of the batting order, Rivera is fourth on the team in RBI with 13.
Luck runs out eventually and that is where talent needs to take over. Most commonly batting out of the fifth spot in the lineup, Rivera is the second level of defense after Ethier to try to get runs on the board.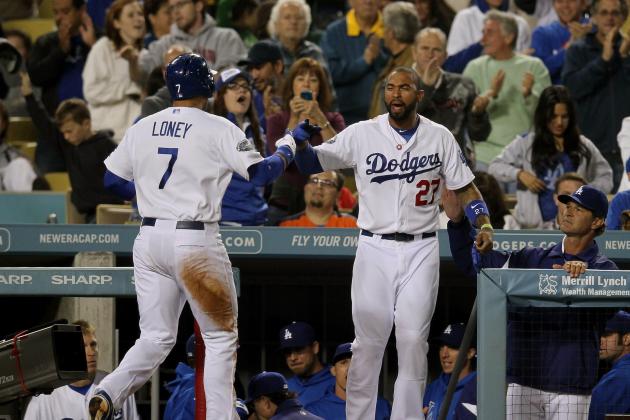 Stephen Dunn/Getty Images

James Loney is tied for sixth on this team with eight RBI.
That, coupled with his .233 batting average, won't exactly protect Kemp in the lineup.
While he has been flip-flopped in the batting order, he has found himself batting right around the seventh spot on several occasions, or, in this case, the last line of defense should Kemp lead off an inning.
With a man on base, the team needs to be able to take full advantage of the situation.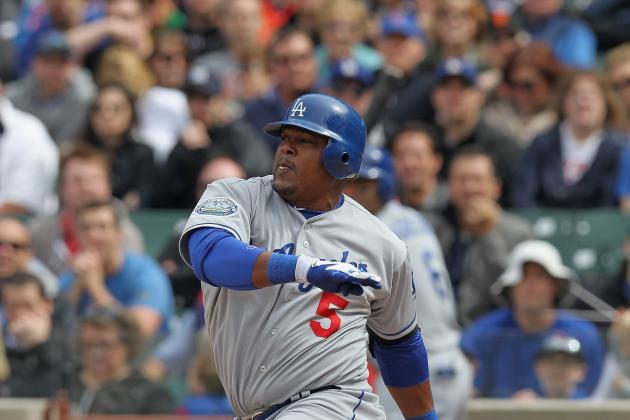 Jonathan Daniel/Getty Images

Juan Uribe is the other player most commonly found batting out of the seventh spot of this lineup.
Thus, he shares the role of last line of defense with James Loney.
His 10 RBI is good enough for fifth on this Dodgers team. While his .250 batting average isn't great, it is not that bad either.
That is, assuming his one in four hits comes when Matt Kemp is on base.
I'd love to see a higher average and slugging percentage out of Uribe, but I could settle for him remaining consistent.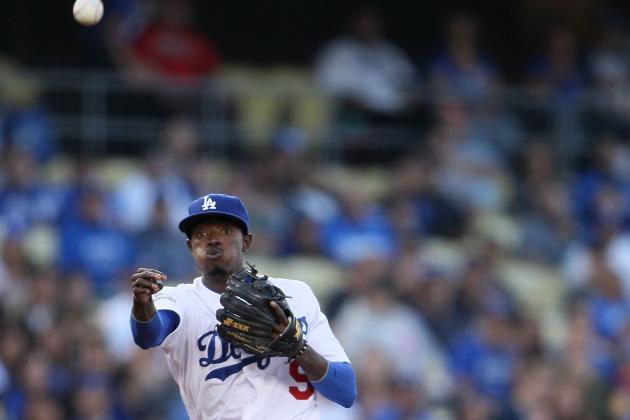 Victor Decolongon/Getty Images

Being the leadoff man in a batting order means two things: you are expected to get on base and you are expected to score runs.
Dee Gordon and his .250 OBP (that would be 14th overall on the Dodgers, ninth for full-time players) needs to do a better job of both.
While yes, he has scored 14 runs, he could probably accomplish that much in his sleep with Kemp and Ethier batting behind him.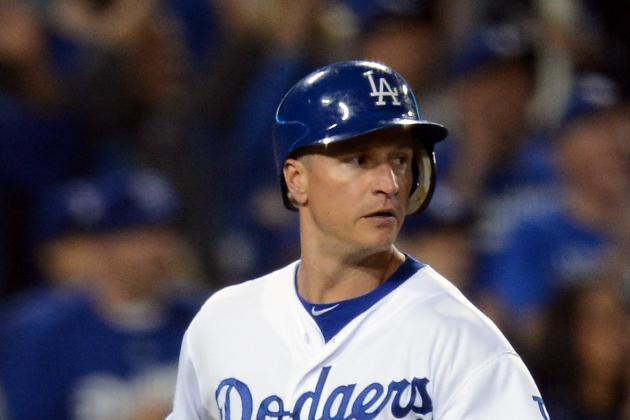 Harry How/Getty Images

Mark Ellis is getting it done.
He has walked 18 times, owns a .285 OBP and has scored 25 runs, third best on this Dodgers team.
Frankly, if he keeps doing what he's doing, teams will be less likely to want to place a second runner on base with Ethier coming up to bat.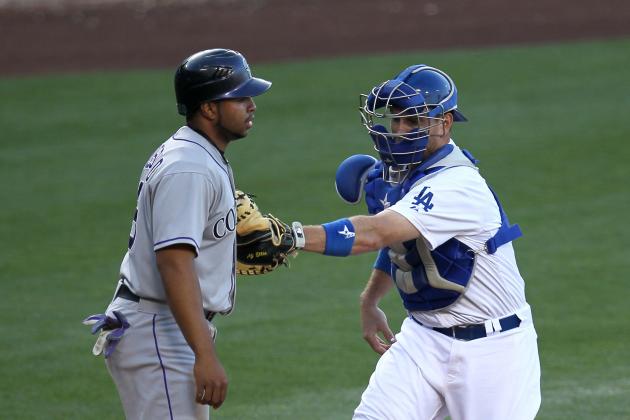 Stephen Dunn/Getty Images

If all else fails, AJ Ellis needs to keep having the monster season he's having.
Nobody, and I mean nobody thought Ellis would be this good for the Dodgers in 2012.
He is second in batting average with a .302, first in OBP at .462 and his .512 slugging is third best on the team.
That all translates into a .974 OPS, the second highest on the team behind Matt Kemp.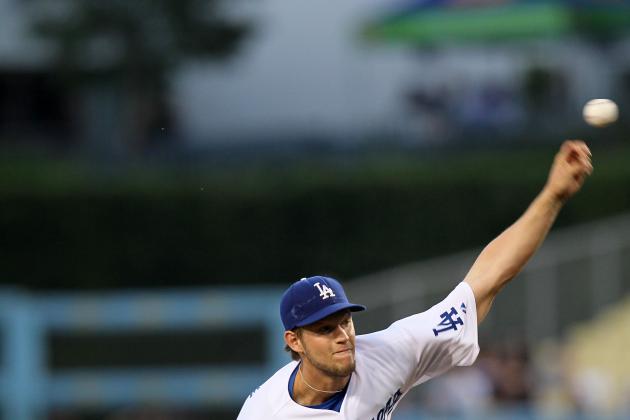 Stephen Dunn/Getty Images

Through his first seven starts, Clayton Kershaw only owns a 2-1 record.
That is a little surprising to me. Sure, it is not by fault of his own entirely. A pitcher can only do so much.
Considering he has a 2.56 ERA, one would think that he is leading the staff, right? Kershaw actually ranks third among starting pitchers in ERA, but does lead them in WHIP at just 0.900.
What the team will need to see out of their ace is more quality starts and the ability to keep opposing teams from scoring runs. If the key offensive cog in the Dodgers system is unable to do his job, then the team needs to make up for it wherever possible.
In this case, starting pitching.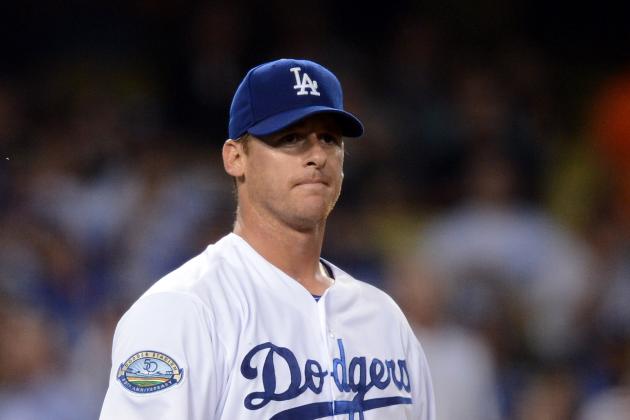 Harry How/Getty Images

In the same vein as the Clayton Kershaw argument, Chad Billingsley needs to step it up as well.
Coming into the season, Billingsley was slated to be the team's second-best pitcher. Right now with his 3.32 ERA and 1.25 WHIP and 2-1 record, he is the fourth-best pitcher on this team.
Billingsley needs to drop his ERA and up his win total, simply put.
It seems like I'm nitpicking here. There are several other teams in baseball that would kill to have Billingsley as their No. 2, but, as I stated with Kershaw, the Dodgers need to find advantages wherever they can if Kemp starts getting walked, or in this case is out injured.
The Dodgers have an embarrassment of riches in starting pitching.
This is a fantastic burden to bear.