Los Angeles Kings: 5 Biggest Steps to Kings Becoming Stanley Cup Contenders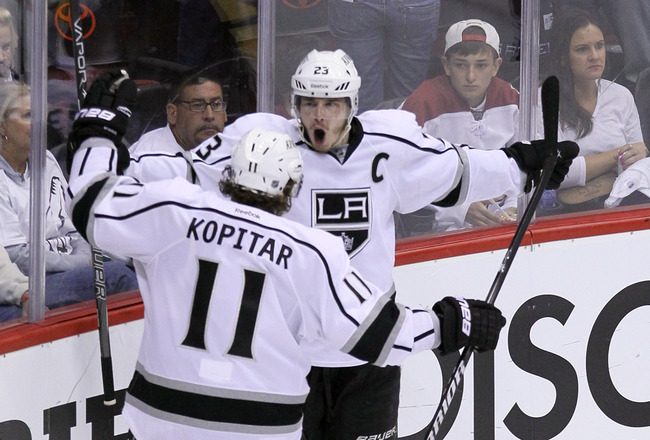 Jeff Gross/Getty Images
The Kings are a final four contender for the first time since 1993, and the team has rekindled a love for hockey in the L.A.
But are the Kings finally a true Stanley Cup Contender? A lot of the analysts (yes the same analysts who picked the Kings to lose to both the Canucks and the Blues) seem to think so.
I believe it as well. It's been a very long road for the Los Angeles, and this has been a long building process. What were the biggest steps in the Kings finally grabbing the reins and playing to their potential as a Stanley Cup contender?
Keeping Together, and Building Around a Core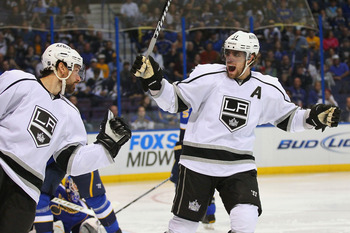 Dilip Vishwanat/Getty Images
Aside from a few notable departures like Jack Johnson and Wayne Simmonds, the Kings have kept together the same group of players for the better part of three or four years now.
Anze Kopitar, Dustin Brown, Drew Doughty, Jonathan Quick, Matt Greene, Jarret Stoll, Rob Scuderi and Justin Williams have grown together, gelled together and incorporated more and more players into the fold.
Youngsters like Trevor Lewis, Slava Voynov and Dwight King, and outside acquisitions like Jeff Carter, Colin Fraser and Mike Richards only add to a group that has come to know one another without any significant shakeups for some time.
It really helps you become an elite team when the core of the locker room is incredibly familiar and comfortable with each other, on and off ice. It has been a huge step for the franchise.
A Pipeline That Keeps On Giving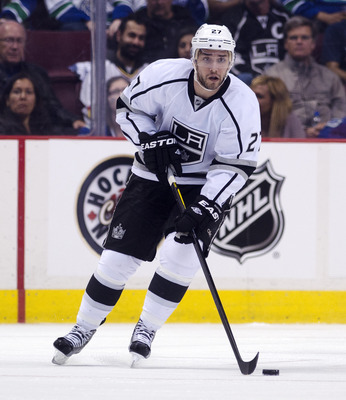 Rich Lam/Getty Images
When Dean Lombardi took over, the Kings changed, and overhauled their whole draft and development system.
It's hard to say that it hasn't paid huge dividends.
The Kings have drafted well and built a solid base of players off of homegrown talent.
Whenever you talk about Stanley Cup-winning teams, it's all about the hidden gems that teams have had for a while but few talk about. Chicago had Byfuglien, Bolland, Versteeg, Hjalmarsson etc. Detroit had Franzen, Filppula, Zetterberg, Jonathan Ericsson, etc.
The Kings have done well for themselves. Martinez, Voynov, King, Nolan and Lewis are just a few who have made differences on the big club. And there are many more waiting in the wings.
Solid Goaltending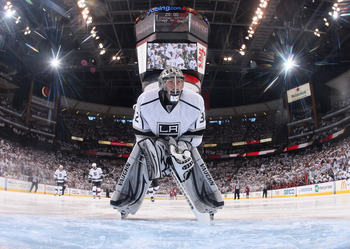 Christian Petersen/Getty Images
How could I not mention Quick? He has solidified the Kings goaltending for the first time since....Potvin?
Yea pretty much.
But let's also not forget Bernier, who is an incredibly capable backup. Between the two of them, the Kings have locked down their goaltending spots for a long while (here's hoping that Quick signs a nice lengthy contract this offseason).
You don't necessarily need a fantastic goaltender to become a Cup contender (I call this the Paul Holmgren Theory), you just need a hot goaltender. But of the teams who have competed year in and year out on a consistent basis, those that have multiple cups, the one common characteristic was dominant goaltending.
The Avalanche had Roy, The Devils had Brodeur, the Red Wings had Hasek/Osgood.
The Kings have Quick.
The Painful Process of Learning to Win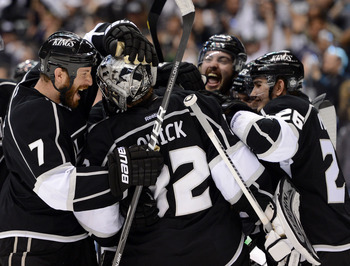 Harry How/Getty Images
Patience.
The Kings' management, players, ownership and fans have had to endure the lessons of rebuilding for the better part of a decade.
Sometimes those lessons suck and are hard to swallow: losing two first-round series, having a coaching change, losing key players to injuries or realizing a lack of one facet of the game or another.
They are all hard lessons that many good teams, teams that want to compete, have to get over.
It's common to see a lot of franchises —under the pressure of fans, management and ownership alike—get fed up with the process and start all over (Toronto, Montreal, NYI).
It was a huge step, a necessary step, and in my opinion the biggest one to the Kings becoming a contender. Patience.
Rome was not built in a day, but it burned in one.
The Finishing Touch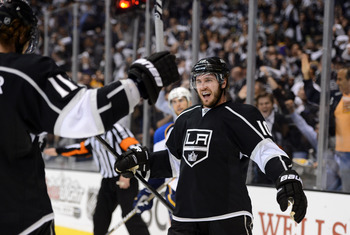 Harry How/Getty Images
At a certain point you look at your team and say, "We need this now. We need this guy to win."
Whether or not you get that guy is why the offseason is so difficult. Dean Lombardi looked at his team this last offseason and said, "We need Mike Richards." He got him. Then, right before the trade deadline he said, "We need Jeff Carter," and he got him.
Hell, you could even say during the last trade deadline Lombardi said the Kings needed Penner. And he got him too.
My point is that Lombardi was not afraid to pull the trigger on the finishing touches. Which is sometimes the hardest step. What do you give up? Is it worth it? Will it really help? Does it take away more then you add in the immediate future as opposed to the long term?
It's why GMs get paid the big bucks: to make those decisions, to take calculated risks. And more importantly, to get them right.
Keep Reading

Los Angeles Kings: Like this team?