Stanley Cup Playoffs 2012: Coyotes Frustrated and Defeated in Game 1
May 14, 2012

Jeff Gross/Getty Images
GLENDALE, Ariz. - Throughout the playoffs, the Phoenix Coyotes have walked a high wire.
Not that their play has been daring, but their ability to surrender territory has remained telling. In dispatching Chicago and Nashville in their two previous series, the Coyotes were out-shot 241-159 in the Blackhawks series and 159-136 in the Predators series, gave great territorial advantage but still found ways to eliminate both teams.
If their 60-minute effort in the opening game of the Western Conference finals against the Los Angeles was any indication, the Coyotes must strengthen their defensive resolve. After dropping a 4-2 decision to the Kings in Game 1 before 17,134 at Jobing.com Arena, Coyotes coach Dave Tippett bluntly told reporters, "We have to play a better game if we have any chance in this series."
In allowing 16 L.A. shots in the first period, and 48 for the game, results for Phoenix were less than desirable. Los Angeles also titled the rink with solid forechecking, their ability to command the neutral zone and consistently kept the puck in the Phoenix end.
"We have to create more traffic in front and put more pressure on their defense," said Mikkel Boedker, whose goal late in the second period created a 2-2 tie. "We were chasing the puck all night. They came out and put pressure on us. That can't happen (in Game 2), and it will not."
Plus, the Coyotes allowed nearly 50 shots on netminder Mike Smith, who was called upon to make several critical saves.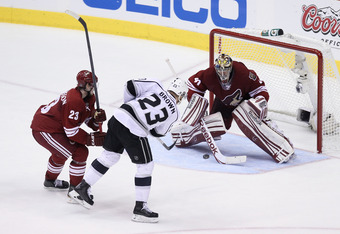 Jeff Gross/Getty Images
By contrast, the Kings' forwards were able to clog the neutral zone, and that prevented the Coyotes from sustaining any reliable attack.
"That's their style and they executed that well," said Coyotes captain Shane Doan. "We had too many turnovers, and for Game 2, we need to find a way to be better."
The Coyotes never led in this game, and they came away frustrated. Afterward, players said all the familiar words, and they promised not to repeat the sloppy and, at times, lethargic play.
"I know it's a cliché but our approach is always one game at a time," said Antoine Vermette. "Plus now, we need to win at least one game in their building and we've won on the road before."
From the Kings' vantage point, they expect to dish out more of the same in Game 2.
Los Angeles coach Darryl Sutter said his team knew Phoenix would come out strong, and the Kings needed to match the energy provided by both the Coyotes and their fans. Once that was done, the Kings controlled play in the neutral zone and waited for Phoenix to make a mistake from which they could capitalized.
"We need to continue to pressure Smith, and keep the puck in their end," said L.A. captain Dustin Brown, who picked up the game-winner at 2:11 of the third period. "We need to make it tough on Smith and will lead to our advantage."
If this is the Kings' approach in Game 2, a frustrated and angry Tippett said his team better have an answer.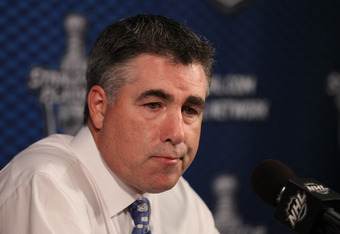 Jeff Gross/Getty Images
"We weren't close in this game," he said. "They beat us in all facets of play."
Then, he challenged his team.
"In the playoffs, the bar is set very high, and we did not have guys reaching for the bar." Tippett added. "We will have to get things done if we want to have a chance in this series."
Mark Brown is a Featured Columnist for Bleacher Report. Unless otherwise noted, all quotes were obtained first-hand.