Anthony Davis Would Benefit by Returning to Kentucky
May 15, 2012

Kevin C. Cox/Getty Images
When a player is the presumed first overall selection in an upcoming NBA draft, it is usually a given that this player should turn pro and declare immediately. This has proven to be true for previous Kentucky great John Wall, as well as recent No. 1 overall draft picks Kyrie Irving from Duke and Blake Griffin from Oklahoma.
This is the situation that is facing former Wildcat phenom Anthony Davis, who leaves college with perhaps the most decorated single season in NCAA basketball history. Davis won every major award for "Player of the Year," won an NCAA championship, took home the Final Four Most Outstanding Player trophy, was named to the 1st-Team All America team, set a NCAA freshman record for blocks and received numerous other accolades that will follow him to the NCAA.
Despite all of this success and his immense talent, it is not certain that Anthony Davis is completely ready to play and succeed in the NBA. Sure, he will likely have a solid rookie season, and he was certainly the best player in college basketball last season. However, that is no guarantee that he will excel at the NBA, at least not during his first few seasons in the league.
It is likely that Davis will be drafted by a terrible professional team, which will throw him into a losing culture and be dependent on Anthony to save the franchise. At the same time, he will have to adjust to the completely new lifestyle of being an NBA player.
On top of that, Davis has a wiry frame, and he severely lacks the strength to body up against players such as Dwight Howard, LeBron James and Zach Randolph. Using another season to improve his strength and physical size would be greatly beneficial for Davis' game.
Therefore, why not return for another season at Kentucky?
For the first two-thirds of the 2011-12 season, Anthony Davis scored mostly on lobs, put backs, transition dunks and baby hooks. He was effective and hit these shots at a high percentage, but he did not display a fully-developed offensive game to match his dominant defensive play.
However, Davis began to expand his offensive weapons near the latter end of the season and into tournament play. Anthony shot some three-pointers and even made a few, and his jump shot made a regular appearance in nearly every game. Davis also began driving from the top of the key more often and expanded his repertoire of hook shots.
By the end of the season, Davis had shown glimpses of those highly-publicized guard skills that scouts raved about during his senior year in high school. This expansion of his offensive game is what landed Davis all those "Player of the Year" awards and is why NBA executives drool at the thought of his potential.
With that in mind, Davis has not mastered this part of his game yet. His jump shot has nice form but is inconsistent, and his three-point shot is mildly streaky at best. Anthony still has a long way to go in terms of improving his ball skills and attacking the basket from multiple angles. These are areas that he has shown promise in, but those skills are nowhere near fully developed yet.
Therefore, playing another season at Kentucky would greatly benefit Davis' game and could perhaps make him a better professional in the long-term. 
Davis' first season consisted of adjusting to the college game and scoring mostly around the rim. If he came back for his sophomore season at Kentucky, Anthony Davis would be given much more flexibility by coach John Calipari and could have an entire year to explore and develop those other aspects of his game.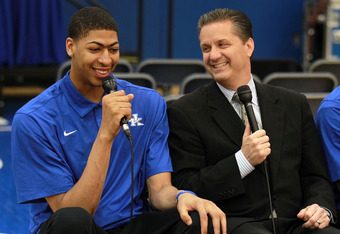 Andy Lyons/Getty Images
Davis would not have to deal with learning Calipari's brand-new offense or having to adjust to the college lifestyle. Next season, these things would be familiar to him, and he could devote his entire focus into improving his game. Davis would develop more into a spot-up power forward who could float more around the perimeter and would slash to the basket more often.
Meanwhile, he could further improve his skills at bringing the ball up the court, dribbling in traffic and passing out of the post. All of these skills would be easily acquired by playing against college competition, especially since next season will have so many inexperienced teams losing players to the 2011 NBA Draft. Davis would have a skill and talent edge against every team and player in the country, ensuring great success at improving his all-around offensive game next season.
Then he could enter the NBA with more developed tools at his disposal in order to achieve greater success in the short and long term. Instead of solely relying on transition baskets, dunks and an inconsistent jump shot, Davis could come up to the professional level with above average ball handling, a consistent mid-range jumper, a dangerous outside shooting touch and an array of post hooks and fakes. Doing so increases the likelihood Anthony wins the NBA Rookie of the Year award and develops at a successful clip during his early years in the league.
Another factor that is hardly discussed is Davis' height. He has only played as a big man for two seasons of his life. He is still growing into his body, learning how to position himself, all while dribbling and slashing in a different manner from when he was a 6'3" guard. Therefore, having another year under his belt would improve his all-around feel for the game and would let him know more about what he can do at this new height and frame.
In addition to all of these reasons, Anthony Davis could return for what would be the most anticipated individual college season in decades. The interest in Davis would surpass all expectations as he would be the favorite to repeat as the player of the year. He would be expected to challenge his own block records, score 1,000 points in a career and lead Kentucky to back-to-back titles.
This publicity would be a lot, but Davis is the kind of cool customer to handle it. He would be the superstar of college basketball since the first practice.
Therefore, Davis would benefit by returning to Kentucky to further develop his offensive games, add strength to his wiry frame and enjoy being the most-hyped college basketball player in decades. The NBA can wait for one year, and it will receive a more polished and prepared prospect for its patience.