New York Mets Plan To Offer David Wright Contract Extension This Year
May 14, 2012

Nick Laham/Getty Images
The New York Mets allowed Jose Reyes to get away from them over this past offseason. They do not want the same to happen to the face of their franchise, David Wright. 
The Mets have a $16 million option on Wright for the 2013 season, which gives them time to figure out a way to keep the All-Star third baseman. However, they might not need as much time as many had originally believed to put together a deal for Wright.
According to the Wall Street Journal, "The team is quietly preparing to offer third baseman David Wright a long-term contract extension at some point later this year—perhaps as soon as this summer—according to a baseball official briefed on the Mets' thinking." 
The report goes on to state: "According to the official briefed on their thinking, the Mets are hopeful that by committing to Wright potentially up to a year and a half before he would reach free agency, they'll be able to secure a more favorable deal."
There is a general concern that the Mets will not be able to sign Wright due to financial issues within the organization. These sources would suggest that there might not only be hope to keep Wright, but also the wish to get the deal done sooner rather than later. 
Although general manager Sandy Alderson would not speak about re-signing Wright, he did share with the Wall Street Journal information that will ease the worried minds of Mets fans for the ensuing summer: "I certainly do not foresee, under any circumstances, David being a topic of discussion at the trade deadline."
Wright is living up to his full potential this year, having a .400 average entering Monday, and it would be difficult for Mets fans to accept losing both Reyes and Wright. The Mets are going to do all they can to keep Wright for the rest of his career, but it all begins this summer.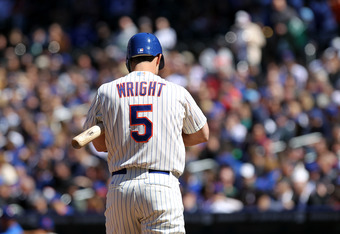 Nick Laham/Getty Images
A deal in the summer would appease many fans as this season winds down. A deal before the offseason would be great, but so long as a deal is struck by the start of the 2013 campaign, no one will complain. 
If no deal gets done before the start of next season, however, there is a strong chance that a trade could result.
Still, there is no reason to assume the worst anymore for this struggling Mets franchise.