LaDainian Tomlinson Could Rediscover Gridiron Heaven with Baltimore Ravens
May 14, 2012

Jim McIsaac/Getty Images
To mentally and spiritually fatigue during lowly times of hardship is natural.
To retreat from the game you love the most when fuel still remains is painful.
To find inspiration with a new team that is a bedrock of excellence is heaven.
Enter stage left, future NFL Hall of Fame running back LaDainian Tomlinson.
Recently, Marc Sessler from NFL.com reported Tomlinson Says he's pretty much done with football.
"I'm 95 percent retired," Tomlinson told Sessler, shortly after giving an emotional speech on behalf of his fallen comrade, Junior Seau.
But I by no means buy this. I believe Tomlinson is not at peace with himself right now.
Tomlinson is disappointed in how his career has gone the past few years after an incredible run with the San Diego Chargers.
Tomlinson is also fresh off a season with a New York Jets football team defined by unprofessionalism, disunity and poor utilization of its players.
This includes Tomlinson, who packed his bags at the end of last season and walked out of the Jets locker room never to return.
Now a free agent, Tomlinson has no idea what to do next.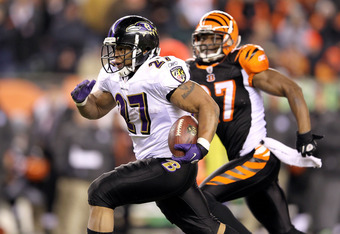 Andy Lyons/Getty Images
Tomlinson lives in NFL limbo, where coming or going is not as easy as crossing the bridge to civilian life.
But as a football fan and athlete, I do know this.
LaDainian Tomlinson is a warrior. He is a leader. And he is a gamer who knows he still has fuel in his resilient tank.
Now enter Ray Lewis and the Baltimore Ravens.
I believe wholeheartedly that Tomlinson will find much needed inspiration in this team—a team that has been a bedrock of excellence its entire existence.  
With Ricky Williams' recent retirement, the Ravens currently have no legitimate backup at this point.
Yes there is Anthony Allen, Matt Lawrence, Damien Berry and now Bernard Pierce fresh out of Temple. But to be frank, these four gentlemen combined do not hold a candle to Tomlinson. They possess neither Tomlinson's skill, nor his experience.
And they sure as heck do not possess Tomlinson's field vision.
The Ravens inking Tomlinson, if only for a year, will give this legend a much needed dose of inspiration.
And if Tomlinson excels as Ray Rice's backup, he may very well rediscover the beauty that is gridiron heaven.