Rangers' Josh Hamilton Tearing It Up: How Much Would You Pay Him?
May 13, 2012

Mitchell Layton/Getty Images
Josh Hamilton turns 31 a week from tomorrow. Something tells me that he feels much older.
The issues he's faced battling demons off the field and injuries on it have had to have taken their toll.
Haven't they?
Through the first 34 games of this season, that toll is nowhere to be seen. Hamilton leads the major leagues with 18 home runs and 41 RBI. He's tied with the Mets' David Wright for the batting average lead at .402.
Hamilton will be a free agent after this season. But will he be the most sought after of all time?
Given that the best predictor of the future is the past, there's a lot to consider when deciding whether or not to pursue Hamilton. So, MLB teams must consider how many years and how many millions they would sign Hamilton for.
Let's start with the elephant in the room. Hamilton was the first overall pick of the 1999 draft by Tampa Bay. His addiction problems are well known. After spending 2004 and 2005 out of baseball because of those problems, he fought back to play a few minor league games in 2006. That winter, the Rays left Hamilton off their 40-man roster.
Here's why the Cubs haven't won since 1908. They chose Hamilton with the third pick of the Rule 5 draft. Rule 5 pickups have to spend that season on the major league roster or be returned to the original team. Because they're the Cubs, they sold Hamilton to Cincinnati for $100,000, recouping their $50,000 Rule 5 fee and making a little profit.
Don't start with the "hindsight is 20/20" thing. Hamilton had been the top pick in the draft eight years earlier for a reason. I'm not saying the Cubs should have, or even could have known that Hamilton would turn out this good. But five-tool players don't grow on trees, and for a paltry $50,000 he was well-worth keeping on the roster that year.
Hamilton got 298 at-bats for the Reds in 2007, hitting .292 with 19 home runs and 47 RBI. It seemed he had found a home.
Just not in Cincinnati.
The Reds traded him to Texas in December for pitchers Edinson Volquez and Danny Herrera. In fairness to the Reds, Volquez did have a terrific year in 2008, going 17-6 with a 3.21 ERA.
Volquez is with San Diego now and Herrera is in the Mets' organization, though he is out for the year after Tommy John surgery.
Now you're up to speed.
Obviously Hamilton has flourished with the Rangers, winning the MVP in 2010. There's no doubt they would like to re-sign him. But back to our previous questions: For how many years and how many millions?
Let's address the elephant again. While Hamilton's battle with his demons has been a huge success, he's always a minute away from a relapse. His two well-publicized slips are testament to that.
Perhaps a bigger concern is Hamilton's inability to stay healthy. His 2008 campaign is the only season that Hamilton has played at least 150 games and had at least 600 at-bats. I'm not sure anyone in the major leagues plays harder or more aggressively than Hamilton. Some would say too much so. All of the dives back into first take their toll.
Will Hamilton get Albert Pujols money? Albert Pujols shouldn't have gotten Albert Pujols money. (I couldn't resist.)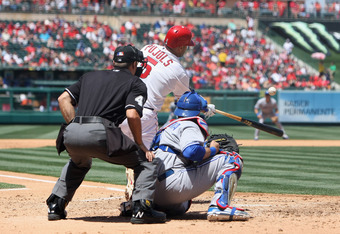 Jeff Gross/Getty Images
I love Josh Hamilton. I think what he's accomplished in turning his life around is remarkable and laudable. I hope and pray that he maintains his sobriety and I think he will.
If I'm Nolan Ryan and the Texas Rangers, I do whatever I can to keep Hamilton. I'm thinking in the neighborhood of eight or nine years and somewhere around $180 million to $200 million.
Helluva neighborhood.
Follow on Twitter@sprtsramblngman