Fantasy Baseball 2012: Top 15 Waiver-Wire Pickups for Week 7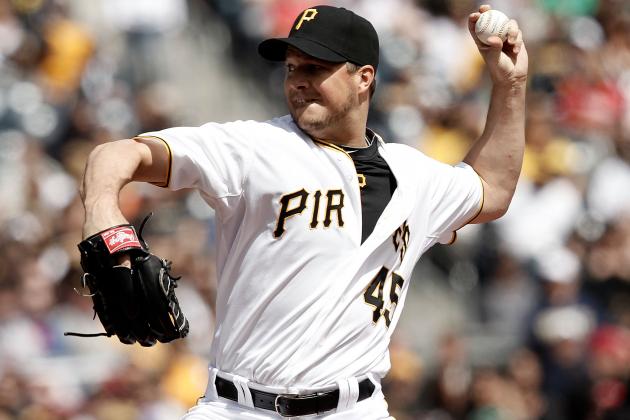 Jared Wickerham/Getty Images
Pittsburgh's Erik Bedard (2-4, 2.57 ERA, 37/14 K-BB ratio) struck out 20 batters in just 10 innings of combined work from starts on April 28 and May 3.
The following slideshow touts the top 15 waiver-wire pickups right now, a countdown of the best free agents from the majority of 12-team roto leagues.

For the most part, this list rewards players who have already fostered productive starts to the 2012 season.

Savvy readers will notice the rankings are different from last week's offering, changes that can be attributed to the waiver-wire graduations of Jarrod Parker, Jeff Samardzija, Tyler Pastornicky, Steve Cishek and Pedro Alvarez—forgotten assets on draft day but now contributing pieces with their current teams.

That's how it should be with this list: Here today, gone tomorrow.

Enjoy the show!
Begin Slideshow

»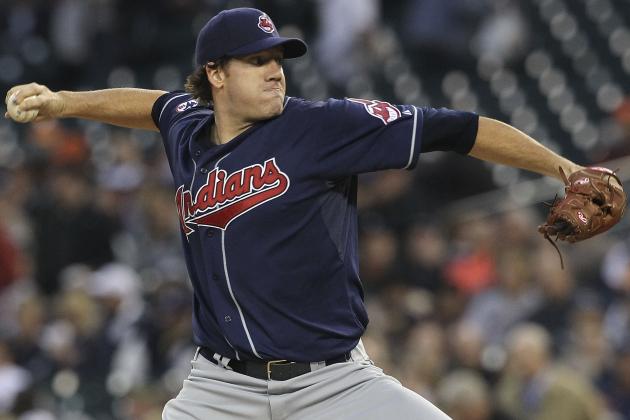 Leon Halip/Getty Images

Let's start with a wild-card entrant who has neither the best stuff nor the most press clippings of the Indians' pitching prospects...just a track record that portends sneaky-good success in the major leagues.

In his two MLB starts this season (White Sox/Red Sox), McAllister (1-1, 4.15 ERA, 1.15 WHIP) struck out 13 batters, while yielding only one walk. It was an ideal opening for a Cleveland team that really needs McAllister and/or Jeanmar Gomez to succeed at the back end of the rotation.

Long term, I like McAllister's chances to become a viable starter. In the short term, his minor league body of work (54-38, 3.44 ERA, 1.25 WHIP, 573/181 K-BB ratio) warrants that of a No. 7 asset in 12-team leagues.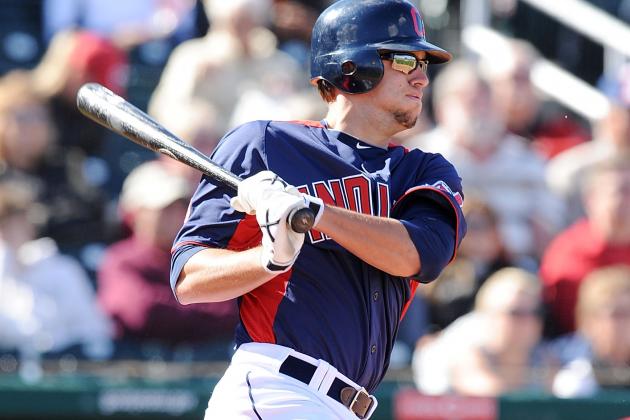 Norm Hall/Getty Images

The Indians' bold move of delaying Chisenhall's permanent stay in the majors paid off, thanks to third baseman Jack Hannahan (surprisingly) batting .287 with 18 RBI to date.

But it's reasonable to assume Chisenhall's full-time callup will occur sometime around Memorial Day, as a reward for his superb output at Triple-A Columbus (four HRs, .326 batting, .913 OPS through 22 games). For what it's worth, Chisenhall has significantly better numbers than the ones that preceded his 2011 promotion to Cleveland.

At this point, Chisenhall is a simple stash acquisition; but by June 1, perhaps he'll be a skillful addition for owners needing relief at the 1B/3B slot.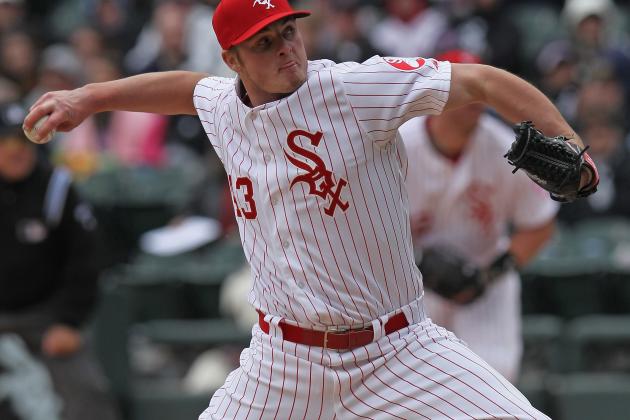 Jonathan Daniel/Getty Images

Last week, I put zero stock in rookie manager Robin Ventura's abrupt decision to move productive starter Chris Sale (3-2, 3.08 ERA, 33/11 K-BB ratio) back into the White Sox' bullpen, as if it would magically heal Sale's balky elbow.

By extension, I made no effort to dump Hector Santiago or Addison Reed from my deeper-league rosters, knowing Ventura would quickly realize that Sale belongs in a Chicago rotation that's far more dangerous with his inclusion.

And wouldn't you know it: Roughly 168 hours later, we're right back where we started—riding Sale every five days...and hoping that Reed (0.00 ERA, 0.80 WHIP, 14/3 K-BB, 12.6 K/9 ratio in 13 appearances) can eclipse Santiago and Matt Thornton and become the full-time closer.

If all goes right, this ranking will look incredibly insightful in mid-June.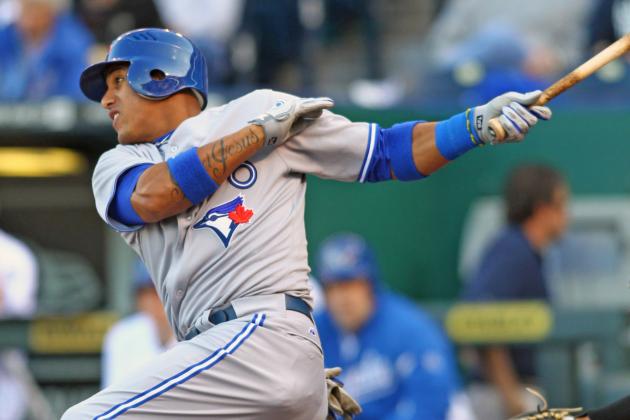 Tim Umphrey/Getty Images

Since April 13, Escobar ranks first in triples, second in hits and fourth in doubles and runs among his Blue Jays teammates—encouraging signs for a hitter who came out of the gate at a snail's pace. But that's of no real consequence to fantasy owners grabbing Escobar for the first time.

Escobar (one HR, 13 RBI, 20 runs, .255 batting) has had little regard for homers and steals this season; but since April 29, he's batting .308. And this month, Escobar has four multiple-hit games.

Bottom line: Escobar remains an attractive asset with deeper mixed and AL-only leagues.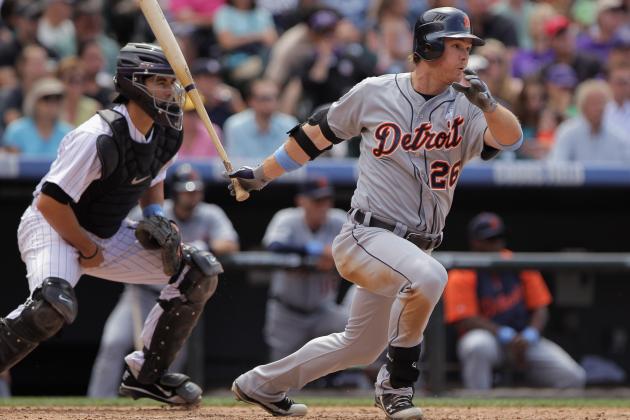 Doug Pensinger/Getty Images

Let's keep this one short and sweet.

Boesch (four HR, 15 RBI, 16 runs, two steals, .231 batting) has too many physical tools, too sweet of an uppercut swing, too much speed on the base paths and too plum a spot in the Tigers' name-brand lineup (after Austin Jackson and before Miguel Cabrera/Prince Fielder) to be this ordinary. Right?

The answer should be "yes"...no matter how deflating Boesch's .254 on-base percentage may look right now. That aside, there's little risk in taking a flier on a powerful prospect.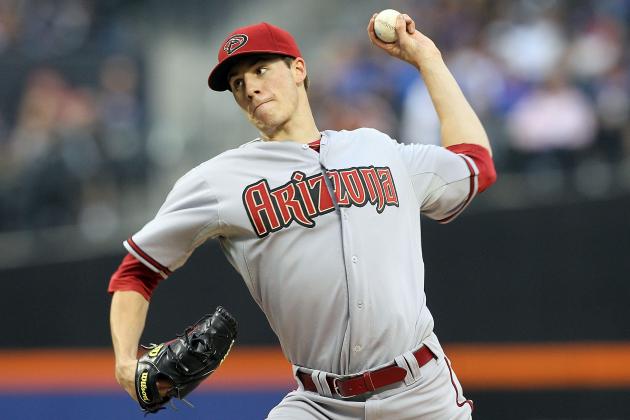 Jim McIsaac/Getty Images

There is no greater act of fantasy suicide than endorsing a pitcher just days before his first appearance at Coors Field; but that's where we stand with Corbin (2-1, 4.50 ERA, 1.31 WHIP, 12-5 K-BB), Arizona's fifth starter.

To be clear, no one's suggesting to start Corbin against the Rockies (Wednesday), with little fear of reprisal. But I am giving the green light to acquire-and-stash a baby-faced kid with a solid track record from 378.1 minor league innings—28-14, 3.83 ERA, 1.26 WHIP, 349/96 K-BB, 8.3 K/9.

It also helps that Corbin's Diamondbacks collectively rank among the National League elite in hits, runs, homers, RBI and steals. In other words, Corbin will get plenty of run support while he adjusts to major league hitters (and the thin air of Colorado).

This should be a comforting thought to fantasy owners in need of a promising No. 6 or 7 starter.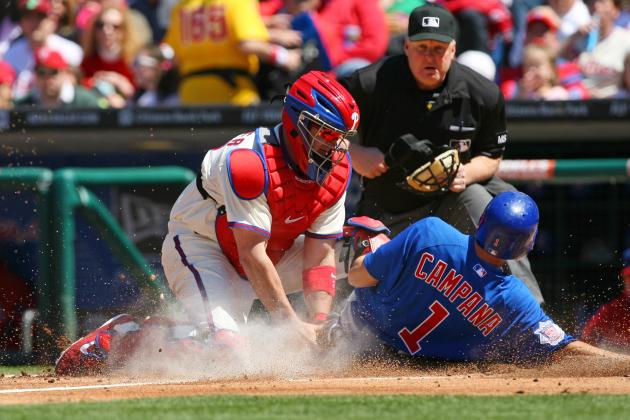 Hunter Martin/Getty Images

It's great that Campana (eight steals, .350 batting) boasts elite numbers in two categories, while shattering the comparisons to Denard Span, Carlos Gomez or Peter Bourjos in the process.

But I would feel better about Campana's season-long prospects if the Cubs had a regular starting slot for him in their team-endorsed depth chart.

Mini-rant aside (seriously, how about giving Reed Johnson the boot?), Campana has been a wonderful gift for fantasy owners in need of cheap, elite speed; and he'll soon bring two-category goodness to those who grab him off waivers.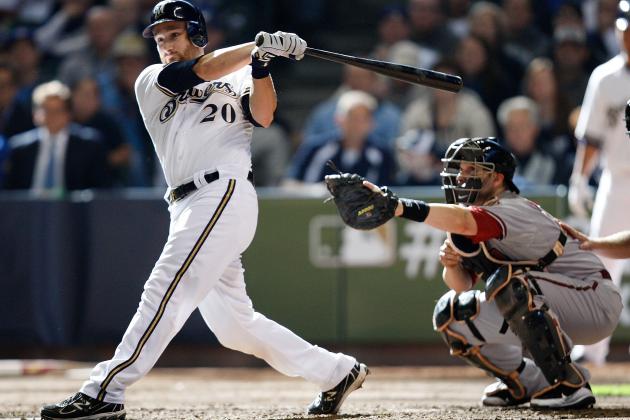 Jared Wickerham/Getty Images

Don't let the middling ranking fool you. Lucroy may be the most important pickup of the week, at least for owners who've been riding Nationals catcher Wilson Ramos since April 4 (torn ACL, done for the season).

Which brings me to this: In 12-team roto leagues, where most owners draft a quality catcher and simply ignore any potential replacements for the season (barring injury), I wonder how many owners recently checked Lucroy's stats for the first time (two HRs, 16 RBI, eight runs, .326 batting)...before wondering why they didn't pursue him earlier?

Bottom line: Lucroy, a pure-hitting catcher with sneaky-good power, ranks in the top 12 backstops in numerous categories and should not be languishing in free agency. He's a plug-and-play acquisition with all formats.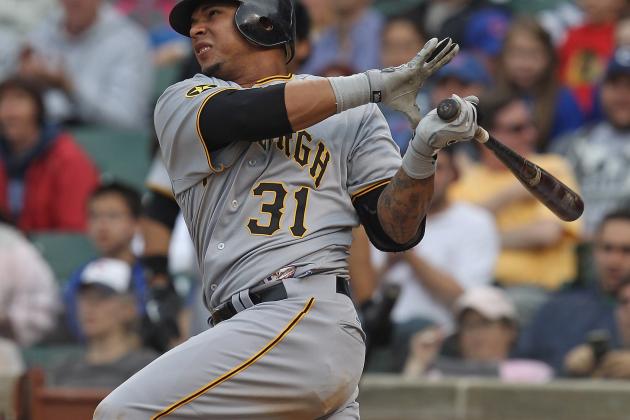 Jonathan Daniel/Getty Images

This ranking isn't necessarily a glowing tribute to Tabata's short-term (two HRs, six RBI, 12 runs, one steal, .296 batting) or seasonal numbers (.250 batting).

It's simply an acknowledgment of his tangible upside in runs and steals, with a slight nod to a batting average that can run hot (and extremely cold) at times.

And in fantasyland, where some owners crave upside over modest production, that may be enough to secure a No. 5 or 6 outfield spot in 12-team leagues.

Simply put, the promise of Tabata's tomorrow is greater than that of Andres Torres or Cody Ransom.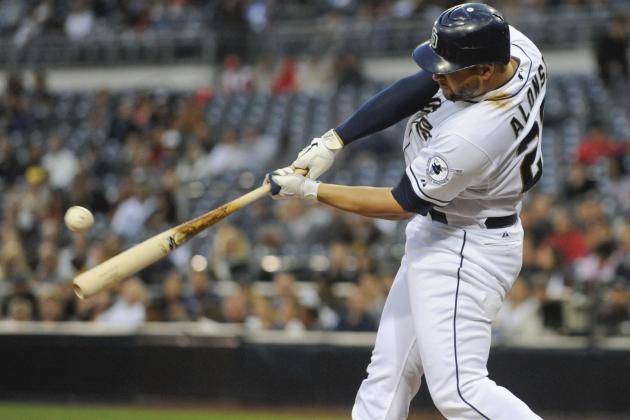 Denis Poroy/Getty Images

The day will come when Alonso converts his prodigious doubles rate into 25-homer seasons in the big leagues; but for now, fantasy owners should only be concerned with Alonso's progress as a .300 hitter and sneaky-good source for RBI and runs.

After all, it's not like any GMs invested a draft pick on the 25-year-old wunderkind—they simply reacted quickly to Alonso's earlier-than-expected breakout in San Diego.

As undrafted free agents go, Alonso has been a nice find for owners that can never have enough corner-infield assets.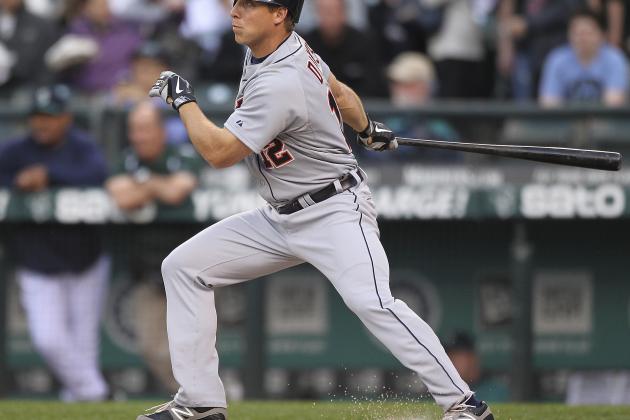 Otto Greule Jr/Getty Images

Here's where being a Detroit native and Tigers honk can be a problem: I have no clue how to frame Dirks' fantasy worth.

With a seasonal batting average of .371 (leading the Tigers), Dirks obviously belongs in this countdown; and with a .436 average since April 29 (also tops on the club), he probably deserves a higher spot than No. 5.

But here's the rub: I cannot predict, with total confidence, just how long he'll remain Detroit's left fielder, let alone predict how long he'll be a fantasy dynamo with an OPS above 1.000 (not unlike Ryan Raburn during a sustained stretch with the Tigers in 2010).

The next 10-14 days will be huge for Dirks. By the time Detroit wraps a 24-game stretch of 19 road games, we'll likely have a greater understanding of his role on a veteran-laden club.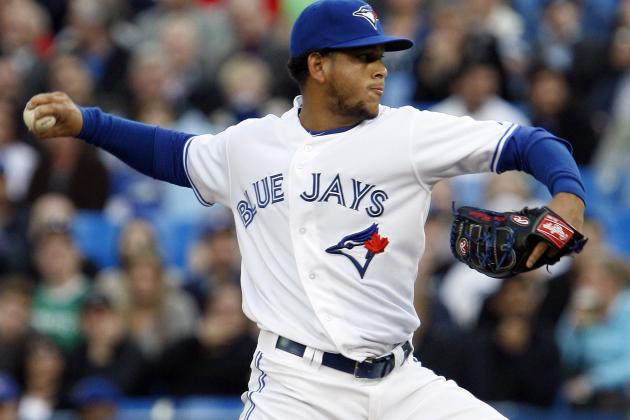 Abelimages/Getty Images

Alvarez doesn't collect strikeouts at a prodigious (or even reasonable) pace, nor does he register more strikeouts than walks on a consistent basis—two major black marks against fantasy pitchers.

And yet, it's impossible to overlook a prominent pitcher with a sub-1.00 ERA and 1.18 WHIP in his last three starts. It's also hard to ignore an asset with a 2.61 ERA and 1.10 WHIP for the season.

Bottom line: Alvarez might be a permanent fixture on this list, unless the strikeouts rise to previously unforeseen levels.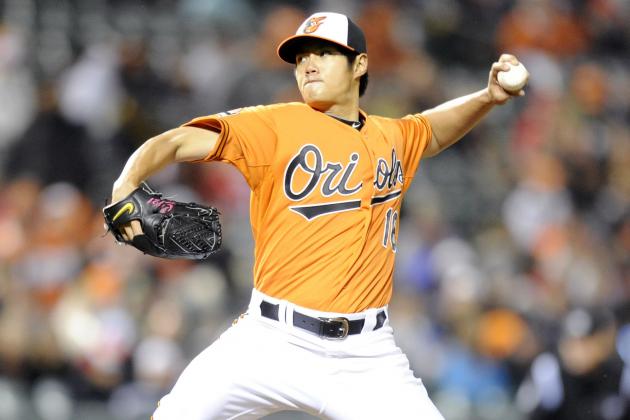 Mitchell Layton/Getty Images

I understand the general stigma against Orioles pitchers, given their atrocious marks in seasons past.

But Chen (3-0, 2.68 ERA, 1.27 WHIP, 28 strikeouts) had nothing to do with Baltimore's previous failures. If anything, he is one of the centerpieces from a new era of lower ERA and WHIP totals and presumably more victories.

Because of that, I sincerely hope this will be his last week on the universal waiver wire.

In six MLB outings, Chen has already developed some interesting patterns: He hasn't allowed more than three runs per start. He hasn't surrendered more than three walks, and he has stealthily earned a victory in every even-numbered start.

What's not to like about quirky consistency like that?
Thearon W. Henderson/Getty Images

In the last 12 days, Inge has four HRs, four four-RBI games and 17 RBI with Oakland, while leading the Bay Area into some kind of Inge-themed frenzy.

And yet, not a single owner has picked Inge up in my 12-team Sports Illustrated & Friends league.

Last week, Inge (143 homers, career .234 hitter) also joined Hall of Famer Jimmie Foxx (534 homers, career .325 hitter) as the only Athletics hitters of the last 80 years to belt two grand slams in three days.

And yet, Inge is owned by only five percent of ESPN.com fantasy leagues.

The verdict: Go ahead and belittle Inge's sub-.200 batting average. Go ahead and chalk up his amazing run of four-RBI games as a fluke. But there has to be some value to a player enjoying a once-in-a-lifetime burst of statistical greatness. Right?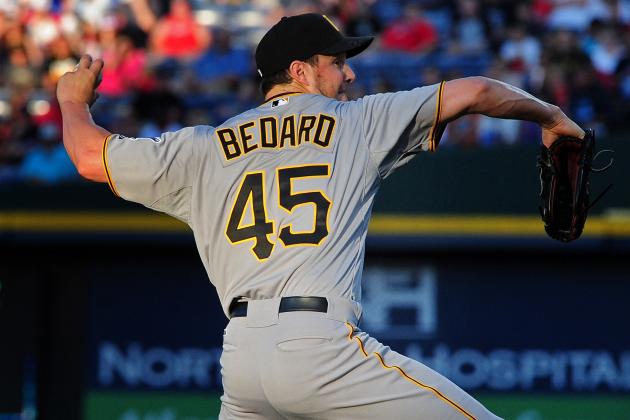 Scott Cunningham/Getty Images

There's no excuse for a pitcher who's allowed just two or less runs in his first seven starts to be a waiver-wire consideration in 12-team leagues. There's no excuse for finding a pitcher with 20 strikeouts in his last 11 innings in free agency, either.

It's even more incomprehensible when the above scenarios apply to the same pitcher—Bedard (2-4, 2.57 ERA, 1.37 WHIP, 37/14 K-BB), the ace of a Pirates rotation that ranks second in the National League with a 3.15 ERA.

Yes, Bedard has been erratic in seasons past; and yes, Bedard has a checkered past with injuries.

But in this tour of duty with Pittsburgh, shouldn't Bedard be afforded the benefit of the doubt...especially after striking out 27 batters in his last three full outings (yielding only five runs)?