Buffalo Bills: Making the Right Moves Needed for Super Bowl Title
May 14, 2012

Ezra Shaw/Getty Images
The Buffalo Bills have made a huge splash this offseason and are actually doing things the right way. This could lead to something fans have been dreaming about for almost over 15 years: a Super Bowl appearance.
Now, as any fan of the sport knows, championships are not won in the offseason. If this was the case, the Washington Redskins would be dominating the league.
However, the offseason can not be neglected by teams or the importance be minimized in playing a role in teams playing in February. Just like every Sunday in the fall, front offices need to have a strong game plan and execute it, something the Bills have done perfectly this year.
The wheels have been in motion for this offseason for three years now, when Ralph Wilson brought in GM Buddy Nix and head coach Chan Gailey. Nix came in with a game plan since he started, and the fruits of his labor were evident this spring.
If you look at any successful organization, they have three key areas they focus on during an offseason, and the first is to re-sign key free agents. This is something the Bills have not been willing to do in past years and has really hurt them. This year, Nix was able to keep or extend Stevie Johnson, Scott Chandler, Kirk Morrison, Bryan Scott and recently, Fred Jackson. 
All these players played key roles last year, and if they were not able to keep them, this would have weakened their starting lineup as well as depth. It also affects the second most important part of a successful offseason, which is the NFL draft. This year, entering the draft, the Bills were able to focus on filling a few minor holes, but more importantly, adding depth to the team.
The Bills had one of the best drafts this year and add that with last year's draft, they are adding quality talent. They could enter the season with five starters on defense who were drafted by Buddy Nix, including Stephon Gilmore, Aaron Williams, Jarius Byrd and Kelvin Sheppard. On the offensive side of the ball, there are three starters in Chris Hairston or Cordy Glenn, Andy Levitre and Eric Wood. Let's not forget draft picks C.J. Spiller and T.J. Graham, who should play big roles in the offense this year.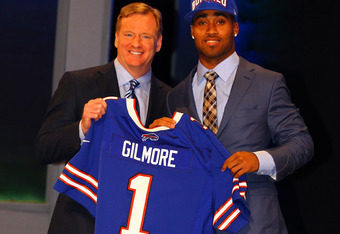 Al Bello/Getty Images
There are a number of other players who were drafted over the past three years who should add depth to this team. This turned out to be their biggest weakness last year after a great start to the season.
The last phase, and this is the one teams have the most trouble with, is signing free agents. This is the toughest phase because front offices don't know how players will react to big contracts, will they continue to improve or if they have peaked and how they will fit into the team's game plan.
The Bills made the biggest splash this year with the mega-contract for defensive end Mario Williams. This could end up being a Reggie White type signing for the organization or blow up like when Albert Haynesworth went to the Redskins. I tend to lean towards the Reggie White side because Williams has already dealt with high expectations after a huge contract being the first-overall pick a few years ago.
The Bills didn't rest after the Williams signing and added Mark Anderson to play on the other end. These two, along with defensive tackles Kyle Williams and Marcell Dareus, have the potential to create one of the best defensive lines in the game.
Continuing to add pieces for competition, Buddy Nix recently brought in Vince Young to back up starting quarterback Ryan Fitzpatrick. It will be interesting to see how Chan Gailey uses Young, seeing as how he is the most athletically gifted QB he has ever had as a coach.
This move doesn't spell a quarterback controversy as some like to think because the offense the Bills run has specifically been tailored to Fitzpatrick. This fact, along with the contract extension, should give Fitzpatrick at least this year and next year to prove doubters wrong.
Now, like I said, a great offseason doesn't automatically put teams in the Super Bowl, and the Bills are still a long shot this year. Adding all these new pieces can sometimes create problems, like what happened with the Eagles last year.
The Bill,s though, have made smart free-agent deals, brought back key players from last year and had a strong draft. When teams excel in these three key areas of an offseason, it will lead to success on the field more times than not. It looks like the Buffalo Bills could be circling the wagon, and fans in Western New York should be excited for the 2012 season.