Arsenal: The Story of the Club's Season-Making Triumph at West Bromwich Albion
May 14, 2012

Ross Kinnaird/Getty Images
Arsenal versus West Bromwich Albion away. The match to make or mar Arsenal's season.
A draw would not be enough—not if rivals Tottenham Hotspur won their own match against Fulham.
A defeat would matter much and little—much if Newcastle survived Everton, for Arsenal would tumble out of a Champions League spot on the table to an ignominious fifth position (they didn't eventually); little because it would be of no consequence as far as finishing position would be in the face of Spurs' victory and a Newcastle draw or loss.
Were this a final of any sort and you asked any pundit, even Gooners, most would have tipped Arsenal for victory. But a league game and a final consequential one, no less? Few would assay assurance.  I had feared this match a month or so before it would happen. It could prove catastrophic, I thought.
At kickoff, I felt confident of a win. But saying it now is simply after the fact and makes little difference, if at all.
Spurs struck first, making no bones of their intention of wanting to supplant Arsenal. They would be the younger sibling no longer. North London throne—nay, the entire London throne—would be theirs; no more would Arsenal or Chelsea boss them in the capital.
Their emphatic start to the day's important business was a mirror of how they they had begun this season's campaign: emphatic, assured, in the driving seat.
Arsenal, on the other hand, succumbed to the demons that have dogged them all season long.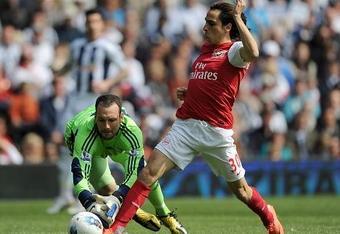 Arsenal answered Spurs in kind, thanks to Marton Fulop's mistake. Instead of simply booting the ball away just outside his area in the face of Arsenal early foray forward, Fulop opted to allow the ball to drift into the area so he could use his hand to gather it. 
Yossi Benayoun had other ideas. Refusing to give up what looked a hopeless cause, he poked the ball away from the goalkeeper's grappling hands and rolled it into West Brom's empty net. Just four minutes of the match had been played.
This was the cue for the demons to strike. The same demons had first blinded Arsene Wenger and the board and caused them to dilly-dally last summer on transfers after selling Arsenal's best players, and it led to a catastrophic beginning to the season—two red cards from the first game, an 8-2 loss to Manchester United, a 4-3 loss to Blackburn and a 2-1 loss to Spurs.
Within seven minutes of Arsenal's propitious goal, West Brom equalized (from an offside position). But if Arsenal could blame the linesman for sleeping in the face of what appeared a clear offside goal, there was nothing to blame but their schoolboy defending when Graham Dorrans fired West Brom ahead just four minutes after their equalizer.
BBC Sports quickly bumped Arsenal to fourth place on the League table. Spurs were winning the final battle. Arsenal's equalizer 15 minutes later by the enigmatic Andre Santos did not alter the balance of power: Arsenal were losing the final battle and the war.
The apparent celebration gathering force at the white end of North London had no conception of a big factor in the Arsenal match—the basic fortune of a foreigner from France, whose advent and reign at Arsenal has been the reason for Arsenal's 16-year dominance over their white neighbors.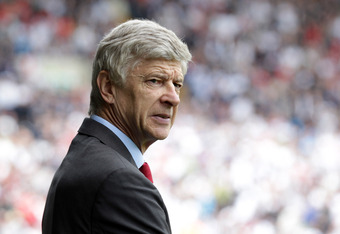 Ross Kinnaird/Getty Images
This fortune appeared in the form of West Brom's goalkeeper, whose name, Fulop, was an omen of the role he'd play in the match.
Certainly, when he flapped at Robin van Persie's corner kick in the 54th minute and drove the ball backward instead of forward and away from his goal, Fulop flopped his way down the stairway of shame.
Fulop's flop proved more powerful than the dark demons that shackled Laurent Koscielny, Arsenal's most reliable defender this season, and caused him to turn in a nervous performance, which threatened numerous heart attacks to Gooners around the world.
Ironically, it was Koscielny who struck and sank West Brom and Spurs, putting a stop to their premature celebration. This very act encapsulated the complexion of Arsenal's entire season, the seesaw of bad and good luck, of wretchedness and excellence, of despair and hope, of ineptitude and promise, of defeat and triumph.
As though bribed by some unseen force from White Hart Lane, the referee "conspired" to add five minutes of stoppage time. (Five minutes elsewhere would prove the difference between the title being red or blue this season.)
It was an added time that caused Wenger to lose any pretense of dignity in front of the myriad of cameras that are traditional in today's stadiums. 
He leaned on and hugged Pat Rice at least twice, not in celebration or as a congratulatory gesture of some achievement (there was none yet), but in sheer nervousness.
He stood; he paced; he sat; he hugged. Then he stood and paced some more, then sat down and, in spite of himself, grabbed Rice.
Wenger was a nervous wreck, but this demonstrated his level of passion and intensity and understanding of what was at stake—at least £25 million of Champions League money in financial terms, and not unthinkable, it could determine his future at Arsenal.
His agony represented that of millions of Gooners around the world.
Wenger later articulated his emotions:
When we were 1-0 up we were nervous. When we were 2-1 down we got back to our game again and in the end we just hung on. We defended crosses with resilience but as long as we did not manage a fourth goal [I was nervous]. I am still thinking of suing the referee for the five minutes of added time because my heart suffered immensely! 

[I was aware of what was going on at Spurs]. They were 2-0 up and basically I did not want to finish fourth. If Chelsea win the Champions League then you are not in it and you are also not [definitely] in it because you play a qualifier. 
In the end, Arsenal triumphed. Gooners should celebrate—to resort to the habitual blame game that is the wont of some fans at this time is out of taste.
Third place, after everything that has happened this season, is a great achievement. And no matter the disjointedness of this match, the most important thing happened: We won. We achieved our goal.