NBA Playoffs 2012: 3 Stars for the 76ers in Game 1 vs. Boston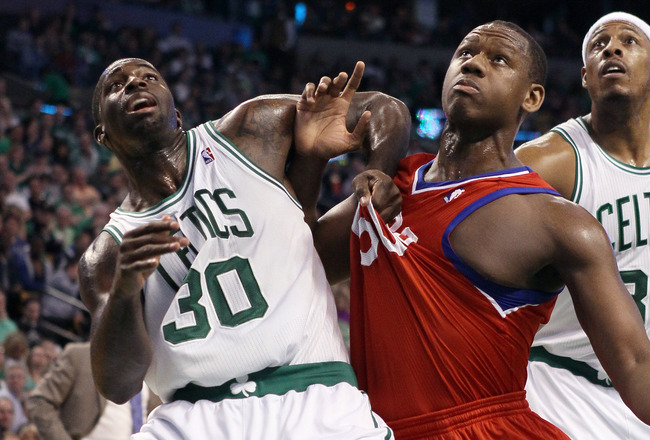 Elsa/Getty Images
The Philadelphia 76ers lost in heart-breaking fashion against the Boston Celtics Saturday night. They led for most of the game—even by double digits at one point—but in crunch time, Boston's veterans got the better of the 76ers in what ended up being a 92-91 loss for Philadelphia.
The 76ers still had three players whose effort kept them in the game, and if they produce like they did in Game 1, along with the rest of the team, the 76ers will have a chance against Boston going forward.
Evan Turner, Guard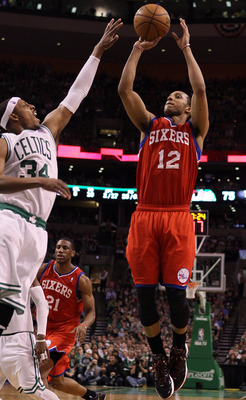 Elsa/Getty Images
Since the playoffs started, Evan Turner has turned on a new gear. Before the first quarter reached the halfway mark, he already had five rebounds. In his second year in the playoffs, Turner finished the game with a double-double, 16 points and 10 rebounds, with eight of his rebounds on the defensive side.
His effort in the game was exceptional. Turner gave the 76ers some defensive size and finished the game with four steals and was a plus-four.
Lavoy Allen, Power Forward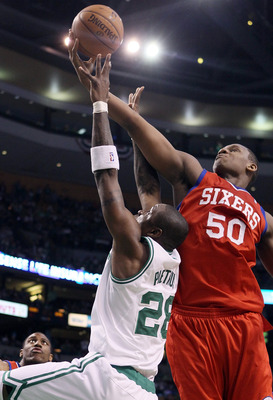 Lavoy Allen Grabs a Rebound from Mickaël Piétrus.
Elsa/Getty Images
Lavoy Allen had a monster game for his first playoff game in the Garden. He came off the bench and played for the better part of 20 minutes. Allen also had a decent shooting game, as he finished with 12 points.
While on the court, the rookie from Temple was matched up against the 12-time All-Star Kevin Garnett. Allen had a great series against the Bulls, but he continued to play well against Garnett, managing four defensive rebounds and a steal. He finished the game as a plus-six.
Allen's effort will probably get him more minutes in Game 2, and the 76ers should benefit from his offensive skills.
Elton Brand, Power Forward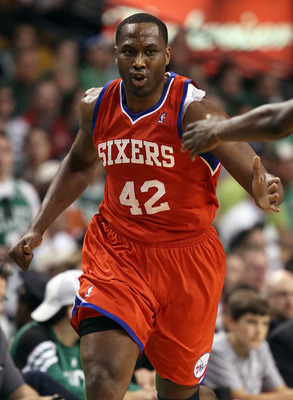 Elsa/Getty Images
Elton Brand did not have his best game against the Celtics, managing just four points in 15 minutes of play. Brand did not even fill the stat sheet up that well, yet it was everything else he did that people would not notice but his teammates and opponents would take note of.
Brand's physicality and energy against Garnett made it tough for Celtics to get their offense rolling and seemed to energize the 76ers in the first half. When it seemed the Celtics were coming back, Brand had two key blocks. He finished as a plus-three. Brand only took five shots in Game 1—hopefully that changes more in Game 2.
Conclusion, Game 2 Expectations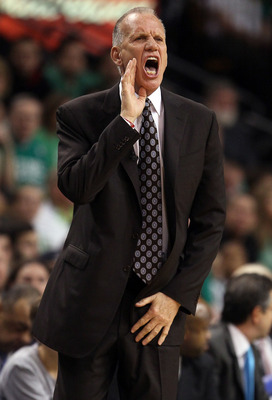 Doug Collins calls out plays for 76ers.
Elsa/Getty Images
These three players will have to play a huge factor in the rest of the series if the 76ers think they have a chance against Boston.
Evan Turner is proving to be a great playoff performer, and the Sixers play better when he is on the court.
Lavoy Allen proved that he was not afraid of Kevin Garnett and if he can stay out of foul trouble, he will be a problem for the Celtics.
If Elton Brand can find his shot, he will be a huge asset for the 76ers. His tenacity and defense were effective in Game 1, and putting it all together will be a plus for the 76ers.
The 76ers only lost to the Celtics by one point, and Doug Collins will make sure his team realizes that they cannot only play with Boston, but that they can also beat them.
Keep Reading

Philadelphia 76ers: Like this team?