Washington Redskins: Will Josh Morgan See More Offensive Snaps or Return Duty?
May 13, 2012

Ezra Shaw/Getty Images
The addition of receiver Josh Morgan this offseason was viewed as a positive one, with many citing his potential as more than enough reason to sign him. In four seasons, Morgan has not had a great season, but he has shown enough to warrant some intrigue heading into his first season with the Washington Redskins.
What the team must decide between now and opening day is how it is going to get the most out of the versatile Morgan.
With the San Francisco 49ers, Morgan returned kicks, caught passes and even had his number called on a handful of rushing plays. He ran under a 4.5 at the combine in 2008, showing good speed for his size, but scouts highlighted his lack of acceleration coming out of his breaks and labeled him an underachiever.
His career thus far has not dispelled any of the analysis scouts had when he came out of Virginia Tech.
In 2010, Morgan looked to be taking the next step in his career when he caught 44 passes for 698 yards and two touchdowns during the tumultuous final year of head coach Mike Singletary's tenure. Considering the offense he played in, those are great numbers.
Morgan played in just five games last season and finished his career with the Niners on IR after he broke his right leg.
Since Mike Shanahan took over two seasons ago, the Washington Redskins haven't had much scary talent at wide receiver. They've had plenty of dependable, productive players like Santana Moss and Jabar Gaffney, but nothing to make defenses worry much.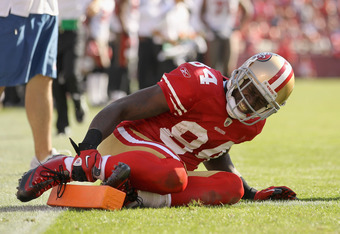 Ezra Shaw/Getty Images
Morgan isn't the scary talent the Redskins need, but he could be the versatile weapon they have not had on offense.
Brandon Banks is Washington's resident threat, having a hand in both kick and punt returning duties, as well as catching some passes and running some Wildcat plays. He even threw a 49-yard touchdown pass last season.
What Banks possesses in versatility, he lacks in dependability. No team wants to subject a 5'7", 155-pound receiver to regular offensive snaps and kick return responsibilities.
Morgan was an experienced punt returner out of college, but has seen just 15 kick returns in his NFL career.
For the Redskins, Morgan is depth and versatility with a ton of upside and plenty of years left to do it. He has to prove he is fully recovered from his ankle injury, and that he is committed to improving upon a lackluster career thus far.
If Washington keeps to the trend, it will certainly work Morgan into its offense as much as possible. He is most likely the fourth or fifth on the depth chart as it is now, but he can earn his way into a regular rotation.
The Redskins don't have the luxury of letting talent sit on the bench, and Morgan has the tools to be a great run after the catch receiver, or a dependable return man.