Seattle Seahawk Picks in 2012 NFL Draft Were Not "Reaches"
The Seahawks' starter in 2012?
Otto Greule Jr/Getty Images
By now, the NFL draft is old news. Rookies are participating in their own mini camps. Draft grades have recently come out at NFL.com, however, and the Seahawks are among the "Draft Duds," sporting a miserable C+ grade.
This is the second year in a row where the Seahawks draft has been hammered by NFL "experts." Last year Mel Kiper Jr. gave the Seahawks a D, although the so-called draft guru raised the grade to a B- after some late-round picks (Richard Sherman, K.J. Wright) performed admirably in the starting lineup.
This year's poor grade is primarily a result of Pete Carroll's first- and third-round choices: Bruce Irvin and Russell Wilson, respectively. Both were considered "reaches" by Kiper.
This article is a defense of these two picks, and an argument as to why Kiper will be raising the Seahawks' draft grade for a second consecutive year.
Bruce Irvin: 15th Overall Pick
Why he's a "reach"—The main knock against Irvin is his one-dimensional pass-rushing style. When lining up at defensive end, Irvin could effectively speed rush but do little else. This was largely due to his lack of size and weight, which supposedly affected his ability to stuff the run as well.
In addition to these performance issues, Irvin had some inner demons. Multiple run-ins with the law significantly affected his draft stock. With these issues and supposed inability to be an "every down player," Irvin was predicted to be a second-round pick.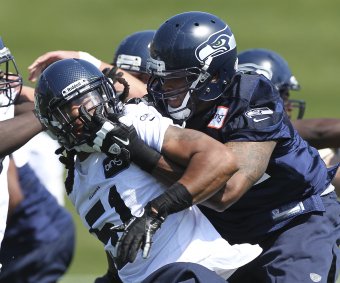 Gotta hold him to stop him.
Otto Greule Jr/Getty Images
Why this is a good pick—Pete Carroll himself has stated that Irvin is "the best pass-rusher in the draft." Even if Irvin were only to play 60 percent of snaps in a game, as Pete Carroll suggests, he still has a chance to be productive.
To compare: Aldon Smith, as a situational pass rusher for the 49ers, racked up 14 sacks in his rookie 2011 season. Hopefully, as a product of an efficient defense, Irvin can put up similar numbers.
As far as character issues go, Irvin left those behind long ago. In order to represent his change in character, he changed his name. He now goes by "Bruce" as opposed to "BJ." Collectively, Irvin is no longer a character issue and should produce for the Seahawks in 2012.
Russell Wilson: 75th Overall Pick
Why he's a "reach"—Height. Wilson's stature (5'11") dropped him down draft charts. Were he 6'3", the Wisconsin Badger would be a top-10 draft pick.
He has the leadership, arm-strength, accuracy and mind to lead an offense. But the trend of short QBs struggling in the NFL scared most analysts and coaches away from Wilson. He was predicted to go in rounds four through six.
Who will be the Seahawks' starting QB in 2012?
Why this is a good pick—As of today, Pete Carroll has announced that Russell Wilson is officially in competition for the Seahawks' starting job. In the weekend's rookie camp, Wilson impressed the Seahawk coaches enough to add another participant to the competition involving Tarvaris Jackson and Matt Flynn.
If anything, Pete Carroll and John Schneider believe in this kid. Additionally, height has never affected Wilson in his football career up to this point. He played behind the tallest line in college football last year, which averaged 6'5".
Despite his line's height, Wilson set an NCAA record for passing efficiency and only had four passes batted down all season. Wilson creates passing lanes and extends plays with his legs. Every Seahawk fan should be excited about this pick.
In conclusion, Bruce Irvin and Russell Wilson are going to make Mel Kiper Jr. eat his words. If you disagree, let me know! Comments are awesome.
This article is
What is the duplicate article?
Why is this article offensive?
Where is this article plagiarized from?
Why is this article poorly edited?

Seattle Seahawks: Like this team?