Italian Open 2012: Predicting the Men's Tournament
May 13, 2012

Mike Hewitt/Getty Images
Novak Djokovic and Rafael Nadal couldn't stand playing on the blue cay, and it's no surprise they lost early in Madrid. Now it's back to the red clay in Rome, where there should be no excuses for the top two players in the world. Game on.
The Italian Open should be decided between the top three in the world. I will be surprised if anyone other than Djokovic, Nadal or Roger Federer wins this tournament.
Now here are my predictions.
Quarterfinals
First quarter: Djokovic is the top seed here and could get Bernard Tomic in his first match. That shouldn't be a problem for the Serb. He also has Juan Monaco, Juan Martin del Potro, Thomaz Bellucci and No. 5 Jo-Wilfried Tsonga in his section. I like del Potro to make it to the quarters, but I think Djokovic will have too much for him.
Semifinalist: Djokovic
Second quarter: This is Federer's section, and coming off the win in Madrid, he could run out of gas in this tournament. However, his section looks pretty comfortable, and I don't think he'll have much problem getting through. John Isner, Janko Tipsarevic and Gael Monfils are some of the other top names in this section.
Semifinalist: Federer
Third quarter: No. 4 Andy Murray is the top player here, but he hasn't played much lately, and I could easily see him going out early. He has David Nalbandian and Richard Gasquet as potential early opponents, but I think Murray will get through to the quarters. There he would likely have either No. 6 David Ferrer, Fernando Verdasco or Gilles Simon. I like Ferrer to get through and then knock off Murray in the quarters.
Semifinalist: Ferrer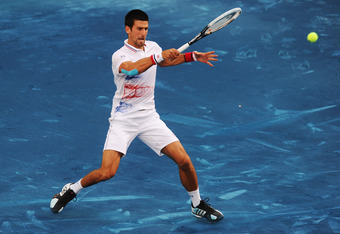 Mike Hewitt/Getty Images
Fourth quarter: Nadal's game should work perfectly on the red clay in Rome. His draw isn't too difficult, which will allow him to get into his rhythm. He could face Tomas Berdych in the quarters, but I don't think Nadal will have much problem advancing to the semis.
Semifinalist: Nadal
Semifinals  
Djokovic vs. Federer: Fed is coming off the tourney win in Madrid and is brimming with confidence. Djokovic is looking to find his game on clay and get some momentum going as they get ready for Paris. I think Djokovic will get it done in three tight sets.
Winner: Djokovic in three sets
Ferrer vs. Nadal: The blue clay in Madrid served as a minor speed bump for Nadal as he goes for yet another French Open title. He will have no problem disposing of the always feisty Ferrer.  
Winner: Nadal in two sets
Finals
 
Djokovic vs. Nadal: This would be a big match for both players, each looking to regain their top form heading into Paris. I think it will be a dogfight, but in the end Nadal is still the king of clay.

Winner: Nadal in three sets