2012 French Open Odds: Rafael Nadal Still Favored Post-Madrid Masters
May 13, 2012

Jasper Juinen/Getty Images
The 2012 Madrid Masters have concluded, and Roger Federer is the inaugural King of Blue Clay, as he beat Tomas Berdych in a tight three-set match on Sunday.
What being the King of Blue Clay means in relation to the 2012 French Open is not entirely clear, however, the Swiss Maestro's betting odds to win the upcoming clay-court Grand Slam have still shortened with several sportsbooks (i.e. Ladbrokes, Boylesports).
Here are the updated betting odds for each of the Top 8 favorites to win the 2012 French Open outright. (The percentage is the implied chance of winning based on the betting odds):
Rafael Nadal: EVEN (50%; William Hill)
Novak Djokovic: 9/4 or +225 (30.77%; Bwin)
Roger Federer: 12/1 or +1200 (7.69%; William Hill)
Juan Martin Del Potro: 14/1 or +1400 (6.67%; Paddy Power)
Andy Murray: 25/1 or +2500 (3.85%; Boylesports)
David Ferrer: 33/1 or +3300 (2.94%; bet365)
Tomas Berdych: 66/1 or +6600 (1.49%; Blue Square)
John Isner: 66/1 or +6600 (1.49%; Coral)
The following are my opinionated percentages, independent of the above betting odds:
Rafael Nadal (61%)
Roger Federer (11%)
Juan Martin del Potro (10%)
Novak Djokovic (6.5%)
Tomas Berdych (6%)
Milos Raonic (2.5%)
Andy Murray (2%)
David Ferrer (0.5%)
The Field: (0.5%) chance combined with Jo-Wilfriend Tsonga, Gael Monfils and Nicolas Almagro eating up a huge chunk of that.
I don't think that the results from the Madrid Masters can be taken as seriously as the results from Monte Carlo and Barcelona when trying to get some insight into the French Open favorites.
The main reason for that is because of the different surface—the blue clay—that both Nadal and Djokovic complained about.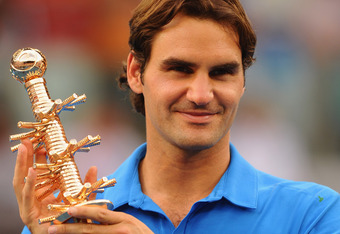 Mike Hewitt/Getty Images
However, the results from Monte Carlo and Barcelona are also tough to take too seriously, when trying to figure out the value bets because the two tournaments were not contested by all of the key players. Perhaps the Rome Masters are where the most insight will be gained, although both Djokovic and Nadal will be entering the competition with much more rest than either Berdych, Federer or del Potro.
One major lesson that could be taken away from Madrid is that Federer appears to be the most motivated of the top-3 players on tour.
You could say that Nadal and Djokovic were bothered by the blue clay in Madrid, a surface that slid differently according to some players. However, you could also say that they let the blue clay bother them, and that calls their motivation right now into question.
I don't remember the last time Nadal let a player who committed nine double faults with no more than five aces win a best-of-three-set match, and Djokovic looked hapless at several key points against countryman Janko Tipsarevic.
The French Open promises to rekindle their drive, as Djokovic goes for a career Slam and Nadal looks to protect his coveted title. However, you still have to like Federer's chances a lot more post-Madrid than you did prior to the event.
But even if Djokovic plays his best, he remains well overrated for the title in Paris in my opinion, as the Serbinator has never really been a factor for the French Open title. He was playing better tennis last season and couldn't come up with a win against Federer. In previous seasons, Djokovic couldn't beat Jurgen Melzer or the dreaded Philipp Kohlschreiber. 
I wouldn't be surprised if Djokovic suffered a middle-round loss at the French Open as he's often been one to underachieve at the event.
The interesting thing about Djokovic is that he's taking in a lot of bets, and yet, when you get right down to it, he's little more than a backdoor flush draw. His status as second favorite according to betting odds is leaving a lot of other players with longer odds than what they should have.
I think Nadal at even odds, Federer at 12-to-1, del Potro at 14-to-1, Berdych at 66-to-1 and Raonic at 100-to-1 are all reasonable plays to make, and they are far better than taking Djokovic at his current price.