Don't Bury Frank Mir Just Yet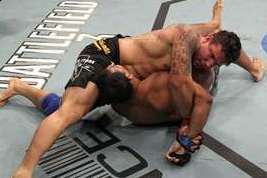 Photo by Yahoo Images

The prevailing opinion about Frank Mir's chances against Junior Dos Santos is that he's going to get smashed; plain and simple, cut and dried. It's about as absolute as a 15th Century papal decree.
Even the bookmakers think so, listing Dos Santos as a huge favorite at -550 to Mir's +350.
But let's not go digging Mir's grave just yet.
Mir has been doing his thing in the Octagon for over a decade. He's faced the best guys and compiled a UFC record of 14-5 in the process. He's a two-time UFC heavyweight champion. Basically, the dude can scrap.
Sure, Mir is going up against a monster in Dos Santos. The Brazilian slugger is the best boxer the heavyweight division has ever seen, and so far he's been nearly impossible to take down, let alone keep down.
But lest we forget, Frank Mir is a bonafide bone breaker. This guy grabs a limb and applies merciless torque. He snapped Tim Sylvia's forearm in half, and tweaked Antonio Rodrigo Nogueira's arm back to a nauseating degree, again for the snap.
This is not a guy you want to be rolling around on the mat with. No one in the heavyweight division should want to. Mir has a lethal combination of technique and power that you just don't often see, especially among heavyweights.
He's a power submission fighter. His technique is good enough to gain the advantageous position, and his crushing power bats clean-up to finish the job. And he has the limbs hanging from his mantel to prove it.
Mir has a tall order in front of him. He'll need to somehow get Dos Santos to the ground. That will not be easy. He's not a good enough wrestler to take Dos Santos down with a straight up shot, and he's going to get tooled on the feet.
But, if – and yes that is a big if, but if Mir can manage to get the fight to the ground, whether he can land a clean shot to rock Dos Santos, or if there's a scramble and he ends up in top position, then he has a great chance.
Undoubtedly, Dos Santos is a very competent grappler. He's a brown belt under the Nogueira brothers, but as Mir proved when he snapped Big Nog's arm, he has few peers on the ground.
More than likely Frank Mir is going to take the beating at UFC 146 that mostly all MMA fans believe he will. But Mir is a warrior, and such a warrior should never be so easily discounted.
In 19 UFC fights, Mir has gone to a decision only twice. It's kill or be killed with Frank Mir. And at UFC 146 it will be no different.
He will either get knocked out within two rounds or take home a third limb to complete his disturbed mantle motif.
This article is
What is the duplicate article?
Why is this article offensive?
Where is this article plagiarized from?
Why is this article poorly edited?