NBA Playoffs 2012: Live Coverage of Indiana Pacers vs. Miami Heat, Game 1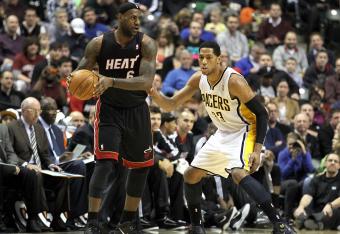 Andy Lyons/Getty Images
With just one game remaining in the first round of the 2012 NBA playoffs, the rest of the league is set to enter the semifinals phase.
At the heart of this competition are the heavy favorite Miami Heat, led by recently named MVP LeBron James, and the upstart Indiana Pacers, who have staked their claim as the best interior defense in the league.
Something has got to give, though, as Danny Granger and Roy Hibbert lead Indiana into Miami to take on the slashing attack of the Big Three and Miami.
Tune in today at 3:30 p.m. EDT for Bleacher Report's live coverage of the Eastern Conference semifinals!
That's all, folks! The Miami Heat have taken control of the series with an ugly, hard-fought Game 1 victory over the upset-minded Indiana Pacers. While neither team impressed, the Heat were able to show the mental toughness necessary to pull this win out.
Dwyane Wade and LeBron James came up huge in the fourth quarter, while the Indiana Pacers were just too dim under the bright lights. This series could be more competitive than most would expect.
Keep an eye on Chris Bosh's abdominal strain.
End of the Game: Indiana Pacers 86 - 95 Miami Heat
That may have been the nail in the coffin, folks, as LeBron James hits a jumper to give Miami a 9 point lead.
Fourth Quarter, 31.8 remaining: Indiana Pacers 86 - 95 Miami Heat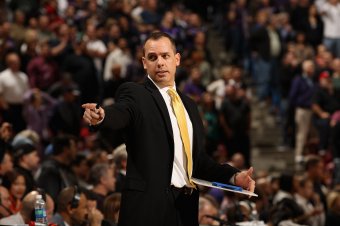 Ezra Shaw/Getty Images
When you can't make your high-percentage shots, you're not going to win the game. As has been the case for the Indiana Pacers, who have blown a golden opportunity to upset the Miami Heat in Game 1.
Neither team has been very impressive today, but Miami has shown the mental toughness to overcome Chris Bosh's injury and will themselves to a late lead.
Fourth Quarter, 1:05 remaining: Indiana Pacers 86 - 92 Miami Heat
Both teams are missing out on close-out and comeback opportunities. This will come down to who can execute with the game on the line. At this point, that seems more likely to be Miami.
LeBron James and Dwyane Wade are showing their dominance in transition. Indiana, meanwhile, is struggling to hit wide-open three pointers. The only bright spot is that Frank Vogel is right...
Miami can't score in the half-court.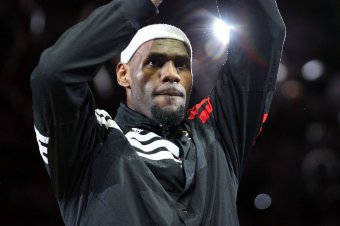 Marc Serota/Getty Images
The Indiana Pacers have come so close, but continue to miss wide-open three pointers at every opportunity. LeBron James and Dwyane Wade have taken over, scoring the Heat's past 18 points.
Great chase-down block by Dwyane Wade displays the story of the game.
Fourth Quarter, 3:08 remaining: Indiana Pacers 85 - 90 Miami Heat
The Miami Heat have had one of their most puzzling games of the year, dominating the pace but simply being unable to close things out. Big shots from David West and George Hill have cut the game to one point.
Indiana just got a big break as the foul was called on Paul George and not Roy Hibbert, who would have fouled out.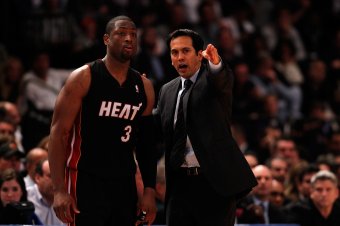 Jeff Zelevansky/Getty Images
Miami Heat head coach Erik Spoelstra demanded that his team hold the Indiana Pacers to "30 percent shooting from the field. So far, so good.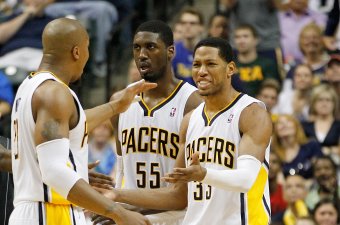 Gregory Shamus/Getty Images
Roy Hibbert continues to exploit the Miami Heat's interior defense, but that's truthfully the only advantage that Indiana has exploited. Terrible free throw shooting and missed three-pointers have led to a rather one-sided, yet somehow close, game...
Fourth Quarter, 6:20 remaining: Indiana Pacers 79 - 84 Miami Heat
The crowd has come alive and LeBron James has begun to dominate. The Pacers' body language tells the story: this team smells defeat.
Just like that, the Miami Heat are up six points! Missed opportunities by the Pacers have opened the door for LeBron James and Dwyane Wade to take over the fourth quarter.
Fourth Quarter, 8:48 remaining: Indiana Pacers 72 - 78 Miami Heat
After Indiana dominated the glass in the first half, the Heat have taken over those duties in the second. 14 offensive fouls for the Heat to 6 for the Pacers.
Even still, it's a one-possession game. A true slugfest.
Leandro Barbosa draws the foul to start off the fourth quarter, as their speed and quickness continues to play a major factor. Unfortunately for the Pacers, Barbosa misses both free throws and Miami capitalizes by taking the two point lead.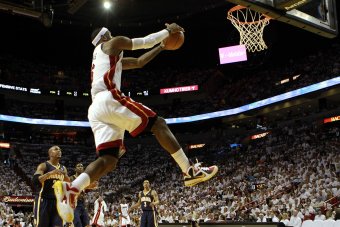 Marc Serota/Getty Images
End of the Third Quarter: Indiana Pacers 70 - 70 Miami Heat
Indiana Pacers' Team Leaders
Points: 15 - David West
Rebounds: 9 - David West
Assists: 6 - Darren Collison
Steals: 3 - Paul George
Blocks: 1 - Three Tied
Miami Heat's Team Leaders
Points: 23 - Dwyane Wade
Rebounds: 12 - LeBron James
Assists: 5 - LeBron James
Steals: 2 - LeBron James
Blocks: 1 - Ronny Turiaf & Shane Battier
Danny Granger is finally looking like Danny Granger, but LeBron James and Dwyane Wade are finally looking like themselves. Interesting to see this game remaining at a two-point lead for Indiana, as Miami has dominated the pace of the third quarter after Indiana did the same in the first and second.
Who will take over the fourth? Take to the comments section and let us know!
I don't think I've ever seen this many offensive fouls in one game. I'm not going to debate whether or not they were warranted, but there is just one thing that taking a charge says to me...
"I'm not a good enough defender to stop you, so I'll force you to foul me."
Come on now, people. Play basketball or get off the court.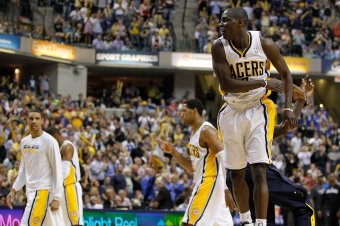 Gregory Shamus/Getty Images
Darren Collison may be the player of the game, taking it to the hoop for yet another and-one! Looks like the former New Orleans Hornet deserves his starting job back...
Third Quarter, 2:48 remaining: Indiana Pacers 65 - 64 Miami Heat
LeBron James hits the two free throws to give the Miami Heat their first lead of the game! One point lead and possession for the MVP and Miami...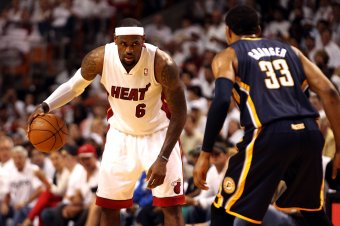 Marc Serota/Getty Images
Darren Collison with the drive-and-dish to Paul George for the open three. Very promising for Indiana and very concerning for Miami.
Fortunately, LeBron James has discovered how to hit a mid-range jump shot.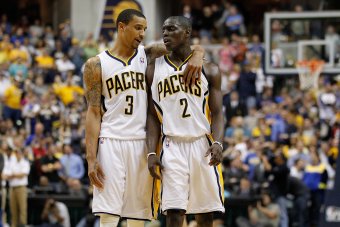 Gregory Shamus/Getty Images
The positive sign for Indiana is that Darren Collison has been able to get into the paint with ease. Miami has no answer for the Pacers' speed and quickness.
Nor do they have much offensive production be happy about besides the fact that they're drawing fouls.
Five fouls on George Hill, four fouls on Roy Hibbert and Danny Granger has yet to score a point. As concerning as this is for the Indiana Pacers, it's hard to forget about the other side of the coin. The Miami heat have yet to take this game over.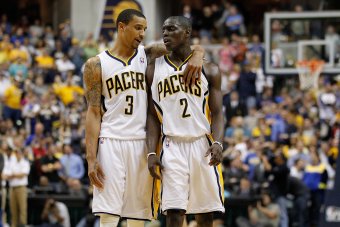 Gregory Shamus/Getty Images
Dwyane Wade is taking his ninth and 10th free throws of the game after drawing the second foul of the quarter on Roy Hibbert. This has been a result of some very sloppy passing by the Indiana Pacers, raising their turnover total to 10.
Make that 11, as George Hill commits his fifth foul and is likely to be done for the next quarter-and-a-half.
LeBron James takes Roy Hibbert to the hoop. Excellent job of taking advantage of positional mismatches by the Heat. This is exactly why they're so good.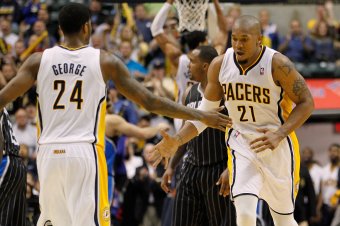 Gregory Shamus/Getty Images
Paul George averaged just 9.4 points on 42 percent shooting from the floor in the first round. He also averaged, 7.0 rebounds, though, which is a very encouraging sign.
They'll need those contributions in the second half. Thus far, Miami has been in control and Dwyane Wade just picked up an easy dunk in transition.
Ronny Turiaf opens the half how the Miami Heat ended it: drawing a foul. Not a bad foul to commit, considering Turiaf is far from a prolific free throw, but come on... Another foul?
The trap defense and double-box outs have been phenomenal from the Indiana Pacers thus far, which is why this team is so far out in front in terms of pace. It will be interesting to see what adjustments the Heat will make.
Chris Bosh is reportedly out with an abdominal strain. He is not expected to return today, which would be a huge loss for Miami.
This article is
What is the duplicate article?
Why is this article offensive?
Where is this article plagiarized from?
Why is this article poorly edited?