Green Bay Packers: Why Aaron Rodgers' Best Is Yet to Come
May 16, 2012

Jonathan Daniel/Getty Images
Aaron Rodgers can play better than he did last season for the Green Bay Packers.
The MVP had a remarkable season throwing the football last year, throwing for 45 touchdowns to just six interceptions. His season was one of the greatest performances by a quarterback anyone has ever seen and it is hard to expect a player to duplicate a season like that.
However, Rodgers' greatest seasons are still in front of him. The thought of that should scare the rest of the competition.
Rodgers has what it takes to be an elite quarterback on his own, but having the receiving corps that he has makes it that much easier. With the likes of Greg Jennings, Jordy Nelson, James Jones, Jermichael Finley and Donald Driver, Rodgers has plenty of options on the field.
While Rodgers expects the most out of himself, he feels the same way about his receivers. The hard work and dedication he puts into his craft is something he expects to see from his wideouts.
They don't disappoint Rodgers, as they are a hard-working group who want to see each other do well. Each week there is a different receiver who leads the game in receptions or receiving yards. Rodgers has enough confidence in them that he will throw to whomever has the best matchup.
The Packers receivers are young and have plenty of time to become even better players. This core group of players should be with the organization for a while and help with the continued success of Rodgers. Nelson had his breakout year last season and should do more of the same this year, especially if attention is still being paid to Jennings and Finley.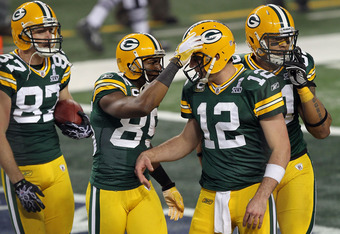 Mike Ehrmann/Getty Images
While Rodgers has receivers to help him shine even greater, another thing going for the former University of California quarterback is that he is still a young player. Most of the great quarterbacks didn't have their best seasons until they entered their seventh or eighth season. Yes, Rodgers is entering his eighth year in the league, but he has only been a starter in four of them.
Denver Broncos quarterback Peyton Manning had his best season, statistic wise, in his seventh season. That is when he threw for a then-record-breaking 49 touchdown passes and just 10 interceptions. He followed that up with two more spectacular seasons including his 2006 season, when he threw a career-low nine interceptions en route to a Super Bowl.
Hall of Fame quarterback Joe Montana had his best seasons even later in his career. His two best seasons came during his ninth and 11th years in the NFL. In 1987, the San Francisco 49ers quarterback threw 31 touchdowns with a completion rate of 67 percent. During his last Super Bowl-winning season, Montana had a career low in interceptions with eight and completed 70 percent of his passes.
Another example is Tom Brady. He threw an NFL-record 50 touchdown passes in his seventh season on his way to winning the MVP.
Something all three of these quarterbacks, along with Rodgers, have in common is that they all have or have had outstanding teams. Quarterback may be the most important position in the NFL, but a quarterback can't carry a team all the way to a Super Bowl championship. With that said, the quarterback is the only position in the NFL that is judged by his win/loss record.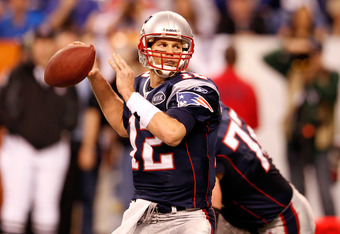 Rob Carr/Getty Images
Rodgers already has a Super Bowl and a Super Bowl MVP. If his play continues to be the same as it was last year and the defense improves to its 2010 winning form, Rodgers will naturally get most of the credit. He did everything he could have last year; however, the defense let him down. The improved defense won't get nearly as much credit as Rodgers, which will add to his legacy.
A Super Bowl is what Rodgers and all quarterbacks are judged by. The Packers have a chance to become a dynasty. They are a young team and are complete at most positions. General manager Ted Thompson has shown that he can draft well and keep getting young talent. Rodgers has thrived in helping young talent become the players they are today.
With the guidance of coach Mike McCarthy, the Packers quarterback has gotten better each year he has been in the league. McCarthy has shown confidence with Rodgers ever since he was chosen to be the starter after Brett Favre came out of retirement.
Favre had just led the Packers to the NFC Championship game in 2007 and it seemed foolish to not give the position to Favre for one more chance at a title. However, McCarthy knew what he had in Rodgers and he didn't want to wait anymore.
Now with Rodgers as an established starter, McCarthy calls passing plays 65 percent of the time. The perception of the Packers is that they struggle running the ball. While James Starks and former Packers running back Ryan Grant have not been household names, they provided a decent running game for the Packers offense. The reason McCarthy chooses to pass the ball is because he has confidence in Rodgers.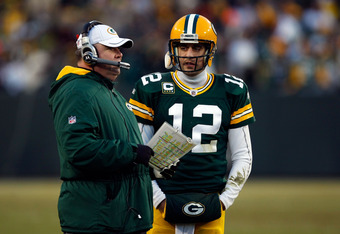 Scott Boehm/Getty Images
The Packers were expected to draft a running back in this year's draft to help the running game, but they chose not to do that. This shows that the Packers are not concerned about establishing a more effective running game. The success of the Packers offense starts and ends with Rodgers.
McCarthy has shown that his emphasis will be on the passing game and Rodgers knows the responsibility he has for the success of the offense. He thrives in high-pressure situations and is confident in his ability to perform. He may be seen as a cocky player, but Mike Freeman of CBSSports.com put it best when talking about Rodgers' confidence.
This is Rodgers. This is who he is and it's hard not to like because Rodgers backs up his attitude with spectacular action. He isn't a ring-less Terrell Owens mouthing off.

Is Rodgers arrogant? Sure. He had better be. All quarterbacks -- in fact, all NFL players -- need to have some degree of arrogance to survive in the sport. The great ones like Rodgers have an excessive amount.

Rodgers isn't the kind of arrogant that's a problem. He's not nasty arrogant or un-coachable. He's just the right amount of arrogant.
He is absolutely right that every NFL player needs to be arrogant and cocky. That is part of what makes them great. That is what will help Rodgers become an even better player as he progresses in his career.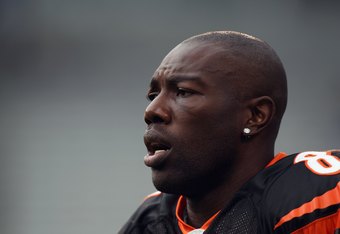 Streeter Lecka/Getty Images
That confidence has been with Rodgers since high school, even after years of rejection and him having to prove to other people that they were wrong about him. Rodgers came out of high school with no scholarship offers to any major schools and had to play at Butte Community College before transferring to the University of California.
He had to prove to college teams that passing on him was a mistake. In the NFL, he had to prove that taking Alex Smith No. 1 overall instead of him was a mistake, too. Players who have a grudge are dangerous people on the field. When that player's name is Aaron Rodgers, it's even scarier.
Rodgers always feels he has something to prove and will never take off a play for that reason alone. After he won the Associated Press Male Athlete of the Year Award in 2011, he talked with AP's Chris Jenkins about proving something to doubters.
"I chose the couple that I thought were most demeaning to display in a space in my house that really nobody is able to see but myself," Rodgers said. "It's something that I think is important to keep fresh on your mind. Maybe not every day, but once a week your eyes might pan across it and you have a little laugh about the journey you've been on -- at the same time, remembering that there still are people out there that you can prove something to."
His resilience is what makes him unstoppable and will make him grow into an even better player. Time will tell where he ends up among the best to ever play the game. As for now, we just have to sit back and enjoy what we are about to see. Rodgers has treated the fans of Green Bay to something special so far and this is just the beginning.