Washington Redskins: Top 4 Positional Battles Going into Camp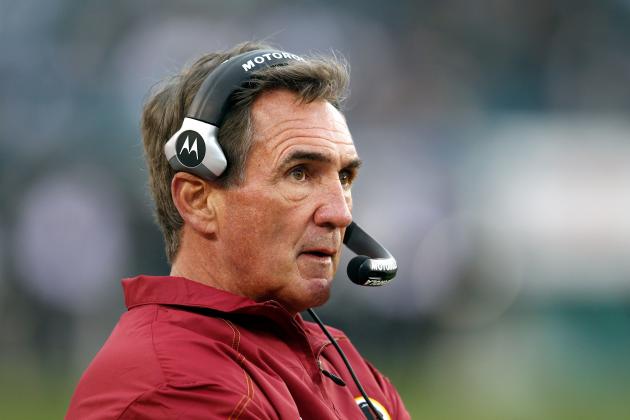 Rob Carr/Getty Images

The Washington Redskins solidified several positions over the past couple months, but there are still some positional battles that will have to be played out in the preseason.
There are still question marks all over the defense, and some on the offensive line as well. Some players are recovering from injuries and have to prove their health, while other young players are trying to prove that they belong in the NFL.
Here are the top four positional battles for the Redskins going into training camp.
Begin Slideshow

»
Rob Carr/Getty Images

Competitors: Roy Helu, Evan Royster, Tim Hightower, Alfred Morris
Last season, the Redskins had four players with at least 50 carries on their roster—Roy Helu, Tim Hightower, Ryan Torrain and Evan Royster.
Helu led the charge with 151 carries for 640 yards, averaging a solid 4.2 yards per carry in his rookie campaign. He also added 49 catches for 379 yards, proving his worth as a versatile back that can play on third downs.
Royster was another rookie who made immediate contributions and showed promise as a Shanahan-back—he led the team with 5.9 yards per carry.
Morris will play a role as a backup, but it seems unlikely that these three young guys will be the only backs on the roster. Tim Hightower missed the second half of the season with an ACL injury, but he was running well at the beginning of the year.
Shanahan has re-signed Hightower for one year, and he should factor into the equation also. Everyone gets carries in Shanahan's system, but it remains unclear who will start in week one.
Prediction: Helu will get most of the carries, with Royster acting as a bruiser in short-yardage situations. If Hightower returns to form, however, he could make a real impact.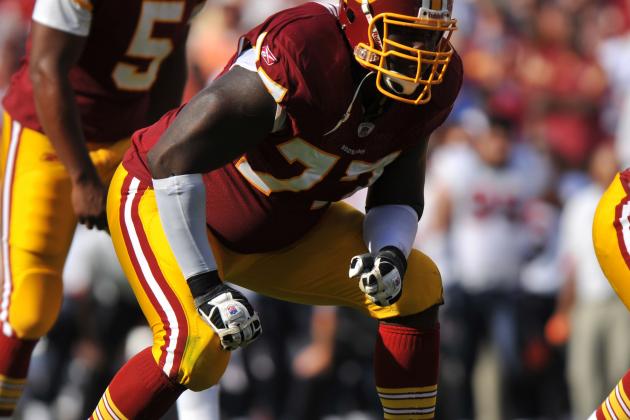 Larry French/Getty Images

Competitors: Jammal Brown, Willie Smith, Tyler Polumbus, Tom Compton
This could easily be the weakest position on the Redskins' roster (the secondary is also a disaster).
Jammal Brown somehow managed to ink a five-year, $27.5 million salary, and is under contract through 2015. This type of money would imply that he has been a consistent starter, but he has missed five games over the past two seasons, and his play has been inconsistent when he is on the field.
Compton is a rookie, and Polumbus has never started more than eight games in a season.
That leaves Brown and Willie Smith to vie for the starting job, and despite their difference in salary, Smith may be the better option.
During Brown's injury and left tackle Trent Williams's suspension, Smith filled in admirably and impressed fans and coaches alike. He only started three games last year, but it may be time to give up on Brown's fat contract (emphasis on fat).
Prediction: Brown's contract demands a certain amount of playing time, but if he gets hurt or continues to struggle, Smith could take over permanently before the season ends.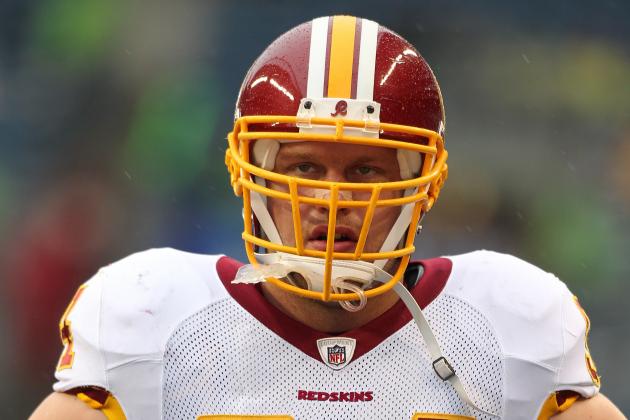 Otto Greule Jr/Getty Images

Competitors: Stephen Bowen, Adam Carriker, Jarvis Jenkins, Kedric Golston
The Redskins made significant improvements to their defensive line last year with three big moves—adding nose tackle Barry Cofield and defensive end Stephen Bowen in free agency, and drafting Jarvis Jenkins.
Bowen had an excellent year and seems to have earned his starting job, and Adam Carriker was serviceable on the other side of the line.
Jenkins is the real anomaly—he missed his entire rookie season with a torn ACL, but his college tape looks outstanding and he could be a monster on the line.
Bowen and Cofield are locked in, but Jenkins and Carriker will be battling for the other starting job. 3-4 defensive ends take quite the beating, though, so the three of them will form a nice rotation up front.
Prediction: Jenkins is an unknown commodity, but he should start as long as he has a good, healthy training camp. Carriker and Golston will provide good depth, rounding out a defensive line that will need to play great in front of a questionable secondary.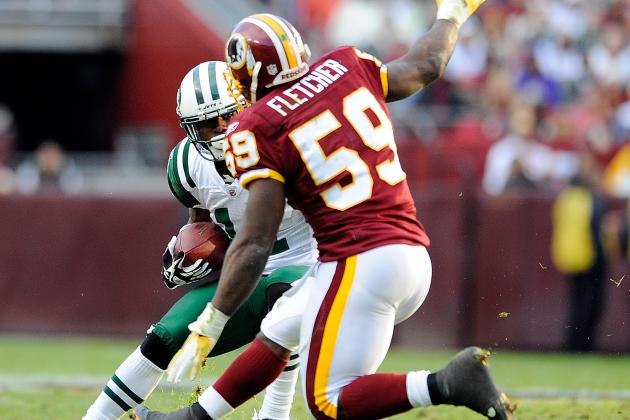 Patrick McDermott/Getty Images

Competitors: London Fletcher, Perry Riley, Lorenzo Alexander, Keenan Robinson, Jonathan Goff
The Redskins finally re-signed London Fletcher (hallelujah), so naturally he can be expected to start all 16 games and make a thousand more tackles this year.
The big question mark here is at the other 3-4 inside linebacker spot, where they have four legitimate options to work with.
Perry Riley has a lot of physical strengths, but he has shown weaknesses in coverage. In a 3-4 defense, the inside linebackers are often asked to drop back in coverage on a tight end or running back.
Lorenzo Alexander has been terrific on special teams, but he may be the Reed Doughty of the linebacking core—a smart player who makes tackles, but just doesn't have the athletic ability to get consistent playing time.
Keenan Robinson and Jonathan Goff are the two mysteries of this group.
Robinson is a rookie from Texas who showed great athleticism at the combine. In theory, his speed makes him best suited for the job, but he is just a rookie and thus carries rookie expectations.
Goff is even more vexing—in 2010, Goff recorded 80 tackles with the Giants and looked great. He tore his ACL after that great campaign, however, and missed the entire 2011 season. If he can recover and return to form, what a duo he and Fletcher could form up the middle.
Prediction: Everything hinges on Goff's injury. If he heals, he should be the guy. If not, look for Riley to play a lot on running downs and a combination of Alexander and Robinson on passing downs.