NHL Playoffs 2012: Western Conference Finals Preview and Prediction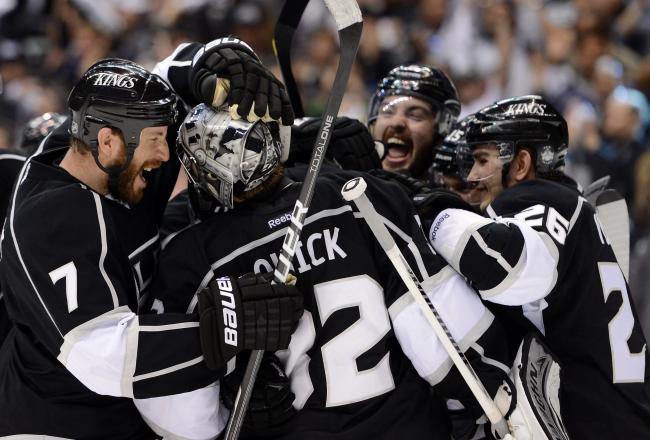 Harry How/Getty Images
It's been about a month since these playoffs started. Anyone disappointed? Yes, fans that watched their teams fall can't be happy, but the hockey's been great gang. No way around it. The next month will be just as good if not better!
In the wild West the Los Angeles Kings will bestow their royalty on the Phoenix Coyotes in Scottsdale this very evening. Truthfully, for hockey fans, this matchup couldn't get much better. Yes the Coyotes aren't the sexiest hockey team out there; many of you would prefer the Chicago Blackhawks against LA, or even the Detroit Red Wings. Before you get caught in brand identity and tradition, remember: the Coyotes are a great team. You can't be bad and beat the likes of Chicago and Nashville. It just isn't possible. You don't advance this far into the postseason not having the ability to win big games.
Plain and simple.
The Coyotes and Kings series will be an instant classic, a true goaltending duel. Jonathan Quick and Mike Smith finished in the top five in shutouts this year. Quick had 10; Smith had 8. In the playoffs so far, Smith has 2 shutouts, and Quick has 1.
It is easy to pick LA in this one. After the beat down they put on the Canucks and the Blues, they look positively unstoppable. The Coyotes however are just as impressive. They neutralized a well-stocked Chicago team and overpowered the Predators with their balanced attack.
Yes, they don't have the marquee worthy names of Anze Kopitar, Jonathan Quick, Drew Doughty, Dustin Brown, Jeff Carter, Mike Richards, etc. If you look at the production though, Shane Doan and Ray Whitney are just as dangerous with the puck on their tape as any of those guys. And at this point, if you're not convinced that Mike Smith is the real deal, you're a lost cause.
I'll be totally shocked if this one is decided in less than six games. These teams are evenly matched; name recognition means nothing on the ice. The difference at this point in the playoffs is character and experience. The Kings have both; they are younger, and a belief that they can win. The Coyotes are full of experience and have an entire fan base - and a front office, finally - behind them. Nobody does a whiteout like the Coyotes, and at this point, other franchises should stop trying.
Where's the edge? In this one, the goaltending and defense are even. The difference will be each team's scoring depth. You want to know why the Kings came "out of nowhere" with this run they're on? Look no further than the Jeff Carter deal at the trade deadline. Jack Johnson's a great young player who has a great future ahead of him. Nothing against him, but Carter provides yet another weapon that can overpower the defense and score a clutch goal in crunch time for LA.
Look for Quick and Smith to steal a game apiece before this one is over. This series will be very close: low scoring, plenty of overtime, back and forth the whole way. In the end, the Kings won't be denied. Kings in 7.
This article is
What is the duplicate article?
Why is this article offensive?
Where is this article plagiarized from?
Why is this article poorly edited?

Phoenix Coyotes: Like this team?