L.A. Clippers vs. Memphis Grizzlies Game 7: Live Scores, Highlights and Analysis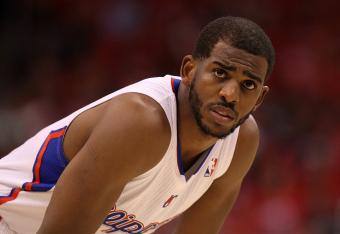 A promising season could come to an end today for Chris Paul and the Los Angeles Clippers.
Stephen Dunn/Getty Images
Today, at 1 p.m. ET, the Los Angeles Clippers and Memphis Grizzlies will square off in a game that is undoubtedly the biggest game of the season for the two franchises.
It's Game 7 of the first round of the NBA playoffs. One team wins and advances to play the Spurs; the other team loses and starts to think about the draft, free agents and next season.
Check back here to follow the action with live stats, scores and analysis.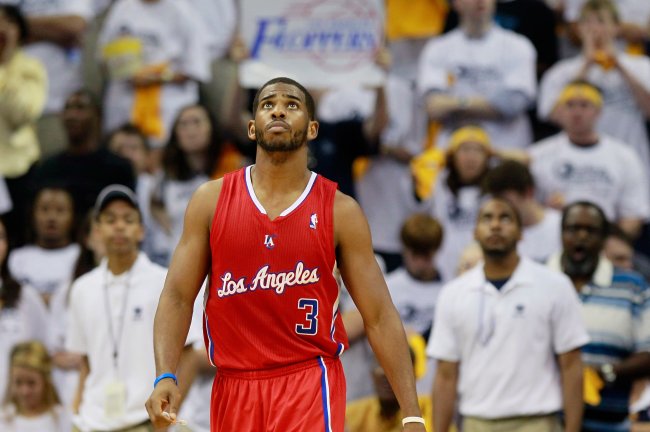 Kevin C. Cox/Getty Images
Final Score Clippers 82 Grizzlies 72
The Los Angeles Clippers bench may not have been that great at times this season but they came through when most needed.
It was that Clipper bench that keyed a 16-7 run to open the fourth quarter on the road against a tough Memphis Grizzlies team.
In the end the Clippers outscored the Grizzlies 27-16 in the fourth quarter and won fairly easily. Most impressively they played nearly the entire fourth quarter with Blake Griffin on the bench. Griffin finished the day with just eight points and four rebounds.
How Memphis still came out on the losing end of the contest with Griffin having such a poor game is a question that the Grizzlies have all summer to figure out answer to.
The Clippers meanwhile move on to face the top seeded San Antonio Spurs. The Spurs are a deeper more experienced team than the Clippers and while Chris Paul enjoyed a decided match-up edge over Mike Conley he won't enjoy that when facing Tony Parker.
Chris Paul led the Clippers with a near triple double. He had 19 points, nine rebounds and nine assists. That Clipper bench?
Kenyon Martin had 11 points and 10 rebounds. Reggie Evans didn't score but he still grabbed 9 rebounds as the Clippers beat the Grizzlies on the glass 46-42. The Clippers also received quality minutes from Nick Young who had 13 points.
Memphis was paced by Rudy Gay's 19 points all of which came before the fourth quarter. Memphis also got 19 points from Marc Gasol.
The backcourt of Mike Conley and O.J. Mayo were really unacceptably bad from the field.
Mayo was 1-11 and Conley was 2-13. They both keyed the Grizzlies' anemic 25-77 ( 32.3 percent) from the floor afternoon.
For Memphis it's a long late Spring and Summer off.
The Clippers will play San Antonio on Tuesday Night in San Antonio with tip off scheduled for 9:30pm ET.
Clippers 80 Grizzlies 71: 28 seconds 4th Quarter
Memphis hasn't just missed shots from the floor. They've missed free throws as well. Far worse is that Memphis is 0-11 from three point range.
The Clippers are in the drivers' seat as the clock is beginning to run out on Memphis' season.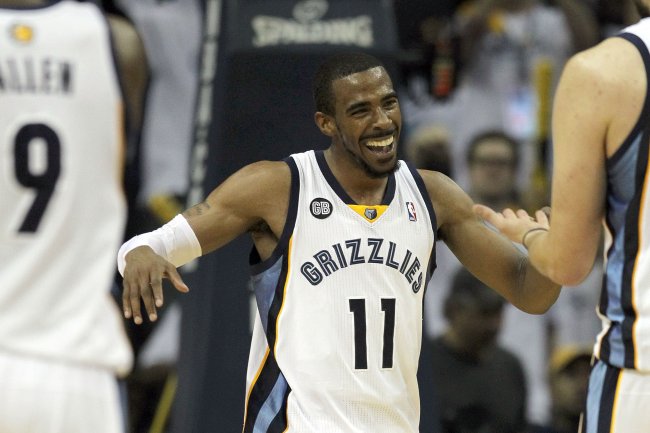 Andy Lyons/Getty Images
Clippers 76 Grizzlies 69: 58 seconds 4th Quarter
This game is slipping away from Memphis.
Terrible offense starting with point guard Mike Conley and then spreading systemically through just about everyone wearing a Grizzlies uniform.
The Clippers have outscored Memphis 21-13 in the fourth quarter.
Clippers 71 Grizzlies 65: 4:05 4th Quarter
For Los Angeles to hold on and win this game they're probably going to have to withstand one more push from Memphis.
Who is going to lead the charge?
Marc Gasol just hit a nice shot to trim the lead to six points. Zach Randolph will reenter the game, will he do more than just rebound? He hasn't scored much today but his 12 rebounds are a game high.
Could Blake Griffin hit some shots down the stretch to ice the game for Los Angeles?
This game has the looks of one that will be tight to the final buzzer.
Clippers 71 Grizzlies 63: 5:20 4th Quarter
When you're playing at home conventional wisdom would give that team the advantage in the fourth quarter.
Today's game isn't a survey though. It's one game and the Clippers are coming up big. Most shockingly it's the bench. Nick Young, Mo Williams, Kenyon Martin, Reggie Evans and Eric Bledsoe have keyed what might end up being a season saving 16-7 run to open the fourth quarter.
Memphis is just 1-7 from the floor this quarter.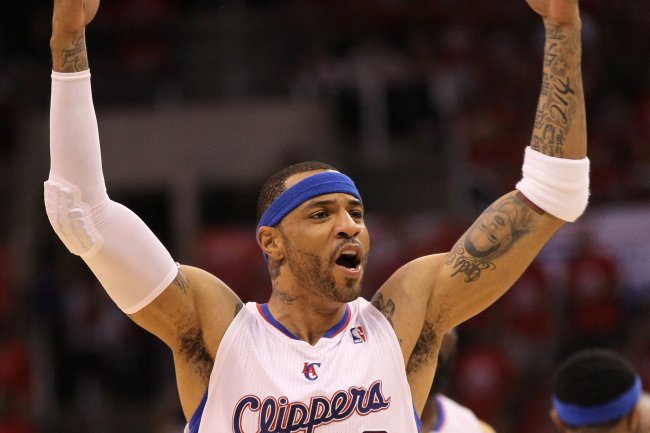 Stephen Dunn/Getty Images
Clippers 66 Grizzlies 58: 8:41 4th Quarter
For a player who has at times in his career been maligned for a lack of maturity Zach Randolph has been nothing but a stoic warrior today.
He's had a frustrating day shooting the ball. He's been involved in intense physical play under the basket but not once has he lost his cool or reacted poorly to the rough play. That's the bright side for Memphis.
The problem right now is that the Grizzlies of the fourth quarter seem very reminiscent of the first quarter Grizzlies. It's an 11-2 Clipper run to open the fourth quarter. Memphis is totally anemic on offense and the Clippers are getting needed contributions from the bench as Bledsoe, Young and Martin have all scored this quarter.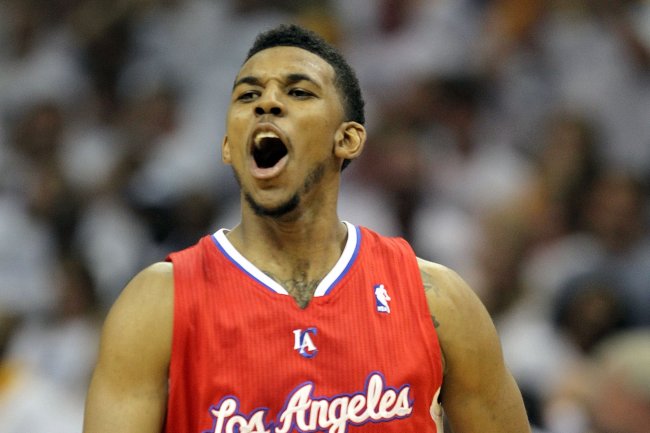 Andy Lyons/Getty Images
Clippers 60 Grizzlies 56: 11:08 4th Quarter
When you've got tight defensive battle in a game where the whole season is on the line you don't take too many chances.
That's why when Nick Young buried an open three less than a minute into the fourth quarter to cap a 5-0 Clipper run Memphis head coach Lionel Hollins immediately took a full timeout.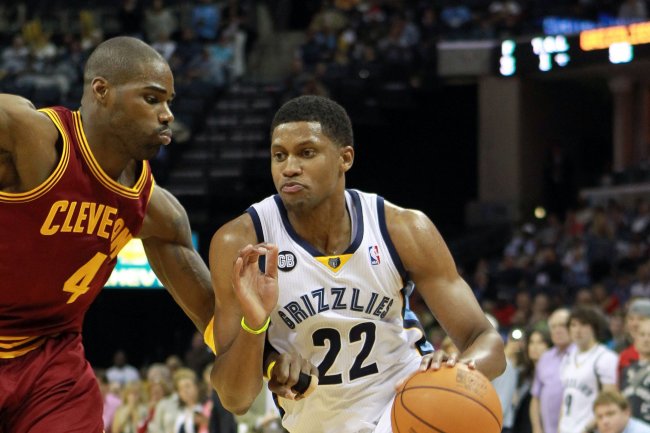 Andy Lyons/Getty Images
Grizzlies 56 Clippers 55: End of 3rd Quarter
Blake Griffin gets lots of attention for his spectacular dunks that dominate NBA highlights during the regular season. He's learning those dunks just aren't as easy to come by once the playoffs start. He's really struggling with the physical nature of the game today. Yes he's got a knee sprain but he's not just playing a bit slow, he's making bad decisions.
Griffin is 3 of 11 from the floor and has only four rebounds.
Both teams are struggling to adjust to the defensive intensity of the game.
Jeff Van Gundy just mentioned how this game reminds him of the physical basketball of the 1990's and as someone that watched the NBA through that entire decade I agree completely.
For the Clippers this game may be won or lost on the shoulders of Chris Paul. He has 17 points, eight rebounds and four assists. He's the only reliable play maker or shooter on the floor for Los Angeles.
Rudy Gay finally got hot in the third quarter. He scored 10 points and now leads all scorers with a game high 19 points.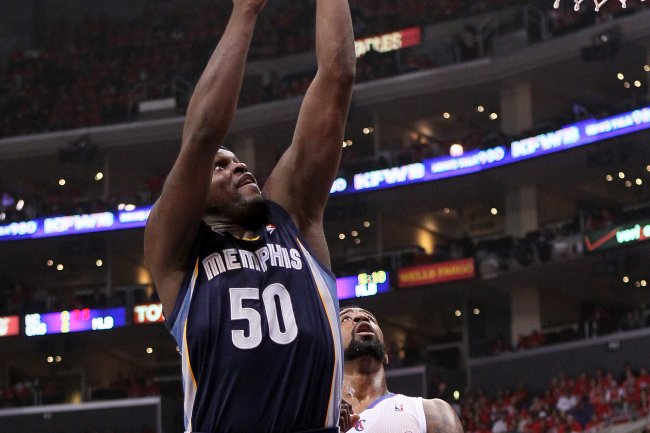 Stephen Dunn/Getty Images
Grizzlies 50 Clippers 49: 3:09 3rd Quarter
The first real uncontested drive to the hoop of the game resulted in a thunderous dunk from Tony Allen. It got the Memphis crowd fired up momentarily before Chris Paul came down the floor and drew a foul to get to the free throw line.
The rebounding is really becoming a big deal. Neither team is hitting a lot of shots but both teams are battling on the glass. Memphis holds a 31-28 edge and has gotten a big contribution from Zach Randolph who has a game high 11 rebounds.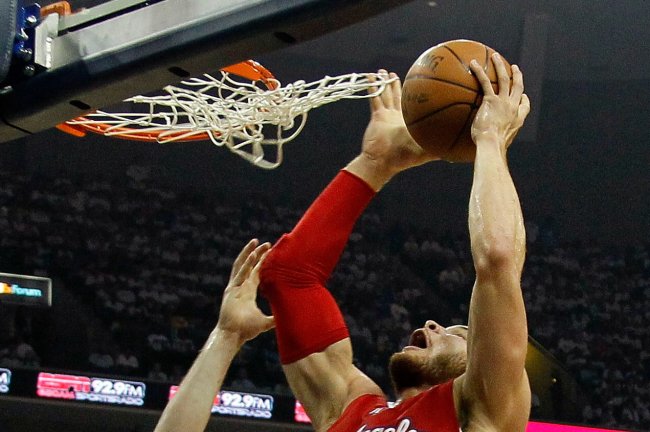 Kevin C. Cox/Getty Images
Clippers 45 Grizzlies 44: 7:34 3rd Quarter
The action is tight and physical in the second half. No shot is going uncontested and rebounds are being fought for with tenacity.
The game has see-sawed back-and-forth in the early going of the third quarter.
Blake Griffin looks frustrated on the court but his team is battling and this has the looks of a game that could be tight until the final buzzer.
At The Half
The Grizzlies bounced back from an atrocious start on the offensive end of the court and entered the locker room down by just one point.
Memphis has to feel good about the prospects of players such as Mike Conley improving on his 0-7 first half or Zach Randolph producing at better than his 2-8 half.
For the Clippers there are some problems. Blake Griffin had a rough first half. Two of ten from the floor and just six points. Griffin did contribute four rebounds and two blocked shots. Los Angeles needs his offense though.
Caron Butler is just 1-6 from the floor. He has four rebounds but he needs to be more productive in the scoring column.
Look for Los Angeles to lean heavily on Chris Paul in the second half. It might take a fantastic effort to get the Clippers the win but Paul is the type of player that can bring it.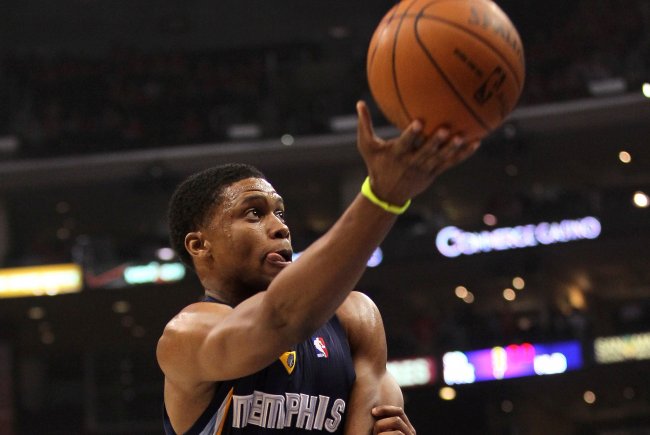 Stephen Dunn/Getty Images
Clippers 39 Grizzlies 38: Halftime
The story of the first half may be the Clippers failure to take advantage of a Memphis team that really struggled to get any sort of consistent production on offense.
The Clippers pushed the lead to ten points before Memphis closed the half on a 17-8 run over the final 5:07.
Memphis was paced by Rudy Gay and Marc Gasol with nine points each.
The Clippers got a game high 11 points from Chris Paul.
Los Angeles has the rebounding edge but only by a 23-22 margin.
The Clippers committed eight turnovers while Memphis had only four.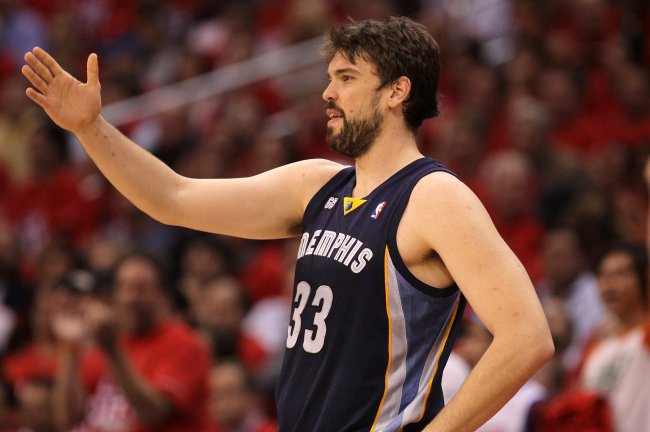 Stephen Dunn/Getty Images
Clippers 33 Grizzlies 31: 2:23 2nd Quarter
The offense has to improve for Memphis doesn't it?
They're just 10 of 35 from the floor for a paltry 28.6 percent.
The good news is that the Clippers have failed to really jump out to any sort of commanding lead. Blake Griffin has had a rough first half going just 2-10 from the floor. The Clippers also have eight turnovers.
Los Angeles may have missed a golden opportunity to really take a decent sized lead in this game.
Clippers 33 Grizzlies 28: 3:20 2nd Quarter
Memphis hasn't played bad defense but their offense has been just terrible. Tony Allen has had to take too many shots. Conley, Mayo and Gay are a combined 2-14 from the floor.
The Clippers pushed the lead to as high as nine points. Los Angeles has gotten a solid rebounding and defensive effort from Kenyon Martin off the bench, he has four points and five rebounds.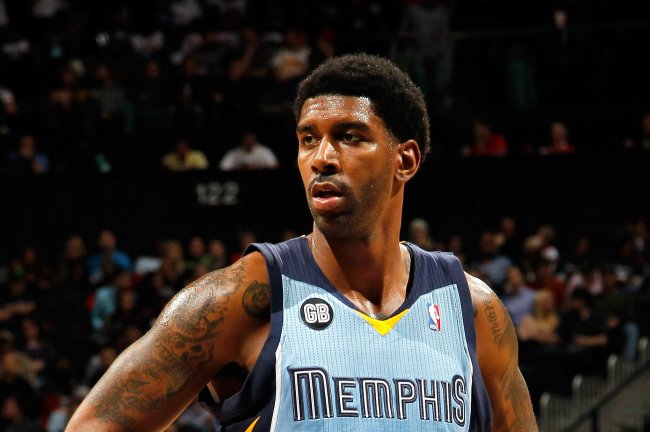 Kevin C. Cox/Getty Images
Clippers 27 Grizzlies 20: 6:22 2nd Quarter
Memphis is searching for a player to step up on offense.
Zach Randolph hit a couple of shots but he's only 2-7 from the floor. O.J. Mayo entered the game but he's also struggled going just 1-5 from the floor.
Chris Paul took a short rest, came back, and immediately took control of the offense. He's hit two shots in a row including a three pointer. Paul is now 3-6 from the floor today. He leads all scorers with nine points and has also chipped in with three rebounds and two assists.
The Clippers have their largest lead of the game at seven points.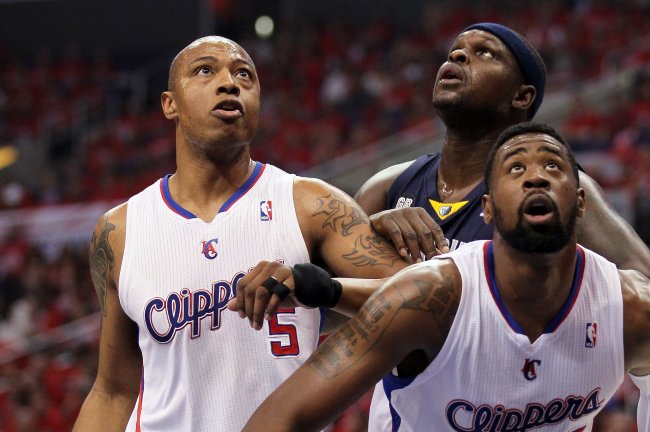 Stephen Dunn/Getty Images
Clippers 19 Grizzlies 17: 8:55 2nd Quarter.
The Clippers second unit has it's weaknesses but they also play hard. Nick Young and Eric Bledsoe are both pesky defenders and Young is a legitimate threat to heat up and knock down some shots.
Zach Randolph has started to assert himself on offense for Memphis. He now has six points.
The poor shooting has resulted in a ton rebounds. The Clippers are wining the battle of the boards 17-14, Caron Butler has a game high four rebounds.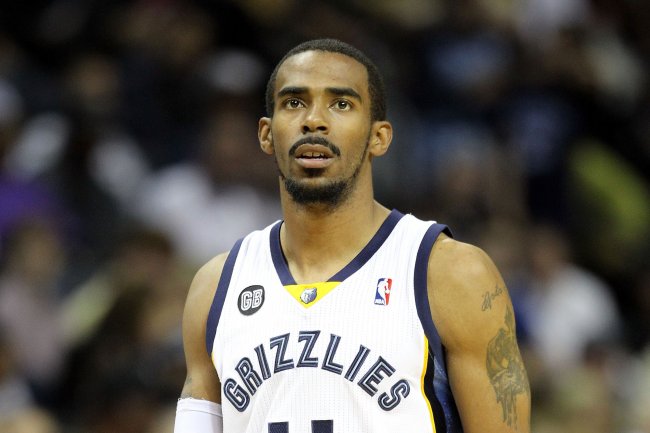 Andy Lyons/Getty Images
Clippers 16 Grizzlies 13: End of 1st Quarter
Lionel Hollins has a decent record as coach of the Grizzlies but strategically speaking Memphis will make one ask some questions.
For instance why is this team with superior low-post depth not fouling Blake Griffin more often and forcing him to earn his points at the line? Griffin shot just 52.1 percent from the line this season.
The first quarter was just ugly on offense. The two teams were a combined 0-9 from three point range. Memphis shot only 27.3 percent and Los Angeles didn't exactly light-it-up shooting only 28 percent.
Tony Allen leads all scorers with five points.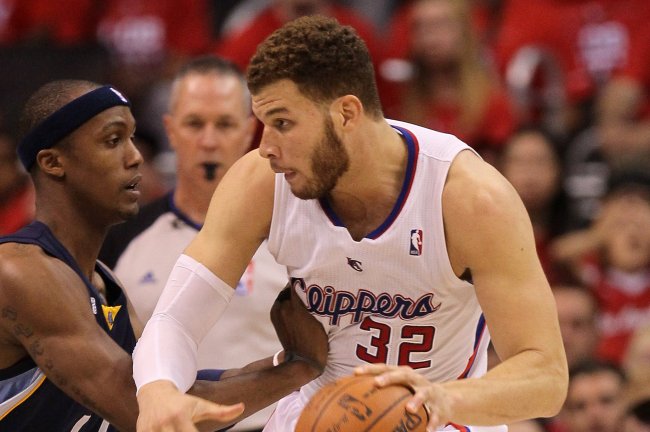 Stephen Dunn/Getty Images
Clippers 14 Grizzlies 9: 2:51 1st Quarter
The Clippers haven't looked great but Memphis looks positively out of sync on offense. They've missed some open shots and have also tried to force the action resulting in chaotic offensive possessions.
Meanwhile the Clippers are relying on Griffin and Paul and are getting production from both. Eight of their 14 points are from the two stars.
Memphis is still really struggling. They're just 4 of 17 from the floor.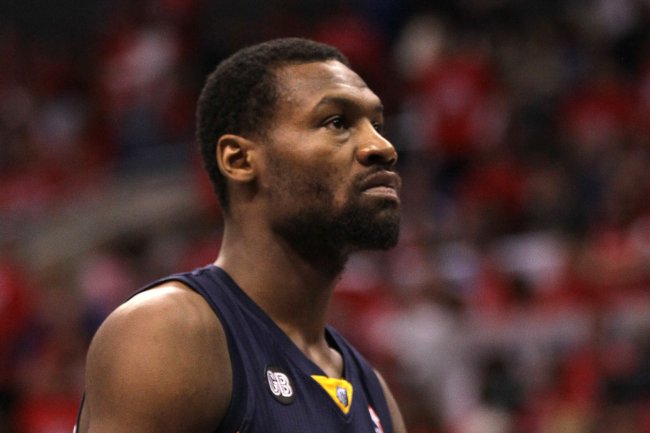 Stephen Dunn/Getty Images
Clippers 6 Grizzlies 5: 6:31 1st Quarter
The one word that comes to mind in the early going?
"Ugly."
Both teams look out of sorts. The Clippers have missed shots and turned the ball over. Memphis has failed to take advantage and basically done the same.
Both teams are a combined 4 for 21 from the field. No player has been immune to mistakes. It's got the looks of a game between two teams not used to playing in winner-take-all game 7 type games. Of course that's exactly what this is.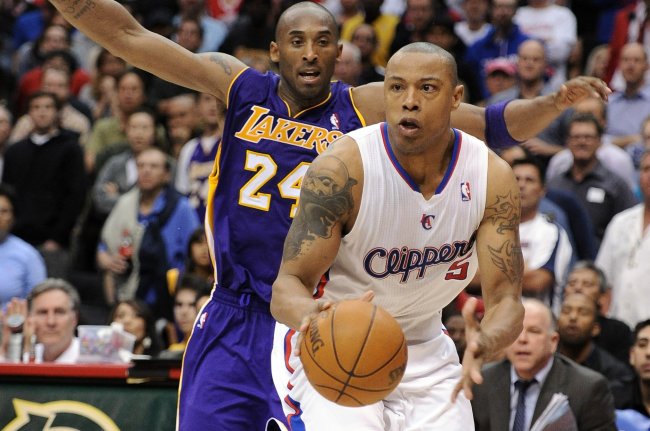 Harry How/Getty Images
This game will be impacted by two key aspects of the Clippers.
The health of Blake Griffin and Chris Paul and the amount of support they get from their teammates.
Paul has the hip flexor and Griffin has the sprained knee. They've been the two best players on the court this series but what about scoring from other players?
Nick Young, Mo Williams, Caron Butler and Randy Foye don't need to have huge games but they've got to be better than they have been as of late.
In this series the duo of Paul and Griffin have shot a combined 87 of 170 which comes out to 51.1 percent from the floor. Their teammates have gone 116 of 268 which is only 43.2 percent.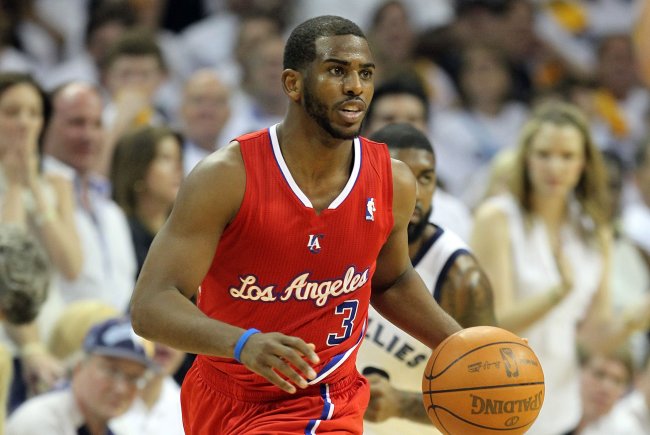 Andy Lyons/Getty Images
Here are today's Starting Lineups
Los Angeles Clippers ( 40-26, 16-17 away)
PG Chris Paul
SG Randy Foye
SF Caron Butler
PF Blake Griffin
C DeAndre Jordan
Memphis Grizzlies ( 41-25, 26-7 home)
PG Mike Conley
SG Tony Allen
SF Rudy Gay
PF Zach Randolph
C Marc Gasol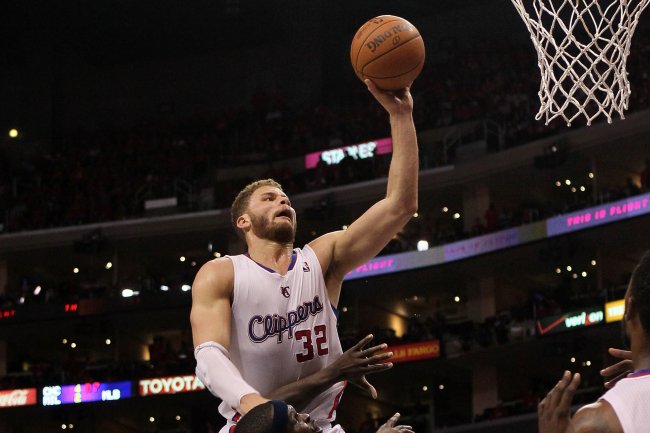 Stephen Dunn/Getty Images
Only eight teams have ever rallied from a 3-1 playoff deficit in NBA History.
Today in a Game 7 showdown the Memphis Grizzlies will look to become the ninth when they take on the Los Angeles Clippers at 1pm Eastern Time.
The Clippers will lean heavily on their two stars Chris Paul and Blake Griffin. Memphis will counter with it's superior depth and a balanced attack.
The Clippers have lost back-to-back games in the series and are now faced with the task of winning on the road or their season which started with the headline grabbing Chris Paul trade will come to a disappointing end in the first round of the playoffs.
Memphis which pulled off a tremendous upset in the 2011 NBA Playoffs when they beat the top seeded San Antonio Spurs in the opening round will look to make it two second round trips in a row.
Starting Lineups are on the way and keep it here for live scoring updates, stats and analysis.
This article is
What is the duplicate article?
Why is this article offensive?
Where is this article plagiarized from?
Why is this article poorly edited?