15 Athletes We'd Love to See Make a Movie Cameo
Kevin Winter/Getty Images
As sports fans, we love when athletes make the transition to Hollywood. Whether their role is to make us laugh by embracing their inner comedian or they go the more serious route, it's always exciting to see our sports heroes out of their comfort zone.
Mike Tyson made the transition to comedy with his cameos in "The Hangover" as well as the sequel "The Hangover Part II."
Larry Bird, Michael Jordan, Muggsy Bogues, Charles Barkley and others made cameos in the childhood favorite "Space Jam."
Even Kareem Abdul-Jabbar went out of his comfort zone to make people laugh in both "Airplane!" movies.
So who are some other athletes we'd love to see make movie cameos like those who paved the way before them?
Here's a list of 15 athletes who would be great for Hollywood.
Brian Wilson, CP, San Francisco Giants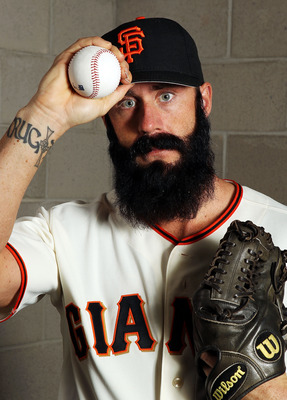 Jamie Squire/Getty Images
There's no denying that San Francisco Giants' closer Brian Wilson has one of the most outgoing, eccentric personalities in all of sports.
Whether he's plugging a video game (or— a video game), dressing up like a sea captain on a talk show appearance or representing a fast food chain, Wilson has had his fair share of acting experience.
Even while facing season-ending arm surgery this season, Wilson still kept a positive outlook on life saying that he may join the broadcast booth in his spare time. "Maybe I'll win an Emmy," the bearded closer said.
No disrespect to Mike Tyson's comedic timing (seriously—no disrespect), but Wilson has a gift for making people laugh. It would be great to see him in a movie cameo at some point in the future.
Steve Nash, PG, Phoenix Suns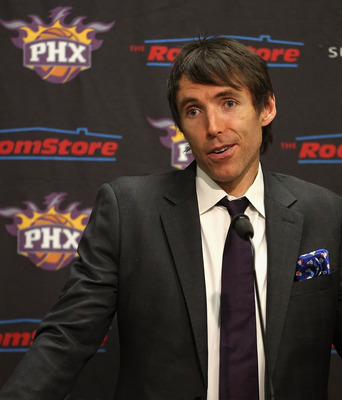 Christian Petersen/Getty Images
Despite being a two-time MVP and one of the best pure shooters in NBA history with career averages of 49.1 percent from the field, 42.8 percent from three-point range and 90.4 percent from the free throw line, Steve Nash knows how to keep things light off the court.
Few commercials are funnier than this one featuring a not-so-modest Nash in an advertisement for Vitamin Water.
Nash also has his fair share of viral videos on YouTube including this masterful free throw shooting display, as well as this hilarious Step Brothers spoof he compiled with New York Knicks point guard Baron Davis.
Nash is a class act on the basketball court so it's no shock that his bubbly personality off the court matches that.
In addition to his YouTube gems, Nash appeared on the hit HBO show "Entourage."
He's already made a television cameo, so why not make the jump to the big screen?
Peyton Manning, QB, Denver Broncos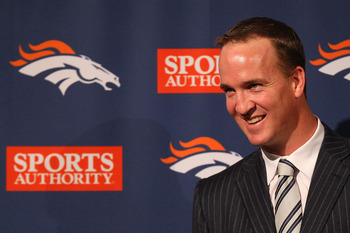 Justin Edmonds/Getty Images
Peyton Manning's wildly successful hosting gig of Saturday Night Live had as many funny skits in one episode as SNL typically has in a season nowadays.
In addition to his hilarious performance on the show, Manning has had his fair share of funny commercials.
Manning is a natural whether he's on the football field finding open receivers or in front of the camera reciting lines.
Peyton may be ready for a starring role in a movie instead of just a cameo.
Eli Manning, QB, New York Giants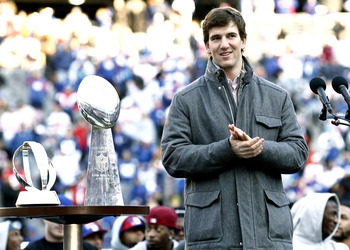 Jeff Zelevansky/Getty Images
Although Peyton's younger brother Eli Manning sometimes rubs fans the wrong way for his blank stare and goofy appearance on the football field, he has some of the same talents as his older brother (and one more Super Bowl ring).
The younger Manning recently joined his brother on the list of NFL quarterbacks who have hosted Saturday Night Live. He must have been nervous to live up to the great performance Peyton put on, but from the opening monologue forward Eli looked comfortable, and well, funny.
We'd be throwing salt in the wounds if we said that Eli outperformed older brother Peyton on SNL considering he has won more Super Bowls, so let's agree that Peyton's performance edged him out.
Nevertheless, Eli is another big name athlete with some acting experience. A cameo in a movie would be appreciated.
Aaron Rodgers, QB, Green Bay Packers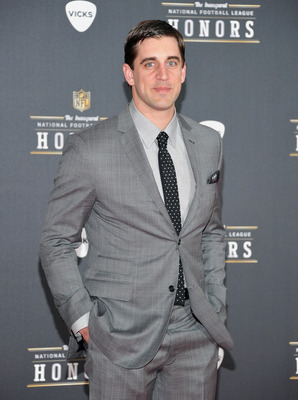 Mike Coppola/Getty Images
How about we stick with the theme of Super Bowl winning quarterbacks.
Although Aaron Rodgers hasn't hosted Saturday Night Live, he has other acting credits on his resume. You're probably familiar with State Farm's "Discount Double Check" commercials featuring Rodgers.
He's also appeared on his fair share of talk shows.
I think at this point we deserve a true test of Rodgers' acting chops.
Tim Tebow, QB, New York Jets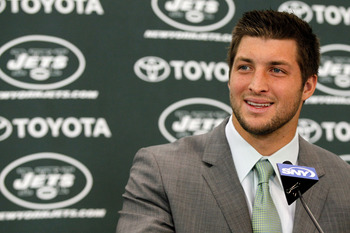 Mike Stobe/Getty Images
Alright, so Tim Tebow doesn't have a Super Bowl ring, but he's certainly one of the most polarizing figures in sports at the moment.
Although the extent of Tebow's "acting" career includes this largely uncomfortable anti-abortion Super Bowl commercial, I think it's safe to say we'd want to see Tebow out of his comfort zone in a movie cameo.
Although maybe he's in his comfort zone when he's not throwing passes, considering he completed just 46.5 percent of them a season ago (good for dead last in the NFL).
Anyway, I think we can agree Tebow would be just as polarizing in a movie role as he is on the football field.
Let's just hope he doesn't get too excited about it.
Josh Beckett, SP, Boston Red Sox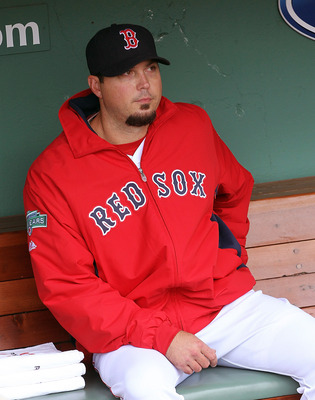 Jim Rogash/Getty Images
Boston Red Sox ace Josh Beckett hasn't been exuding much of a sense of humor lately after scandals that included drinking in the clubhouse during games and playing golf two days before he missed a start because of a tight lat muscle. However, it would be interesting to see if Beckett can find his inner comedian.
In order to do that though, you first have to acknowledge fault before making fun of yourself becomes a possibility and I don't think Beckett has done that.
Personally, I think it would help Beckett's lackluster image of late if he could make fun of the choices he's decided to make.
As a Red Sox fan, however, I'd rather Beckett get some more reps in the bullpen to try and figure out his ugly 5.97 ERA.
Derek Holland, SP, Texas Rangers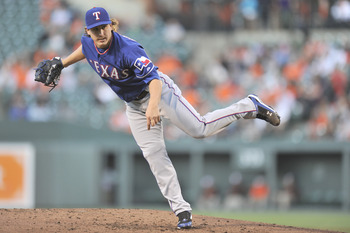 Mitchell Layton/Getty Images
We go from one pitcher in Josh Beckett, who may have been born without a funny bone, to Derek Holland, one of the goofiest personalities in baseball.
Despite his wacky hair and mustache combination, Holland is no slouch on the pitcher's mound. The lanky lefty went 16-5 a year ago for the Rangers sporting a 3.95 ERA.
Holland is known for his various voice impressions. His impersonation of Will Ferrell as former Chicago Cubs broadcaster Harry Caray is spot on and his impression of "Governator" Arnold Schwarzenegger is great as well.
This interview on the ESPN show "Dan Le Batard is Highly Questionable" gives you a nice taste of what Holland's personality has to offer.
Holland would be a great in a movie role, especially if he were to utilize the Harry Caray impression.
Hope Solo, Goalkeeper, USWNT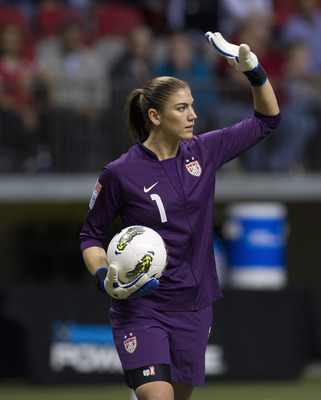 Rich Lam/Getty Images
Hope Solo is one of the most recognizable soccer athletes in the world.
Despite being most comfortable in between the goal posts defending oncoming strikes with relative ease, Solo also branched out to pose in the "Body Issue" of ESPN the Magazine.
Solo even demonstrated her soccer skills on the couch next to Steve Nash in a game of FIFA Soccer 2012.
The hyper-competitive Solo also competed in ABC's show "Dancing with the Stars."
I think Solo should make a cameo for all of the fans out there not into watching celebrities dance.
Jeremy Lin, PG, New York Knicks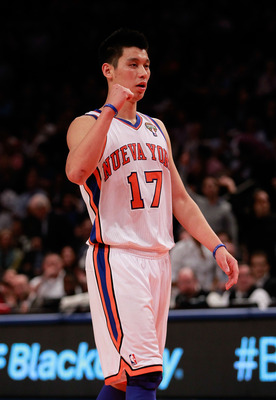 Chris Trotman/Getty Images
The New York Knicks were struggling to keep their heads above water with injuries to Carmelo Anthony and Amar'e Stoudemire. Mike D'Antoni's job as head coach was in jeopardy and Knicks fans were getting restless.
Insert "Linsanity."
Jeremy Lin took the Big Apple as well as the country by storm with his breakout performance as the Knicks' point guard.
The Knicks rode a seven-game win streak with Lin at the helm and although Lin eventually missed the end of the season and the playoffs because of a torn meniscus, he became one of the best underdog stories in sports history.
Lin is one of the few members in the sports community who challenged Tim Tebow's supremacy as "most polarizing athlete."
We'd be remiss if we didn't include him on this list.
Metta World Peace, SF, Los Angeles Lakers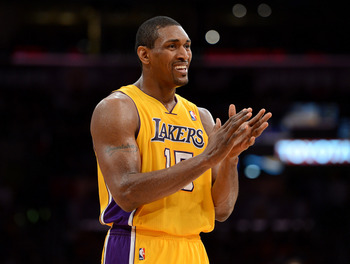 Harry How/Getty Images
Formerly known as Ron Artest (or perhaps still known as Ron Artest), Metta World Peace is one of the most interesting athletes on the basis that he's unpredictable.
From his role in the "Malice in the Palace" to his name change to his vicious elbow to the head of Oklahoma City Thunder guard James Harden, it's hard to imagine what World Peace will do next.
Let's also not ignore the irony of a guy with "World Peace" on the back of his jersey raring up to fight someone at half court.
Despite his evident mean streak, World Peace auctioned off his NBA championship ring to raise money for mental health awareness and has some apparent phobias of certain animals.
If nothing else, World Peace would be fun to watch in a movie cameo.
Bubba Watson, PGA Tour Golfer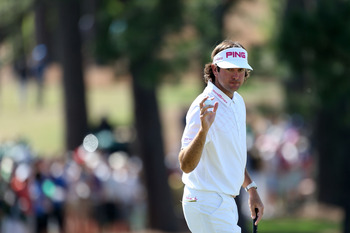 Andrew Redington/Getty Images
Before winning this year's Masters tournament, Bubba Watson was known as the self-taught PGA Tour golfer who could wow fans by smashing the ball off the tee.
He showed everyone this year that he's the real deal.
Although the lasting image of Watson lately has been the tears of joy he shed after clinching the green jacket, Watson knows how to keep things light as well and certainly doesn't take himself too seriously.
This music video featuring Watson and fellow golfers Rickie Fowler, Hunter Mahan and Ben Crane is one of the more hilarious videos on YouTube.
Whether Watson is wearing overalls and nothing else or something a little more professional, I'd love to see him make a movie cameo.
Brittney Griner, Baylor Women's Basketball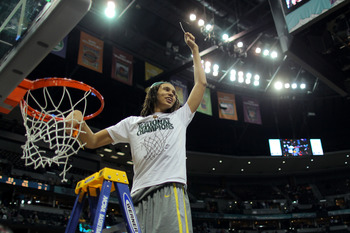 Justin Edmonds/Getty Images
Standing at 6'8", Brittney Griner is difficult to ignore.
The dynamic women's basketball star led Baylor to the NCAA Women's Championship this past season.
Griner reportedly had a great chance at making the USA Olympic team this summer, but reasons including a broken wrist that she suffered while longboarding will keep her from competing.
Griner would join other vertically gifted basketball players like Shaquille O'Neal, Kareem Abdul-Jabbar, Gheorghe Muresan and Wilt Chamberlain if she were to make a movie appearance.
Mariano Rivera, CP, New York Yankees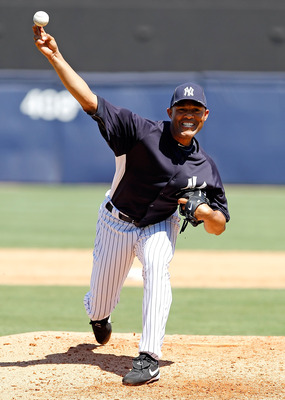 J. Meric/Getty Images
Arguably the greatest closer in the history of Major League Baseball, it's hard to believe that after all these years of being wildly successful, Mo Rivera hasn't found himself making a movie cameo.
Rivera's long time teammate Derek Jeter has made movie cameos of his own and has even hosted Saturday Night Live.
Maybe Jeter could give Rivera a few pointers if he ever decided to make an appearance on the big screen.
Manny Pacquiao, Boxer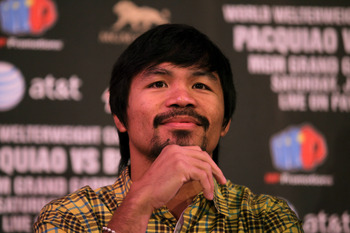 Stephen Dunn/Getty Images
One of the most successful boxers in recent history, Manny Pacquiao has 54 career wins (38 by knockout).
Despite his relentless nature inside the ring, Pacquiao has shown the lighter side of his personality through television commercials. This one is probably his best work.
Pacquiao would be a great addition to a movie via a cameo.
However, a bout against Floyd Mayweather would also be appreciated.
One step at a time I guess.
Keep Reading