2011-12 NBA Season in Review: DeShawn Stevenson of the Nets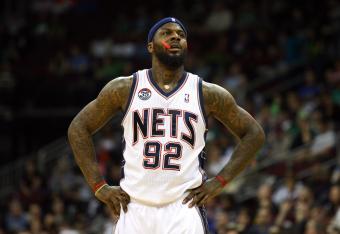 Chris Chambers/Getty Images
The Nets signed Stevenson to a 1-year, $2.5 million contract on December 23rd, 2011, just three days before the Nets played their first game of the season. Of course, Stevenson was a key part of the 2011 NBA Champion Dallas Mavericks but had to look for work elsewhere after the season due to Dallas' cap-cutting measures.
The Nets were excited to sneak in and sign the guy who shut down LeBron in the Finals for only the veteran's minimum. However, the Nets didn't get the Stevenson that seemed to want to play defense, they got the Stevenson that played it when he felt like it.
I guess we shouldn't really have expected much from the 31 year-old coming into the season but what we got from him was a significant drop-off from anything anyone thought he would produce. Stevenson shot a dreadful 28.5% from the field, 28% from three, and just 56% from the free-throw line. All of the these numbers were near the worst of his career and that could probably be blamed on motivation alone.
When a less-than-stable player like Stevenson goes from the NBA Champion Mavericks to the lottery-bound Nets, there is bound to be disappointment and possibly a reduction in level of play. Actually, just reduction in performance wouldn't do Stevenson's season justice; it would be best characterized as the performance falling off of a cliff.
Granted, the Nets didn't sign Stevenson to light up the scoreboard on offense but they expected something from the veteran. According to ESPN.com's John Hollinger's PER (player efficiency rating) player rankings, DeShawn Stevenson was the 2nd-worst qualified NBA player from the 2011-12 season, only ahead of the Bobcats' Cory Higgins.
PER is a measure of a player's per minute productivity on the court and Stevenson's PER of 4.33 in nearly 11 points lower than the league average of 15. The Nets are accustomed to ranking near the bottom of the league in this stat as the infamous Stephen Graham was nearly one point worse than the rest of the league during the 2010-11 season, with a PER of just .08 better than DeShawn.
Ok, that covers the offensive side of DeShawn's season, so how was the defensive side of the supposed d-stopper? Well, it wasn't that great. Looking at defensive win shares (a metric that estimates how many wins a player produces for his team on defense), Stevenson played the 3rd-worst defense of his entire NBA career last season with the Nets.
Other than 2003-04 (-0.2 defensive win shares) and 2008-09 (0.0 defensive win shares), his defensive win shares of 0.1 in 2011-12 was DeShawn's worst rating in the statistic and was 0.9 shares down from his 1.0 mark last season with Dallas. If that doesn't signal a letdown on the defensive side of the ball, then I don't know what does. You can't really blame the guy for not exerting the same effort on a bad team with a small fanbase as he did on a championship-winning squad with huge fan support.
Conclusion: I liked the signing of Stevenson during the offseason and I am sticking to that idea now. He didn't do much in terms of production on the court this past season but served a decent veteran presence and humored Nets fans with his comically-placed tattoos (Abraham Lincoln on his neck, not a typo).
His 1-year deal is up now so he's a free agent and probably could be back in a Nets jersey next season (Brooklyn!) but I highly doubt that. The Nets shouldn't use up their cap space on a guy like Stevenson while DeShawn would fare better on a contender like the Miami Heat or the Los Angeles Lakers than he would on a non-contending team. Overall, it was an interesting season DeShawn and I thank you for that.
Stats from basketball-reference.com unless otherwise noted.

This article is
What is the duplicate article?
Why is this article offensive?
Where is this article plagiarized from?
Why is this article poorly edited?

Brooklyn Nets: Like this team?