Last week, I wrote this article, pointing out several San Jose Sharks who could be used as trade chips this offseason. I was genuinely surprised at the number of people who commented that the Sharks should undergo a total rebuild.
This is a complete overreaction.
Yes, the Sharks did have a disappointing 2011-2012 season, resulting in a first-round playoff exit. Their penalty kill was atrocious during the regular season and playoffs, which played a big role in the outcome of games.
Yes, the coaching staff and management did make some mistakes. Head coach Todd McClellan made some questionable decisions during games, and GM Doug Wilson made some not-so wise trades (Jamie McGinn!).
And yes, some of their players performed way below their expectations. Ryane Clowe, Martin Havlat and Michal Handzus are just a few examples.
So, as a Sharks fan, wanting the team to make some changes this offseason is completely understandable.
But wanting the team to undergo a complete makeover is not understandable. In fact, that would be the worst thing for the Sharks to do—because rebuilding would mean giving away top players for a pile of crap.
It would mean trading players just for the sake of trading them. And that's not the right way to go.
Should the San Jose Sharks "Rebuild?"
For example, take Joe Thornton. He had 18 goals and 59 assists during the regular season, leading the Sharks in points, assists and plus-minus. He was undoubtedly the Sharks' best player during the disastrous playoff series against the St. Louis Blues, erasing many doubts about his playoff performance.
And you want him traded?
The return would not even be close to what Thornton is worth. Think about who the Sharks gave up to acquire Joe Thornton back during the 2004-2005 season. Brad Stuart, Marco Sturm, and Wayne Primeau. Have any of those players produced anything close to what Joe has done for San Jose?
And how about Patrick Marleau? He has been under much heat as of late, after not scoring a single point during the playoffs. His lack of toughness and emotion in clutch situations have been well-documented, leading to fans calling for his departure.
But you have to realize that without him, the Sharks might not have even gone to the playoffs. During a season which tormented the Sharks with everything from injuries and inconsistent production to their coach fainting on the bench, Patrick Marleau provided the stability that the Sharks needed.
He played in all 82 games, netting 30 goals for the fourth consecutive season. He has recorded double-digits in goals every season he has been in the NHL. Speaking of that, he has been with the Sharks for 15 seasons and is their franchise leader in points, goals and playoff goals.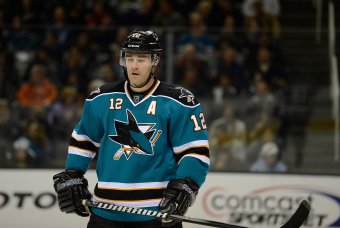 Thearon W. Henderson/Getty Images
Now, if I was offered Evgeni Malkin for Marleau, would I take it? Absolutely, but that's not going to happen.
My point is the Sharks do not have to force the issue by making ridiculous trades in an effort to "rebuild." Instead, GM Doug Wilson and management should make smart, sensible decisions to improve this team.
The Sharks have made the playoffs for eight straight seasons, going back to 2003-2004. Sure they have not won a championship, but it's not the end of the world. This team has a solid core, with several role players more than capable of contributing quality stats.
While change is inevitable, simply "rebuilding" is avoidable. Doug Wilson would be making a big mistake if he decides to ship off his top guns in an effort to start over brand new.