Pasajero (Short Lived) La World Series Dreams; Top Five M's Seasons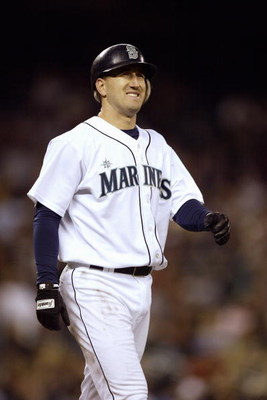 Mariner's top five years.
All of the Mariner's greatest years, in my opinion, starting from the bottom, to the Ms best year, are fetured in this slideshow.
Sadly for the Mariners, the good years were always short.
One year, 116 wins, the next they would barely get a .500 winning percentage!
Anyway, the picture shows an esential part of the Seattle Mariners for many years; Brett Boone. After his "eye problem" was fixed in 2004, and we saw no improvement, we had to guess he used steroids, but we'll never know...
5: 1991; Finnaly, .500!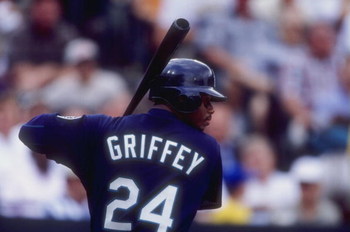 I had to include the '91 Ms... After 12 years in MLB, they finnaly get a .500 record!
Led by young third baseman Edgar Martinez, and "The Kid," Mariners fans could prepare for their team to have much success in the next decade.
4: 997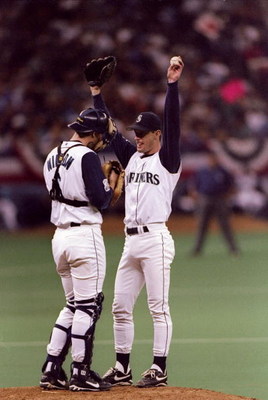 MVP; Ken Griffey, Jr.
The Seattle Mriners of 1997 won the AL West.
However, the back end of the rotation was weak, and Norm Charleten, the closer, had an ERA over seven.
They won one game in the playoffs.
3: 2000; New Millenium, New Goals, New Stars to Reach For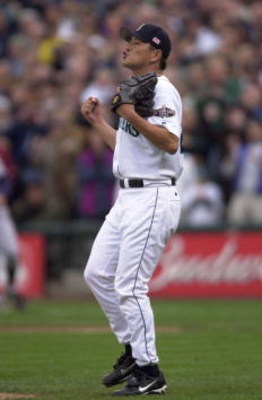 Kazuhiro Sasaki broke out, winning Rookie of the Year.
The Mariners made the playoffs, and beat the White Sox easy, but then the dreaded Yankees beat the Mariners, as he Yanks went on the win their 26th World Series.
The soft spots in the rotation most likely caused this loss, but loosing would become abnormal, after the next year...
2: To The Playoffs: 1995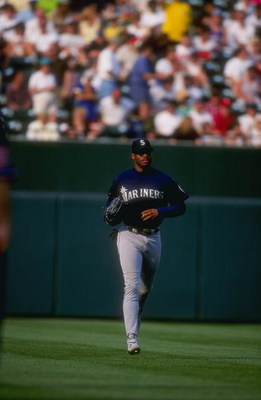 MVP winner; The Kid.
Cy Young; Randy Johnson
As Neil Weinstein commented on the playoffs;
"The best it has ever been in Seattle! Six incredible weeks that rocked the Kingdome!"
The Mariners also won the only series they would ever win in the playoffs, in the ALDS against the Yankees.
Of course, the lost next round to the Indians.
1. 2001; 116
Ichiro; Rookie of the Year and MVP.
Moyer; 20 wins.
The team was deep, the team had a tough 'pen, and the team's rotation was extraordanary.
And they won 116 games.
Then Sweet Lou messed up. He put Buhner in right instead of Ichiro. Buhner missed a ball Ichiro would have cut off, and the Yankees won.
Although the Mariners have not had many good years, the good wons have included a lot of fun!
Keep Reading

Seattle Mariners: Like this team?