New York Rangers: Comparing Each Current Ranger to a Player from '94 Cup Winners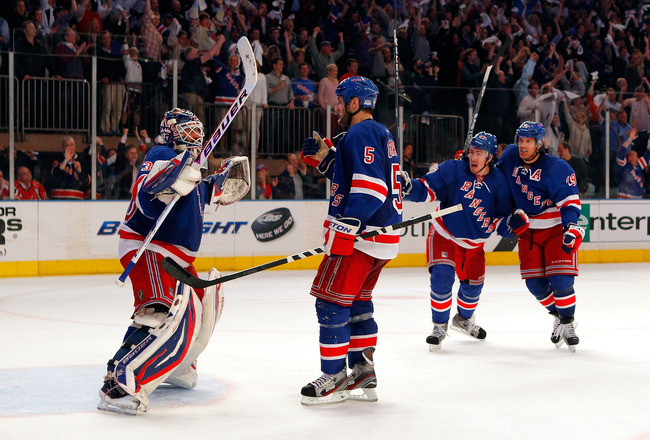 Paul Bereswill/Getty Images
The New York Rangers are making their deepest playoff run in over 15 years.
Armed with an elite goaltender and solid defensive core, the Rangers are trying to repeat history and take down the Devils to earn themselves a trip to the Stanley Cup.
In honor of the Blueshirts' playoff success thus far, we look back to the 1994 Stanley Cup team and compare every player from that team to a current Ranger.
While some comparisons do not match up in legend, there are deeper qualities that can be found that players share.
Mike Richter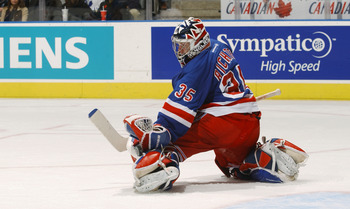 Dave Sandford/Getty Images
Armed with two solid goaltenders, the Rangers stuck with Mike Richter, who was in the middle of a very successful year.
Richter was a workhorse, and his reliability between the pipes played a huge factor in winning the cup.
Just think about his huge saves against the Vancouver Canucks, and no one will question the significance of Richter.
Henrik Lundqvist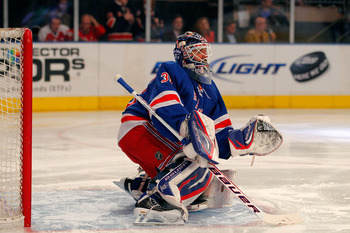 Paul Bereswill/Getty Images
Who else would possibly be compared to Richter than Henrik Lundqvist?
The King of New York has carried the occasionally sparse Rangers offense with his stellar goaltending.
The Rangers will need Lundqvist, who has a 1.73 GAA this postseason, to continue his dominance in net if the Rangers want to continue to advance.
Glenn Healy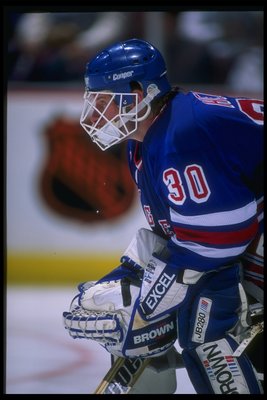 Jamie Squire/Getty Images
Glenn Healy won 10 games for the Rangers in the 1993-1994 season and provided the team with a serviceable backup.
Healy posted 166 wins with a 3.37 GAA in his 15-year career.
Although Healy wasn't a dominant goalie, he was smart and was able to provide Richter some rest with his ability to play well.
Marty Biron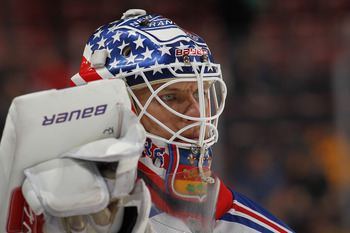 Joel Auerbach/Getty Images
The man with the ice-blue eyes fits the comparison for Glenn Healy.
Marty Biron provides the Rangers with a comical edge and a sense of youthful enjoyment of the game of hockey.
Biron played a significant role this season as Coach John Tortorella insisted upon Lundqvist playing less games to be fresh for the playoffs. Lundqvist initially scoffed at this idea but later praised his coach for remaining steadfast on it, as it has kept him fresh late in the season.
Biron played well this season in 20 starts, posting 12 wins with a 2.46 GAA.
Captain Mark Messier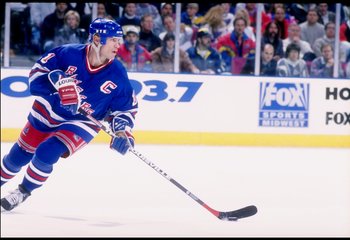 Matthew Stockman/Getty Images
The word "captain" in New York is synonymous with not one, but two individuals. Currently, the title of the Captain is striped on the No. 2 jersey of Derek Jeter of the Yankees.
However, before Jeter ever swung a bat in Yankee Stadium, Mark Messier ruled the Daily Post and the New York Times.
Messier, who guaranteed a Game 6 win in the 1994 Finals against the Devils (ironically, the Rangers' current opponents), led his team to victory.
In 23 postseason games in the championship year, the Captain posted 12 goals and 18 assists for an astounding 30 points.
Captain Ryan Callahan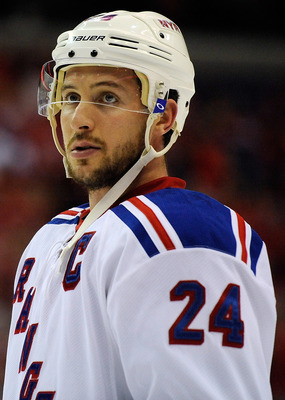 Patrick McDermott/Getty Images
The current Captain compares to The Captain, not in the points column, but in their impact on the game.
While Messier made the "guarantee" against the Devils in Game 6 and followed it up with a hat trick, Callahan's influence on this team is undeniable.
Callahan is a gritty forward who represents the identity of the current Rangers. His stats generally tend to include a goal or an assist, multiple hits and multiple blocks.
Both of these Rangers Captains were right for that team at the right time—and both will eventually have their name shining on the Cup.
Adam Graves
Rick Stewart/Getty Images
Adam Graves compiled 329 goals and 287 assists in his 16 year NHL career. In his 10 years on Broadway, Graves had 280 goals.
The gritty winger came up huge time and time again in the Rangers' historic road to the Stanley Cup win. He had his best season in the 1994 campaign when he posted 52 goals and 27 assists.
Despite being on a bit of a scoring drought in the first round of the playoffs, Graves turned it on and finished with 10 goals and seven assists.
Assistant Captain Brad Richards
Greg Fiume/Getty Images
Who has been more clutch for New York this postseason than Broadway Brad Richards?
So far in this year's playoffs, Richards has racked up six goals and five assists. His scoring has kept the stagnant Rangers offense afloat and in dramatic fashion.
Richards had four goals in the Capitals series, the tying goal with eight seconds left in Game 5 and the first goal in Game 7, which broke Washington's will to win.
His scoring ability, combined with his leadership and willingness to get down and dirty, has skated the Rangers to this point in the playoffs.
Esa Tikkanen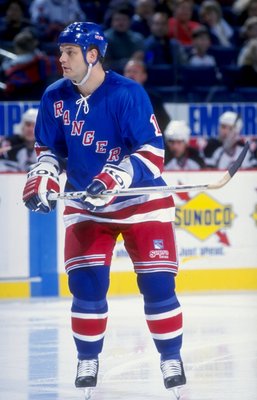 Rick Stewart/Getty Images
Esa Tikkanen was one of the fan favorites on the 1994 roster.
Tikkanen is a great gentleman off the ice but was a fierce presence on it. Relied upon primarily to be a two-way forward who got physical, Tikkanen imposed his will on opposing teams.
To compliment his pesty style of play, Tikkanen could also score: 244 career goals.
Brandon Prust
Bruce Bennett/Getty Images
Brandon Prust has been a surprisingly good player for the Rangers in his short career and arguably is becoming the more relevant "Brandon" on the team.
While Prust will never match Tikkanen's goal totals, having only 24 in his career, his impact on the ice is immeasurable.
He is a hit machine and a reliable penalty-killer whom John Tortorella trusts. He is a plus-three in his career, so many goals do not happen while he is on the ice.
The chemistry he's held with Brian Boyle and the hockey intelligence he has should keep him in New York for years.
Alexei Kovalev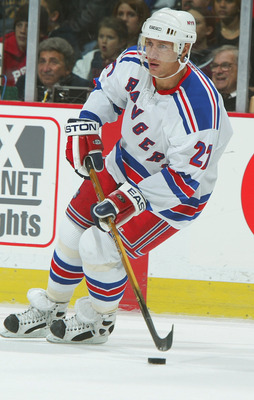 Al Bello/Getty Images
While the No. 27 may have a much different feel this year for the Rangers, it belonged to Alexei Kovalev in 1994.
Kovalev has played parts of nine seasons in New York, none with a postseason more important than his first season with the team.
In his first action with the team, Kovalev was brought in at the age of 20 in the middle of the playoffs. Using his speed and talent, he responded by scoring nine goals and 12 assists.
Hmm...does this sound like anybody familiar?
Chris Kreider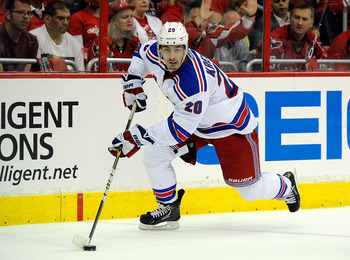 Patrick McDermott/Getty Images
Chris Kreider scored his first NHL goal before he could even legally drink.
In 13 games this postseason, he has three goals and two assists and has been counted on as a spark for the team.
Utilizing his speed and his strength, Kreider has been a force on the ice and a key component to the power-play unit. The rookie assisted on Dan Girardi's goal in Game 1 against the Devils. He used his speed to get to the puck, and his patience to set up the goal.
Kreider followed the assist up with a goal of his own, using a quick wrist shot to catch Brodeur off-guard.
I said in a previous article that Kreider was going to pay dividends in the playoff run. Thank you, Chris.
Brian Leetch
Mike Powell/Getty Images
Brian Leetch is my favorite New York Ranger of all-time. For me to even compare him to any defender on the Rangers is a travesty—he is incomparable.
For the sake of maintaining the integrity of the article title, however, I will do just that.
Leetch had 11 goals and 23 assists for 34 points in the '94 playoffs, more than any player on the Rangers. His offensive instincts and his defensive prowess helped the Rangers dominate teams.
The Rangers have never had another defenseman remotely at the level of Brian Leetch (and I can't help but say, he should have never been let go!).
Marc Staal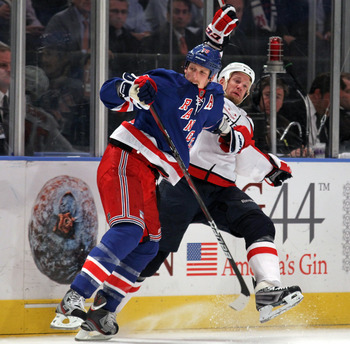 Bruce Bennett/Getty Images
Marc Staal is back. The man wearing his uniform since January must have been a twin brother we never heard about before.
Yes, I know, he was still working his way back into form, and I'm not criticizing him for that. I am just saying that the No. 18 we know has returned to form for the playoffs.
Staal is highly capable of pinpoint passing and being able to control the pace of play. He also possesses the same ability Leetch has to jump into the play and score a goal, which the Rangers D has been doing throughout the playoffs.
Sergei Zubov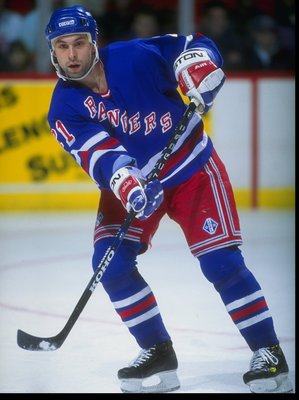 Robert Laberge/Getty Images
One of the best offensive defensemen to ever play the game was a Russian named Sergei Zubov.
He was one of the first four Russians to have their name engraved on the Stanley Cup, including three other Ranger players from 1994 (Karpotsev, Kovalev and Nemchinov).
Zubov was a smaller-framed blueliner who could skate by everyone and score with his great shot.
Zubov had five goals and 14 assists in the postseason that year and proved to solidify the second line of defense.
Michael Del Zotto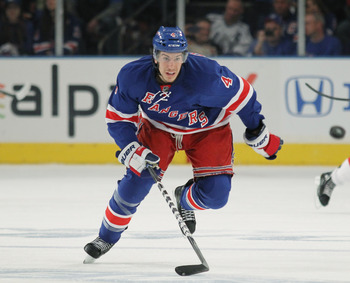 Bruce Bennett/Getty Images
Michael Del Zotto is Sergei Zubov.
Part of me wanted to place Ryan McDonagh in this slot, but since he has yet to fully find his offensive game, I chose MDZ.
No. 4 possesses the same smaller frame that Zubov had and is a fast skater. The only glaring difference is that Del Zotto is a stronger hitter than Zubov was.
Del Zotto rebounded from his sophomore slump and early chides by Rangers fans to score 10 goals and have 41 assists this regular season. He was equally as significant in solidifying one of the league's best defenses as Girardi and McDonagh.
So far he has two goals and seven assists in this year's playoffs, and that number is sure to grow based upon his joining the play.
Kevin Lowe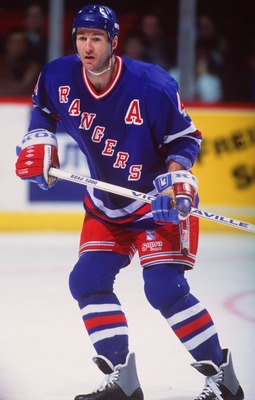 Robert Laberge/Getty Images
Kevin Lowe was already in his 15th season when the Rangers made their historic run to the Cup.
A seasoned veteran and one of the better all-around defensemen in the game, he provided the Rangers with another trusted leader in front of Richter. Lowe never panicked under pressure and could hand out some pretty significant hits.
He only posted one point, a goal, in the 1993-1994 postseason, but was a respectable plus-six. His leadership and calm nature was a significant factor in the win.
Dan Girardi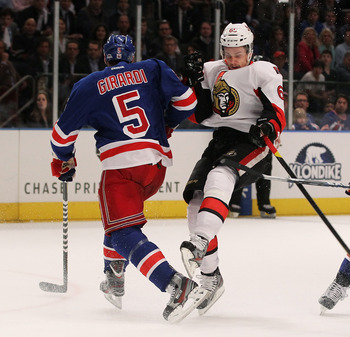 Bruce Bennett/Getty Images
Comparing the Rangers' current defensive core with the 1994 group is almost guaranteed to not fit. The 1994 back line was built around offensive ability and physical play.
The current team has offensive talent, but fits the part much better defensively. Girardi developed as the leader of the D-men when former linemate Marc Staal went down with a concussion.
Girardi amped up his physical play, handing out grueling hits throughout the season and always matching up against the opponent's superstars. He performed well, while posting five goals and 29 points this season.
In the postseason he has scored at key times and had the game-winner in Game 1 against New Jersey. Thus far he has posted two goals and nine points in the playoffs and continues to be a major factor in anchoring the D.
His coolness when everything is on the line compares him to Lowe, the only major factor being Girardi's scoring ability, which Lowe lacked.
Sergei Nemchinov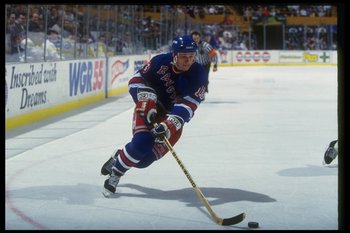 Rick Stewart/Getty Images
Nemchinov spent a little more than five seasons wearing Broadway blue. In his 11 year career, he posted 152 goals and 193 assists.
In the 1993-1994 season, Nemchinov posted his third-highest career totals in goals and points, with 22 and 49 respectively.
In the playoffs, he posted two goals and five assists with his solid hands and skating ability.
Nemchinov was strong on the puck and very hard to knock down. He was a quiet force for the Rangers—you would hear from him on the ice, not off it.
Artem Anisimov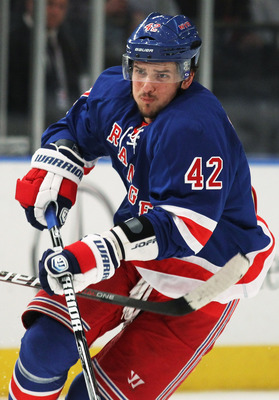 Bruce Bennett/Getty Images
Both Russians, Anisimov and Nemchinov share more than the -ov in their names. Each contributed to their teams in a quiet but productive manner.
Anisimov has better hands and puck-carrying ability than Nemchinov but is easy to knock off the puck. However, Anisimov is more of a scoring threat, having 46 goals and 62 assists in his young, three-year career.
In this postseason Anisimov has posted three goals and six assists, the latest coming in Game 1 of the Devils series as an empty-netter.
While Anisimov has yet to live up to his potential, he has game-changing ability that should show more consistently in the near future.
Craig MacTavish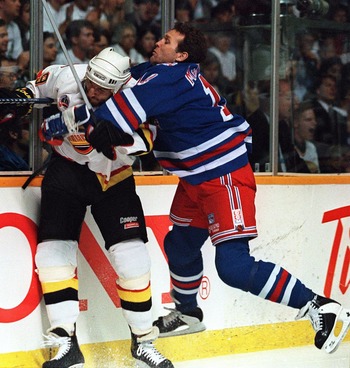 Mike Powell/Getty Images
MacTavish was the last player to not wear a helmet in the National Hockey League—the guy had guts.
MacTavish was signed just in time to win a Stanley Cup with the Rangers along with former Oilers teammates Mark Messier, Adam Graves, Esa Tikkanen, Glenn Anderson, Jeff Beukeboom and Kevin Lowe.
MacTavish was a leader who would get into the corners and fight seemingly forever for the puck. He wouldn't miss a shift, despite the numerous beatings he took.
He posted a goal and four assists in 23 postseason games that year at the age of 35.
Brian Boyle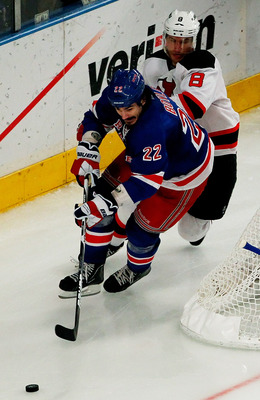 Paul Bereswill/Getty Images
Brian Boyle may be from Boston. He may seemingly be able to field an entire ice hockey team using his siblings alone. He may one of the biggest "nice" guys in the NHL. And he sure has some mean "V for Vendetta" type facial hair going on right now.
One thing is for certain: Boyle can play hockey, and he thrives in the playoffs.
Like MacTavish, Boyle will work hard along the boards, despite the numerous crosschecks and beatings he takes. Boyle is a hulking presence unlike MacTavish, but both know how to use their bodies to win pucks, and neither will come off the rink easily.
Boyle made his presence known this postseason with a great performance in the first round against the Ottawa Senators. After going down with a concussion, he's worked his way back and been a force in the line-up.
Jeff Beukeboom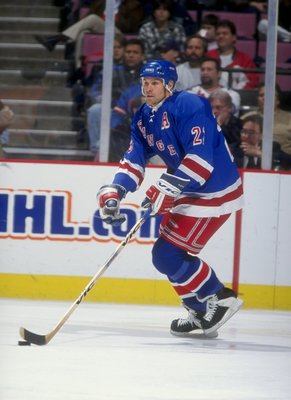 Al Bello/Getty Images
Jeff Beukeboom is one of the most beloved Rangers of all-time. He came to New York as yet another one of the reliable Oilers veterans.
In 13 years in the league, Beukeboom amassed 1,890 penalty minutes combined with 30 goals and 129 assists. He was a force on the ice, and his hitting ability and willingness to fight gave the Rangers another scrappy "tough guy."
Concussions plagued him late in his career, but he will always be one of the favorites in Madison Square Garden.
Stu Bickel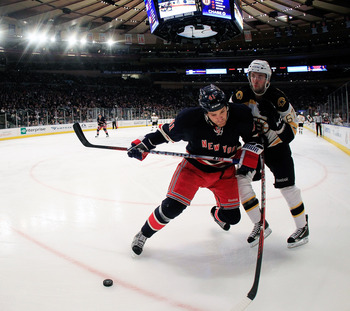 Chris Trotman/Getty Images
Stu Bickel is young and probably will never reach the level of love from Rangers fans as Beukeboom did.
Neither player was granted the gift of offensive ability, but Beukeboom was more likely to show up on the stat sheet than Bickel thus far in his career.
Where the two compare, however, is their physical presence and willingness to go to war. At times we have seen John Tortorella keep Bickel off the ice (three minutes of ice time in a game against Washington), but he blamed his youth, not mistakes.
While Bickel may not be in the lineup given the health of Michael Sauer, he has matured in his time with the team and can deliver knockout blows any time.
Glenn Anderson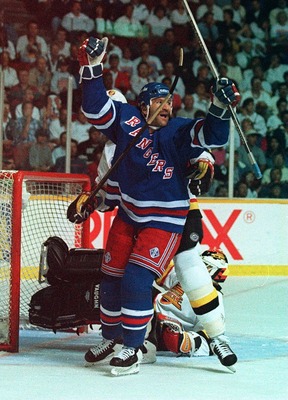 Mike Powell/Getty Images
Glenn Anderson is another one of the grizzled Edmonton veterans that was brought in to help the Rangers win the Cup.
He is a hockey hall-of-famer who amassed 498 goals in his career and 1,099 points. In the '94 playoffs, he logged three goals and three assists and had two game-winning-goals.
Anderson was a prolific goal scorer in his career and was a great presence on the ice for the Rangers in the playoffs, although he only spent a brief time with the team.
He surpassed the 50-goal mark twice in his career, scoring 54 in 1983 and again in 1985.
Marian Gaborik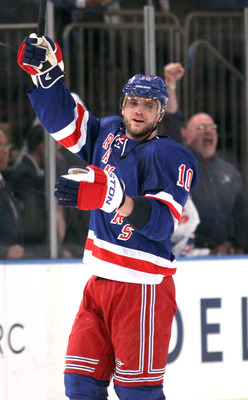 Bruce Bennett/Getty Images
Glenn Anderson is everything Rangers fans hope Marian Gaborik would be. Gaborik has shown flashes of consistency in his three seasons on Broadway, scoring 40 goals twice.
Before I go any further, the biggest difference between these two names is Anderson was consistent and made just as much of an impact in the postseason as the regular season. Gaborik, well, not so much.
However, both possess a scoring ability above the majority of their teammates and can explode at any time to take over a game.
Gaborik already has notched one significant game-winner in triple overtime against the Capitals, and my guess is he will get his act together following the third period benching in Game 2 against the Devils.
Joe Kocur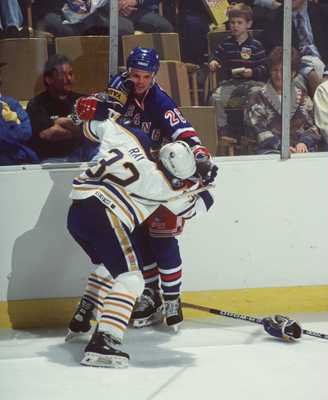 Rick Stewart/Getty Images
Joe Kocur was one half of the "Bruise Brothers," with Bob Probert being the other in Detroit. That should tell you enough right there.
Kocur remains one of the most penalized players in history with 2,519 penalty minutes. Helping his bruising career continue was his success on the ice. He has four Stanley Cup rings: three as a player (Rangers and Red Wings) and one as an assistant coach with Detroit.
He was a member of the 1997 and 1998 Cup teams with the Red Wings and managed to score a goal in each of those finals series.
Mike Rupp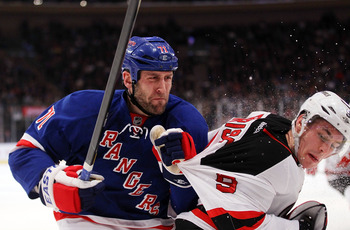 Bruce Bennett/Getty Images
Mike Rupp fits the part of Kocur for so many reasons.
First, they are both massive presences that are capable of inflicting serious damage on an opponent through hitting and punching.
Second, both are Stanley Cup Champions. Rupp picked up a ring in the 2002-03 season with the Devils and WILL pick up another with the Rangers (yes, yes I know—confidence).
In his 12 year career, Rupp has accumulated 753 penalty minutes and was signed as a physical force for the Rangers.
He has had scoring highlights, the most significant being his two goals in the 2012 Winter Classic. While he is yet to tally a point in this year's postseason, he has added 18 penalty minutes to his resume and been a hitting machine.
Alexander Karpovtsev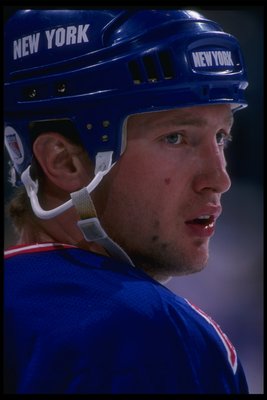 Joe Patronite/Getty Images
Karpovtsev spent parts of five seasons on the back-end with the New York Rangers.
A solid defenseman with offensive ability, he posted 34 goals and 154 assists in 596 games in his career. While he did not display as much offensive talent as teammates Leetch and Zubov, he was dangerous and a smart passer.
He tallied four assists in the playoffs and had four goals and 14 assists in his NHL career in the postseason.
Karpovtsev was killed in the plane crash which also claimed the life of Pavol Demitra in 2011.
Rest In Peace.
Anton Stralman
Greg Fiume/Getty Images
Anton Stralman has been a pleasant surprise in the postseason for the Rangers, but not for me.
I wrote in an earlier article that Stralman would be a major factor in these playoffs with his skating ability and recent willingness to shoot the puck. So far in these playoffs, Stralman has three goals and three assists and is playing much better defensively.
Like Karpovtsev, he is willing to give an all-out effort, even if he isn't one of the bigger bodies on the rink.
Jay Wells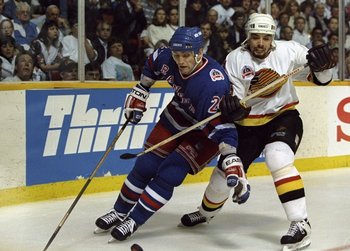 Mike Powell/Getty Images
Jay Wells was a solid all-around defenseman who played in almost 1,100 games in his NHL career.
Wells had 47 goals and 216 assists in the regular season. In the 1993 season, he appeared in 79 games for the Rangers, totaling two goals and seven assists.
While he was neither a dominant player nor a great offensive talent, where Wells seemed to disappear was in the playoffs, where he only had three goals and 14 assists in 113 playoff games.
Ryan McDonagh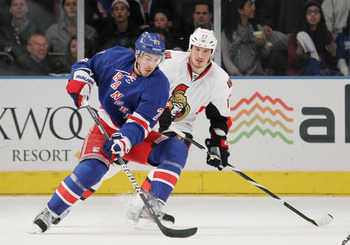 Bruce Bennett/Getty Images
Ryan McDonagh is a better player than Wells and has the talent to amass a higher point total.
His offensive ability is still in production, but the flashes he has shown were exciting to watch. In his first full season with the Rangers, he posted seven goals and 25 assists.
While McDonagh's defense paired with Girardi has been one of the most consistent pairings in the NHL, his passing ability is where the comparison to Wells is drawn.
Both players were able to clear the zone and put a pass on the tape of a teammate streaking up the rink. Given McDonagh's 33 assists in less than two full years played, I think he will surpass Wells' totals.
Similar to Wells, where he needs to excel offensively is in the postseason where he has only totaled one point in 21 games. Wells had zero points in the 1994 postseason.
Greg Gilbert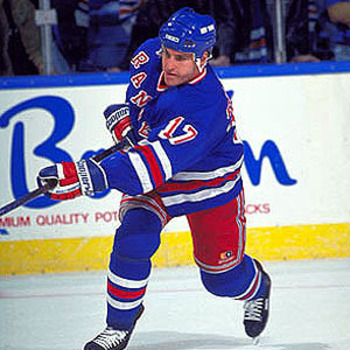 Greg Gilbert only played one season for the New York Rangers in his 15 years in the league, but it was the one that counted. His two-way ability provided New York with yet another veteran leader who did what it took to get a win.
In 1993-94 Gilbert totaled four goals and 11 assists but was a stellar defensive forward with experience. He had one goal and three assists in the playoffs.
In over 800 games played, Gilbert 378 points.
Ruslan Fedotenko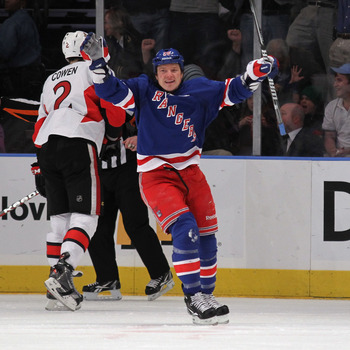 Bruce Bennett/Getty Images
Every year the future of Ruslan Fedotenko is pondered by Rangers fans due to his repeated one-year contracts. While Feds hasn't had the scoring touch as in years past this season, he still has provided a lot of heart and smart hockey to the team.
Whether it be forechecking, backchecking, blocking shots or the penalty kill, No. 26 has risen to the challenge. He is a trusted member of the team, having won two Stanley Cups: in 2004 with the Lightning and 2009 with the Penguins.
Fedotenko is a grinder who has three assists thus far this postseason. With experience like the 12 goals he scored in the Lightning's 2004 run, he is a welcome addition to any team.
Stephane Matteau
Rather than writing his name up top three times, I figured I would do him the justice of including his greatest goal ever.
Matteau, Matteau, Matteau played 13 seasons in the NHL, compiling 144 goals and 172 assists for 316 points. He was a rugged forward, who played a steady defensive game and was always willing to take the body.
Then-Rangers Coach Mike Keenan loved his work ethic and grit, and he was one of the better two-way forwards on the Rangers. The experience and dedication he brought to the game was a major factor in the Rangers victory, especially in Game 7 against the Devils.
Matteau! Matteau! Matteau!
John Mitchell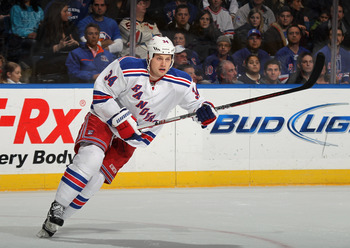 Bruce Bennett/Getty Images
John Mitchell may never realize the potential of his scoring ability, and he isn't as good a two-way forward as Matteau was, but he is a solid player willing to take the body.
This season Mitchell notched five goals and 11 assists predominately as a third or fourth line forward. His one point so far this playoff season is not a result of his inability to score or his work ethic.
Tight, important games seem to bring out the best in Mitchell. He tends to intensify his physical play and he is a big body much like Matteau was. Their ability to finish a check and willingness to skate back makes the two comparable.
Brian Noonan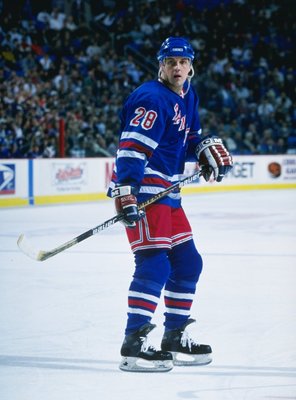 Rick Stewart/Getty Images
Noonan was another one of Mike Keenan's favorite players who seemed to follow the coach wherever he went.
While Noonan wasn't overtly fast, he was a grinding player that could fore-check very well. He was a strong skater who played his best in the crease.
Another strength to his game was his ability to crash to the front of the net and be a reliable two-way forward. His strength was to use his power to generate penalties.
He proved to be a significant player for the Rangers in the playoffs that year, scoring four goals and adding seven assists.
Carl Hagelin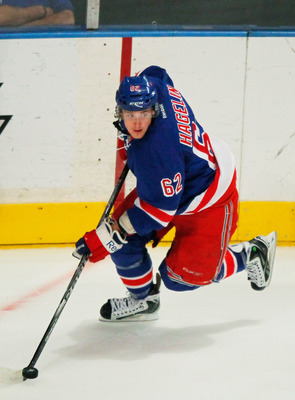 Paul Bereswill/Getty Images
Before you jump all over me, the glaring difference between Noonan and Hagelin is speed. Noonan was not very fast while Hagelin is one of the fastest skaters in the NHL.
Hagelin and Noonan's style of play is very similar. Both are hard-nosed players that throw their weight around. They battle for pucks in the corner and win those battles even at times when it seems impossible.
The ability of both skaters to keep grinding away tends to draw penalties from other teams, something Hagelin has done all season for the Rangers and Noonan did his whole career.
Finally, both had defensive ability to get back and help out. Noonan with his positioning and physicality, and Hagelin with his recovery speed to catch the puck handler.
Steve Larmer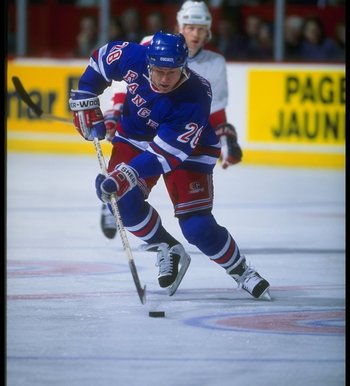 Robert Laberge/Getty Images
Steve Larmer was a force on the ice, posting 441 goals and 571 assists in his career. Most notably he is known for his durability, playing in 1,006 NHL games before retiring. He ended his career with the Rangers in 1995 but not before posting nine goals and seven assists in the 1994 playoffs.
Larmer had great hands and on-ice vision. He was a threat in front of the net on deflections and rebounds throughout his entire career. In addition, his defensive ability made him a great player in the NHL.
Derek Stepan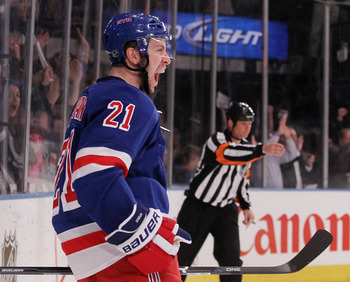 Bruce Bennett/Getty Images
Derek Stepan has a long way to go if he hopes to accumulate the kind of career totals Steve Larmer did. However, much like Larmer, his durability will be a huge boost in that effort—having not missed a game with the Rangers since being called up in 2010.
Stepan is no stranger to big games, having won gold in 2010 with the United States in the World Junior Championships. He scored four goals and 10 assists in seven games played in that tournament.
Rangers fans got a glimpse of his scoring ability in only his NHL debut, where he scored a hat trick against the Buffalo Sabres and Ryan Miller.
In two NHL seasons, Stepan has compiled 38 goals and 58 assists and is a fantastic plus-22.
His defensive prowess and penalty-killing ability, combined with his power-play ability in front of the net, make him a deadly all-around player.
Just for Good Measure...
I will add a slide to this article in June, completing the comparison of these teams.
Oh Baby.
Keep Reading

New York Rangers: Like this team?