Can Baseball Stars Actually Sing?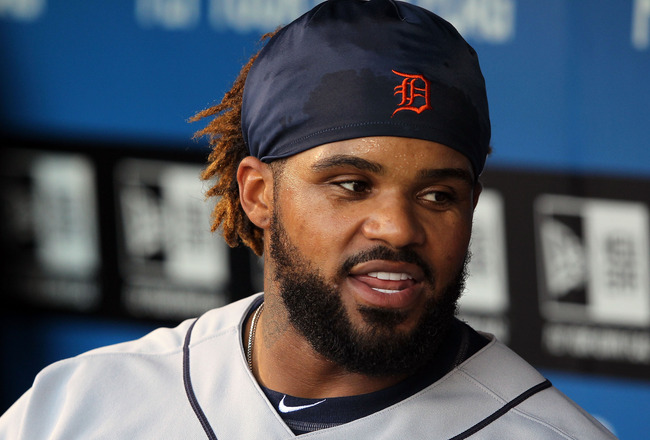 Jamie Squire/Getty Images
Baseball players are typically known for their strength, agility and general physical talent.
However, have you ever heard of baseball players being celebrated for their musical talent?
Let's do that today. Here are 10 of the best musical performances in baseball history. As a side note, "best" might mean a number of things throughout this article. It might very well mean of high-quality, but it also might mean hilarious.
We are not necessarily looking for vocal talent here; we want quality entertainment.
Kevin Millar: "I Believe I Can Fly"
Kevin Millar was a member of the Boston Red Sox when they broke The Curse of the Bambino in 2004.
I am not exactly sure of the context of this R. Kelly cover, but perhaps he was describing how the championship actually felt?
2012 Harvard University Baseball: "Call Me Maybe"
I have to admit that I'm not really a fan of this song, but the Crimson baseball boys definitely deserve credit for their creativity.
I never promised that all of these videos would be from Major League Baseball, and I really could not leave this off.
Brian Wilson and Cody Ross: "Dynamite"
Just think of this video like the Macy's Thanksgiving Day Parade. The musicians are there, but they are lip-synching.
However, it doesn't make those musicians any less musical. Similarly, Brian Wilson and Cody Ross were part of an excellent video, even though they didn't actually sing.
Clay Buchholz and Nick Swisher: "Sweet Caroline"
Although this is apparently a tense situation, it is obvious that Clay Buchholz can get into a groove on the mound as well as with classic rock.
Although Nick Swisher kind of killed the mood, Buchholz was ready to embrace his Boston fanbase. Maybe that is where he should start his world tour...
2009 University of Rhode Island Baseball: "Christmas Caroling Extravaganza"
I love the irony here. The boys of summer singing about winter. Plus, I just found this video hilarious.
I really do not have any other justification for including this video, but that should definitely be enough.
Buck O'Neil: "Take Me out to the Ballgame"
Buck O'Neil was a classic baseball player and here he is singing what is probably the epitome of a classic baseball song.
Although he claims that he is not much of a singer, I would beg to differ.
Tony Conigliaro: "I Ain't Gonna Eat out My Heart Anymore"
Tony Conigliaro's career got off to a blazing start with the Boston Red Sox as he was the youngest home run king in American League history.
Although he had to overcome some major obstacles during his career, having a bad voice was not among those problems.
Prince Fielder: "Chevrolet Jingle"
It is good to see Prince Fielder already moving into the Detroit city business. Apparently he can do a little more than hit home runs.
Although this is only a small sample, it is obvious that he actually doesn't have a bad voice.
Ryan Howard and Jimmy Rollins: "Take Me out to Da Ballgame (Remix)"
Ryan Howard and Jimmy Rollins have had some great seasons in Philadelphia as complements in the lineup.
Apparently, that isn't the only place where they complement each other. I know that I already had this song on the list technically, but it is so much different than Buck O'Neil's that I figured I could still use it again.
Ben Broussard: "Deep"
Ben Broussard isn't just singing for fun. He has his own band, and they are actually pretty good. I guess that he needed something to do after he retired from a moderately successful MLB career.
There are a lot of baseball players who try to sing, and some of them are definitely talented like Broussard.
However, even if they aren't that talented, isn't it still fun to see them out there and having a good time?
Whether you think I know everything or nothing about Major League Baseball, you should follow me on Twitter or become a fan on Facebook and keep in touch. I love hearing what you all have to say!

Follow @spinkickers



Keep Reading