Fall Forecast (May Edition): Spartans Edge Past Wolverines in Legends Division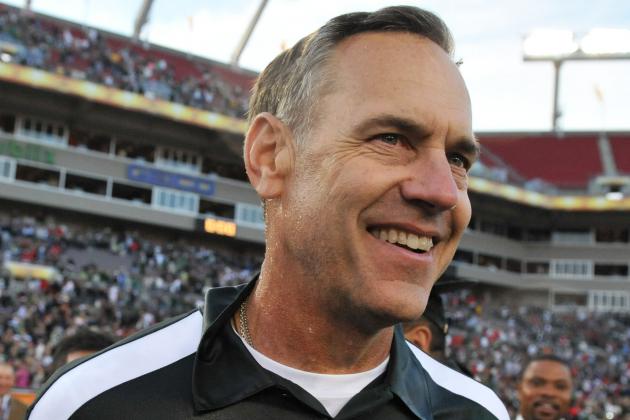 Al Messerschmidt/Getty Images
Michigan State head coach Mark Dantonio is smiling after an Outback Bowl win over Georgia
The Big Ten experience of Michigan State head coach Mark Dantonio (pictured) and the Spartans give them a slight edge over the Michigan Wolverines in the race for the Legends Division title in 2012.
Six months ago I picked Ohio State and Michigan to win their respective divisions, but it was before Big Ten spring football and another review of each team's roster. For example, the Spartans defense looked awesome in April and features eight returning starters and 25 letter winners from last year.
Michigan isn't too far behind with seven returning defensive starters and 24 letter-winners from the 2011 squad. And we cannot overlook Nebraska whose two leading rushers—running back Rex Burkhead and quarterback Taylor Martinez—will be back to play in the 2012 Big Ten season.
Iowa, Northwestern and Minnesota will be the bottom three teams in the Legends Division.
Begin Slideshow

»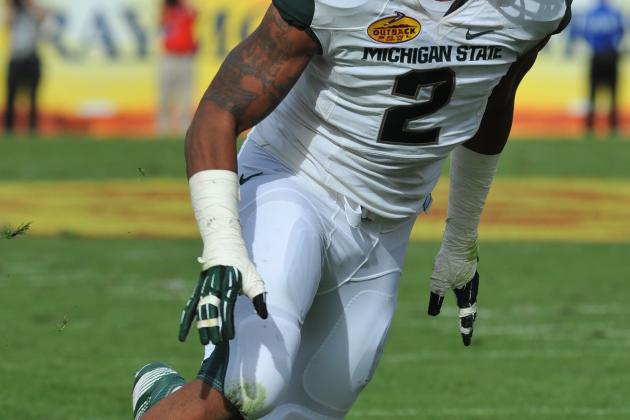 Al Messerschmidt/Getty Images
Defensive end William Gholston seems primed for a big year in the Big Ten.
There is very little debate that the strength of the 2012 Michigan State Spartans will be their defense.
Defensive end William Gholston (pictured) replaces NFL-bound defensive tackle Jerel Worthy as the major enforcer on defense. Gholston led all Spartan defensive linemen in tackles last year with 70.
Strengths
You cannot dismiss the achievements or experience level of many of the Spartans that will play this season. They were Big Ten co-champions in 2010 and Legends Division champions in 2011. Some Michigan State loyalists believe they were one play away from winning the Big Ten title in the championship game against Wisconsin last year.
The Spartans' defense has two returning starters on the line, all three linebackers back for 2012 and the secondary just needs to find a replacement for NFL-bound free safety Trenton Robinson.
The offensive line features four starters returning from last season. They will be blocking for running back Le'Veon Bell, who rushed for 13 touchdowns and 948 yards. This year Bell should break the 1,000 yard mark in rushing.
Weaknesses
Andrew Maxwell spent three years as Kirk Cousin's understudy. Now he gets to play quarterback.
Maxwell will have to throw the ball to a new set of wide receivers due to the departure of B.J. Cunningham, Keshawn Martin and Keith Nichol. Returning tight end Dion Sims may become his favorite target.
Synopsis
I wrote it in December and it's still true: Circle Oct. 20, 2012 on your calendar. Michigan State plays Michigan in Ann Arbor in the game that will decide who wins the Legends Division title.
The Spartans win at the Big House, 24-21.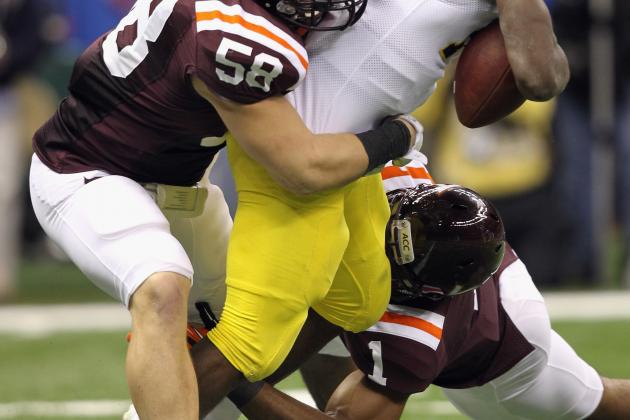 Matthew Stockman/Getty Images
It takes more than one tackler to bring down Michigan quarterback Denard Robinson.
The question is not: Can Denard Robinson play quarterback?
The question is: Can you tackle him before he burns you with a big play or touchdown?
Michigan head coach Brady Hoke begins his second year in the Big Ten with some talented playmakers on offense, but he needs to refill the vacancies in the trenches. If he cannot find suitable replacements on the offensive and defensive lines, the Spartans will walk away with their fifth consecutive win over the Wolverines on October 20th, and the Legends Division title.
Strengths
Quarterback Denard Robinson (pictured), running back Fitzgerald Toussaint and wide receiver Roy Roundtree are back and the Wolverines have some exciting prospects to help perpetuate the offensive firepower.
The Michigan defense has all of its starting linebackers back and the secondary has three starters returning for the 2012 campaign.
Weaknesses
Only starter Craig Roh is returning to the defensive line this season. As I wrote in an article last December, a 2012 Wolverine game may turn into a track meet if they can't stop the run this season.
The Wolverines need to refill three spots on the offensive line if they intend to provide Robinson with enough time to run or throw the football.
Synopsis
Though Michigan received high marks for recruiting, head coach Brady Hoke knows he faces a tough schedule with plenty of new faces in the lineup, One advantage he has this year: The Wolverines play the Spartans at home in The Big House.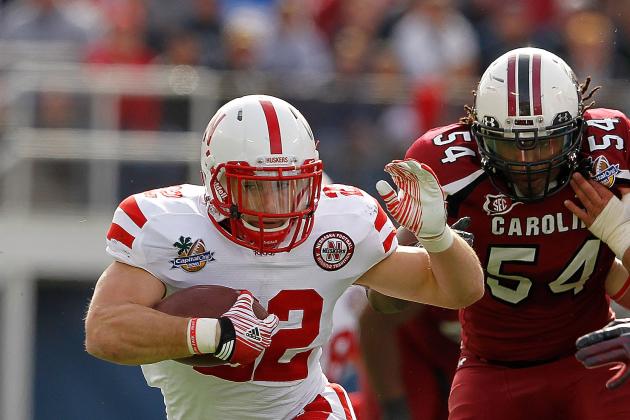 Mike Ehrmann/Getty Images
Running back Rex Burkhead returns after rushing for 15 touchdowns in 2011.
The Spartans remember running back Rex Burkhead and the Cornhuskers. Nebraska routed Michigan State, 24-3, at home in an offensive masterpiece that featured Burkhead (pictured) and quarterback Taylor Martinez.
Nebraska has 17 starters returning this year, but they lost three offensive linemen and four talented starters on defense due to graduation. Thankfully, three of the top five leading tacklers will be back for the 2012 season.
Strengths
Burkhead, Martinez and wide receivers Kenny Bell and Quincy Enunwa give Nebraska a potentially explosive offense.
The Cornhuskers defensive line should be formidable with three returning starters. Second leading tackler Will Compton will be back at linebacker. Defensive back Daimion Stafford returns after finishing No. 3 in tackles on defense.
Weaknesses
Though the Cornhuskers like to rotate their offensive linemen, they need to have steady starters at center and the two tackle spots.
Defensively, Nebraska needs help after the departure of linebacker Lavonte David. They also need to find a suitable replacement for safety Austin Cassidy.
Synopsis
November was fatal to Nebraska in 2011 as they lost two out of four critical Big Ten games. Their two biggest tests will be playing Michigan and Michigan State back-to-back the first two weekends of November this year.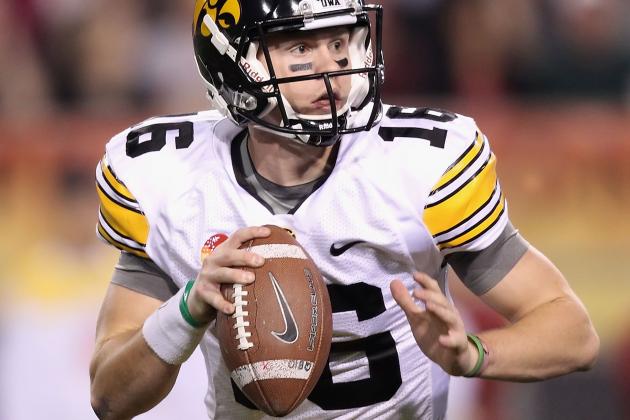 Christian Petersen/Getty Images
Quarterback James Vandenberg must be the steady hand at the helm of Iowa's offense.
This season will be a big test for head coach Kirk Ferentz and his Iowa Hawkeyes.
Their leading rusher, their No. 1 pass receiver, two starting defensive linemen and one veteran defensive back are gone.
Quarterback James Vandenberg (pictured) returns after throwing 25 touchdown passes and for 3,022 yards in 2011.
Strengths
Vandenberg will have returning wide receiver Keenan Davis and tight end C.J. Fiedorowicz back as targets in the passing game.
Four of the top six tacklers will be back on defense. They include linebackers James Morris and Christian Kirksey, and defensive backs Tanner Miller and Micah Hyde.
Weaknesses
The Hawkeyes are not a deep team. They have only 40 letter-winners returning for the 2012 season.
Offensively, they must find a reliable running back.
The challenge on defense is to find six starters to play with Morris, Kirksey, Miller, Hyde and returning lineman Dominic Alvis.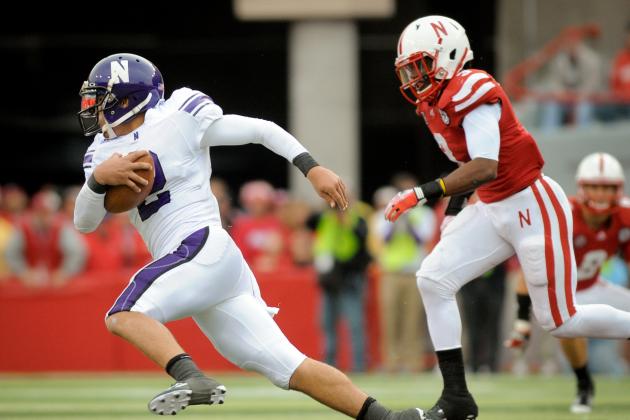 Eric Francis/Getty Images
Kain Colter is off and running against Nebraska. He will lead the Wildcat offense this year.
Once again the Wildcats' hopes rest on the shoulders, legs and arms of their quarterback.
This year Kain Colter (pictured) takes on the full-time responsibility of leading the Northwestern Wildcats. He spent part of 2011 wondering how often he'd get on the field when quarterback Dan Persa was healthy and primed to play football.
To Colter's credit, he played quarterback, wide receiver and running back. He not only had a 157.22 quarterback efficiency rating, but he also led the team in rushing with 654 yards.
Strengths
Colter has two wide receivers back in Demetrius Fields and Christian Jones.
Safety Ibraheim Campbell led the defense with 100 tackles in 2011. He is back with three starters returning at linebacker and two defensive linemen returning for this season.
Weaknesses
The Wildcats lost their top two wide receivers to graduation and need a reliable starting running back.
The biggest hole on defense is in the secondary. Only Campbell is returning for the 2012 season.
Synopsis
Northwestern always seems to pull off one upset every season. Last year they beat Nebraska on the Cornhuskers' home turf, 28-25. The Wildcats may just finish with another 6-7 record.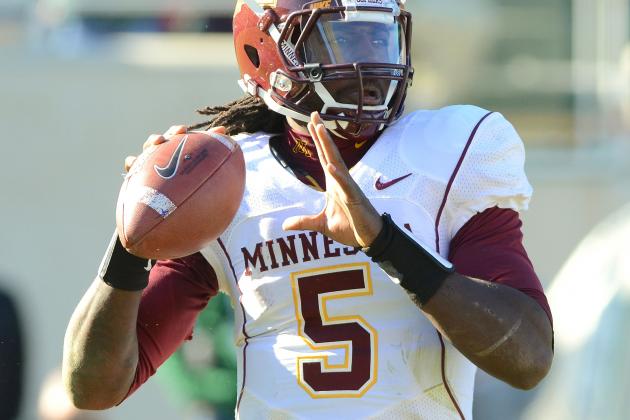 Mark A. Cunningham/Getty Images
Minnesota's offensive leader is quarterback MarQueis Gray.
The Minnesota Golden Gophers can claim they are returning with a balanced team in 2012.
They have 52 letter winners with 23 on offense, 24 on defense and five on special teams. Minnesota also has 13 out of 22 starters returning for the 2012 season.
Strengths
Four of the five offensive line starters are coming back to protect quarterback MarQueis Gray (pictured) and open running lanes for H-back John Rabe.
Linebacker Keanon Cooper, linebacker Mike Rallis and cornerback Brock Vereen were among the five leading tacklers on the team in 2011 and are ready to play this year.
Weaknesses
Minnesota's leading pass receiver is gone and they have to hope Brandon Green can match the 51 catches that Da'Jon McKnight had in 2011.
The Golden Gophers need line, linebacker and backfield help on the defensive side of the football.
Synopsis
Jerry Kill starts his second year as Minnesota's head coach and is working hard to add talent and depth to his team. For now the Golden Gophers are trapped in the cellar of the Legends Division.