Players Championship 2012: Will Rickie Fowler Win His Second in a Row?
May 12, 2012

Mike Ehrmann/Getty Images
Golf's newest star, Rickie Fowler, vaulted up the leaderboard on Saturday with a third-round 66 that included seven birdies and only one bogey, a missed putt on the final hole.  Now, he is currently challenging veterans Kevin Na, Matt Kuchar, Zach Johnson and Ben Curtis.
The big question, now, may be whether Na can actually get through the final round.  His pre-shot routine, which features a practice swing that seems to border on Tourette's, has to do with swing changes he has made in the last year that are not yet grooved. 
Like Tiger Woods, he is uncomfortable with his new swing, and that causes him to hesitate. When he said he has to do his waggles in pairs, though, it's enough to ask if OCD is taking over. All that said, anyone who has the courage and determination to fight through his practice swings may not even notice the difficulty of the course.  He was bogey-free Saturday and birdied the 18th.  
Matt Kuchar, one stroke back from Na, has been to a different kind of golf wilderness. 

He lost his game and found it again, and then, he became the leading money winner. He certainly knows how to accept a challenge like the TPC Sawgrass. He shot a 69 with four bogeys including a ball in the water at the 17th. 
"To get that up and down was a big save," he said about the bogey.
Kuchar finished just out of a playoff at Augusta National and said it was "awfully exciting" to be in position to win so soon after that. "I'm looking forward to playing some great golf tomorrow," he said.  
Regarding his pairing with Na, he said simply, "Part of the deal out here is you learn to play slow, unfortunately." 
Kuchar recently made an agent trade and is now with Mark Steinberg, Tiger Woods' agent.  He got one important piece of advice from Steinberg since the transition.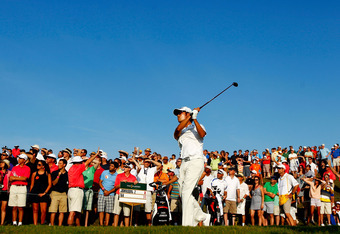 Mike Ehrmann/Getty Images
"At the Masters, he kind of pulled me aside a few times, [and] said, 'Listen, you only get so many times to really have a shot at winning a major championship, go for it.' This is one of those times,"  Kuchar explained.
If Rickie Fowler had not won last week, it would be hard to favor him. And because he won last week, it is hard to favor him.  The last person to win back-to-back events was Tiger Woods in 2009 when he won the Buick Open and the WGC Bridgestone.  It's just hasn't been done very often.
Earlier in the week, Fowler's friend Hunter Mahan was asked if he thought Bubba Watson's victory at the Masters rubbed off on Fowler at Wells Fargo. 
"I don't know how that would happen. I know they're good friends," Mahan said.
But Fowler himself said it did have an affect. 
"You know, I can definitely give some credit to Bubba for motivating me a bit and giving me kind of a kick in the butt to go out and get it done," Fowler pointed out.
Fowler was upbeat, looking forward to the day and promised to wear his signature orange on Sunday.
The leaderboard sleeper is silent assassin Ben Curtis.  He won a British Open, finishing early.  But he has won three additional times.  He can chip and putt like a crazy person, and if his short game is sharp and he can keep his golf ball out of the alligator's mouth, he has a great chance.
But the winner is: The man in orange, Rickie Fowler.  He's on a roll. 
Tiger Woods update:  Woods went from nearly missing the cut to 34th place at the end of the third round.  He was even par for the day.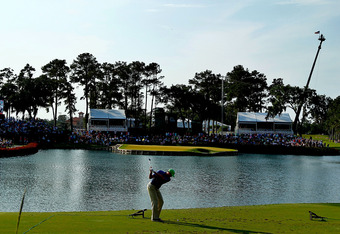 Mike Ehrmann/Getty Images
It's practically impossible to pick a winner out of a full field of a golf tournament, but when it's Saturday evening and there are five or ten players to choose from, it gets easier.
Phil Mickelson update:  Mickelson shot 70 and is minus-4, eight shots back.  Realistically, unless both Kuchar and Na collapse, that is too far back for him to win.
Balls in the water update:  Saturday, 4.  Overall, 34.
Kathy Bissell is a Golf Writer for Bleacher Report. Unless otherwise noted, all quotes were obtained first-hand or from official interview materials from the USGA, PGA Tour or PGA of America.