Preakness 2012 Post Positions: Odds and Predictions for Every Horse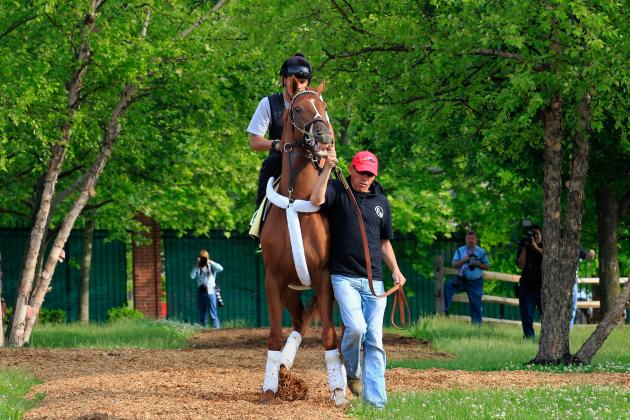 Rob Carr/Getty Images
I'll Have Another.
The post positions for the 137th running of the Preakness Stakes are set. An 11-horse field—headlined by Kentucky Derby one-two finishers I'll Have Another and Bodemeister—will take the track on May 19th for the second jewel of the Triple Crown.
I'll Have Another took the first jewel of the crown, and will once again have to go catch Bodemeister if he is to win the $1 million race and keep his Triple Crown dreams alive.
The Preakness is just slightly shorter than the Derby at 9.5 furlongs, but the defections of some horses under consideration earlier in the week make this a totally different race than what it was shaping up to be.
Bodemeister ran a sensational race at the Derby. Even after he blazed through the splits, he was only caught by the eventual winner, I'll Have Another.
If the Derby were at the 9.5 furlongs of the Preakness, Bodemeister would have won by a neck. But we all know it is not and history is being written by I'll Have Another.
He will have to go catch Bodemeister once again, but there are also nine other highly capable contenders. Derby runners Went the Day Well, Creative Cause, Daddy Nose Best and Optimizer, and the five new shooters Cozzetti, Pretension, Teeth of the Dog, Tiger Walk and Zetterholm will all present additional challenges.
The Preakness will be the 11th race on a 13-race card that begins at 10:30 a.m. ET. Post time for the Preakness is listed as 6:18 p.m. ET, and it will be televised live by NBC as part of a two-hour telecast beginning at 4:30 p.m. ET.
Let's take a quick look at predictions for each of the 11 horses and information about their connections, post positions and morning-line odds.
Begin Slideshow

»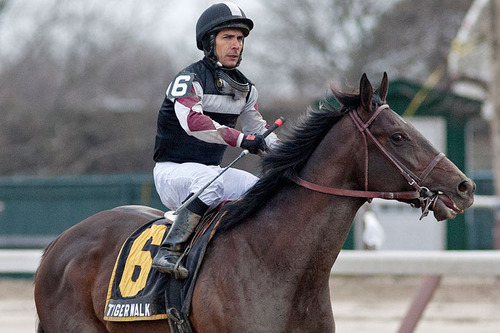 Tiger Walk (photo via drf.com)
Post Position: 1
Jockey: Kent J. Desormeaux
Trainer: Ignacio Correas IV
Record: 7-2-0-1
Best Beyer: 90
ML Odds: 30/1
This horse will have the blinkers on for the first time here and comes from finishing a non-threatening fourth-place at the Wood Memorial, although he recorded his best Beyer there (90).
This horse works very well but his results have been sub-par when he has faced top competition on his last three races—all Derby prep-graded stakes.
This is another top-flight Stakes race and he should be finishing behind the top horses again. The best I see him is placing fifth.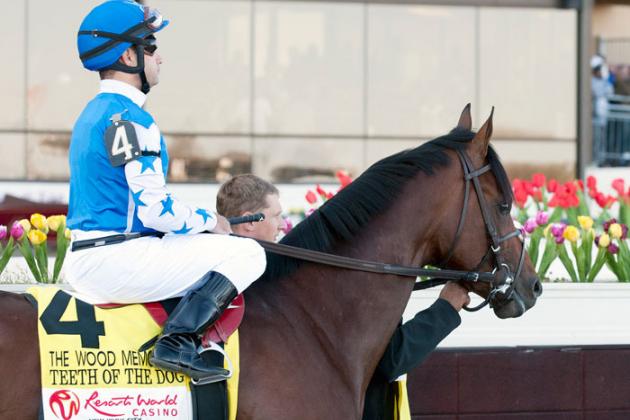 Teeth of the Dog (photo via drf.com)
Post Position: 2
Jockey: Joe Bravo
Trainer: Michael R. Matz
Record: 4-1-1-2
Best Beyer: 93
ML Odds: 15/1
He is a lightly-raced horse who has been making big improvements on each race.
He made a huge jump from a $40K maiden special weights win to the G1 Wood Memorial on his last race and finished third with a mild rally behind Gemologist and Alpha.
He was almost crushed on the first turn there and still made his best Beyer to date. He might not be Union Rags for trainer Michael Matz, but he is not that far below the top runners here.
The only thing I see against him is that Matz has not been high on him yet, but expect him to be in the top four here.
Pretension (photo via drf.com)
Post Position: 3
Jockey: Javier Santiago
Trainer: Christopher W. Grove
Record: 8-3-3-0
Best Beyer: 83
ML Odds: 30/1
He comes from grinding out a win at the Canonero II on this track the same day the Derby was run—May 5th.
He was a decent pretender at the G3 Gotham after winning the Sweet Envoy in early February. He finished a disappointing fifth place, nine lengths behind Hansen.
Maybe it was the off track, but his next was a horrendous ninth place, more than 13 lengths beaten at the snail-timed G3 Illinois Derby on a fast track.
I'll take him to finish once again behind Tiger Walk—did it before in the Gotham—and that means out of the money here.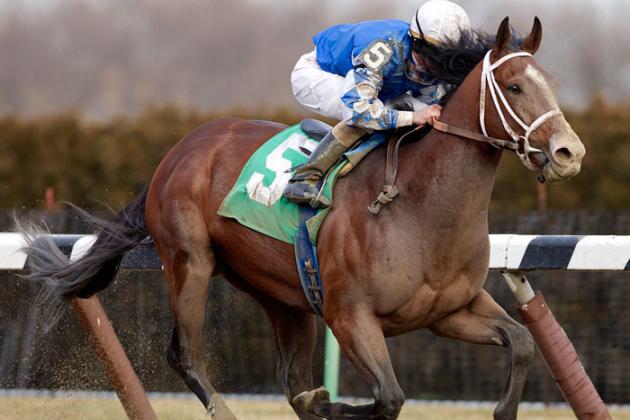 Zetterholm (photo via drf.com)
Post Position: 4
Jockey: Junior Alvarado
Trainer: Richard E. Dutrow Jr.
Record: 5-3-1-0
Best Beyer: 85
ML Odds: 20/1
A winner of three straight races this year, including the Patsy Prospect his last time out, and had a second-place finish on his other race before those.
While he has shown great ability and grit winning those three races, he has not beaten anyone of relevance yet.
Distance doesn't seem to be a concern for him, but the step-up in class should be. He has not been breaking any clocks during his morning workouts, but is working decently.
He still needs to improve to beat the horses here.
Matthew Stockman/Getty Images
Went the Day Well
Post Position: 5
Jockey: John R. Velazquez
Trainer: H. Graham Motion
Record: 6-2-2-0
Best Beyer: 97
ML Odds: 6/1
This is my favorite to win this race. I have to admit I wasn't on his bandwagon before the Derby, but I am a believer now.
Once again, let's recap his race: bumped at the start, had to check twice before he reached the first turn, took a trip seven-wide in the final turn, entered the stretch ninth 10.5 lengths behind and rallies to finish fourth just 2.5 lengths behind.
Those 2.5 lengths were lost on the first bump alone and even with all the trouble, he made his best Beyer to date (97) and has looked excellent working in the mornings after.
He will be in fourth or fifth place early, and will be moving forward sooner. Expect him to challenge before the top of the stretch and catch Bodemeister and I'll Have Another to win the Preakness.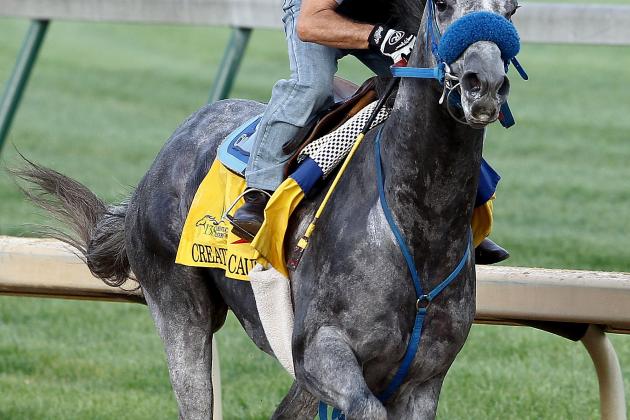 Matthew Stockman/Getty Images
Creative Cause
Post Position: 6
Jockey: Joel Rosario
Trainer: Mike Harrignton
Record: 9-4-2-2
Best Beyer: 102
ML Odds: 6/1
A super working horse, always shows up and tries real hard every time. He has been consistent with his Beyers and his efforts, and it wouldn't take much for him to win here.
He has history with the two favorites. He caught Bodemeister in the G2 San Felipe and was short by a nose to I'll Have Another at the G1 Santa Anita.
In the Derby he was running just behind I'll Have Another and made his move with him, but an eight-wide trip made him lose a lot of ground.
It wouldn't surprise me if he wins here—he has the class and the Beyers to show for it. But I see him finishing once again close to the leaders, but just behind them.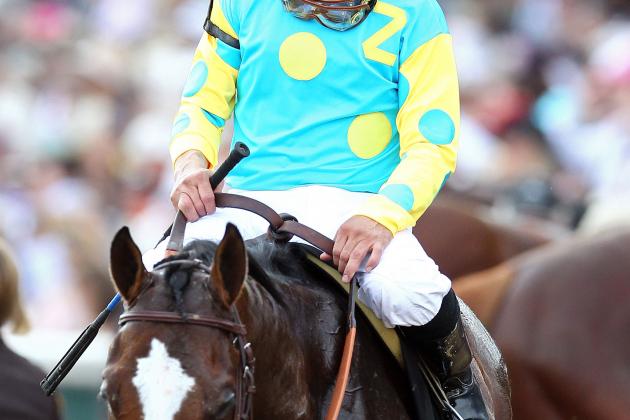 Matthew Stockman/Getty Images
Bodemeister
Post Position: 7
Jockey: Mike E. Smith
Trainer: Bob Baffert
Record: 5-2-3-0
Best Beyer: 108
ML Odds: 8/5
The favorite and rightfully so. After running those blazing fast splits he was still up front with half a furlong to go, and was beaten by just one of the 19 horses he faced in the Derby.
Now with virtually no one by his side and pushing him to go that fast, Hall of Fame jockey Mike Smith should just do a repeat ride of the Arkansas Derby and blitz the field by 10 lengths.
I'm totally not sold on that. He will set up a slower pace—yes—but that doesn't mean that the other horses acknowledged it and will run for second place.
This is the Preakness Stakes and everyone is gunning for the win. Everyone knows he will have those easy first splits so expect the stalkers, especially I'll Have Another, to be forwardly placed—maybe second behind him.
My theory is that this is his third big race in just five weeks and his sixth already this year. It has to take its toll at some point, and the only reason I see him trying it again is because he is not going to the Belmont, so he might as well try it under the perfect circumstances.
He will try but I think that Went the Day Well and I'll Have Another will catch him and finish a close third.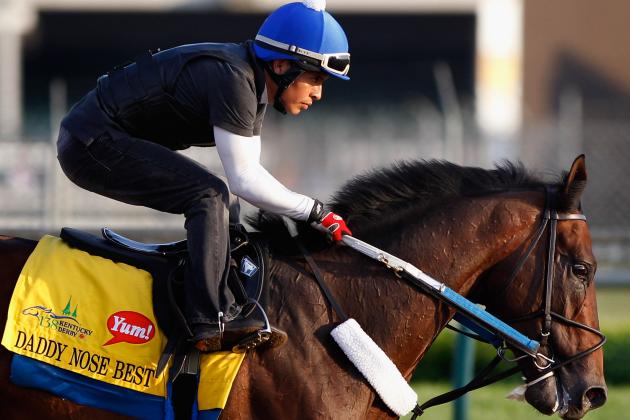 Rob Carr/Getty Images
Daddy Nose Best
Post Position: 8
Jockey: Julien R. Leparoux
Trainer: Steven M. Asmussen
Record: 11-4-2-1
Best Beyer: 100
ML Odds: 12/1
This horse was one of the biggest disappointments in the Derby. He was the horse everyone watched during his morning workouts at the track before the Derby, and was expected to run a big race.
Then the Derby came and he just didn't fire his best race. He finished 10th, 11.5 lengths behind.
After a pedestrian-like work of :53 flat for four furlong—worst of 25 that morning—on the sloppy track at Churchill on Monday, his connections got him under consideration for the Preakness.
He is reunited with Julien Leparoux, who guided him to his two best races so far and knows him best, so maybe that could be enough to get him back to run his best race.
I am just not convinced he has the proper race conditions for it. He needs more pace to do his best race and here he would have to run outside of his comfort zone early, which will not favor him.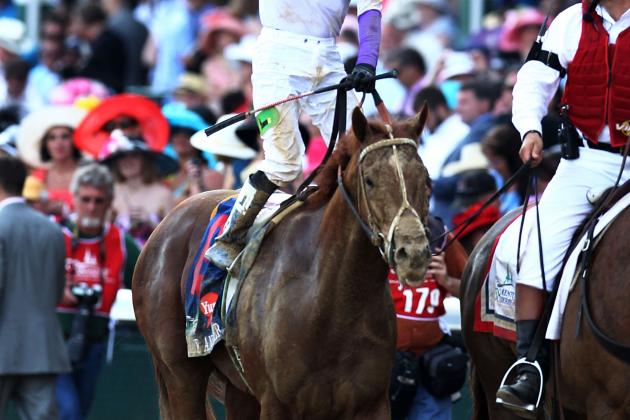 Matthew Stockman/Getty Images
I'll Have Another
Post Position: 9
Jockey: Mario Gutierrez
Trainer: Doug F. O'Neill
Record: 6-4-1-0
Best Beyer: 101
ML Odds: 5/2
The Derby winner just keeps answering the call and excelling on every challenge he has faced so far. He keeps improving with every race, and should fire an even better race here.
Jockey Mario Gutierrez gave him the perfect trip in the Derby, and should not have any problems with handling traffic here.
One thing will be different, though, and that is that he will have to be closer to the pace since Bodemeister will be unchallenged in the early going.
He was as far as ninth in the Derby but remember he posted from the 19th slot, so Gutierrez bided his time to make the move and it worked.
This horse is a perfect stalker who has very deceptive cruising speed, and should have no problem following Bodemeister, contrary to popular belief.
I expect him to be pressuring Bodemeister from the three-quarter pole and will do a valiant effort, but this time roles will reverse and he will be the one caught in the final furlong—but by Went the Day Well.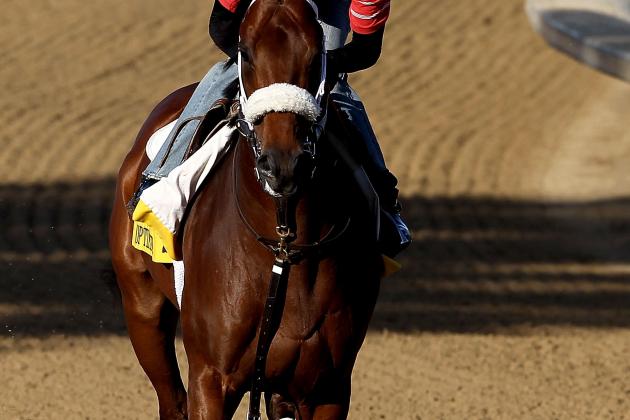 Matthew Stockman/Getty Images
Optimizer
Post Position: 10
Jockey: Corey S. Nakatani
Trainer: D. Wayne Lukas
Record: 10-1-2-1
Best Beyer: 91
ML Odds: 30/1
I liked this horse earlier in the year and even jumped on his bandwagon at the G2 Rebel—he was beaten by just 0.5 lengths—but jumped out of it in the next race at the G1 Arkansas Derby when he finished 20 lengths behind.
At the Derby he ran a steady race and never got to rally at any point.
It's not that he doesn't work great in the mornings, as he has plenty of good workouts, but simply seems like he doesn't belong with the top horses.
Only once he broke the 90s in his Beyers and to even begin talking about chances for him, we would need to have a speed duel up front. That is not happening here.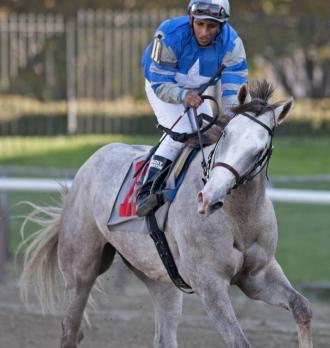 Cozzetti (photo via drf.com)
Post Position: 11
Jockey: Jose Lezcano
Trainer: Dale L. Romans
Record: 7-1-0-1
Best Beyer: 92
ML Odds: 30/1
He has plenty of unfulfilled potential, but has just one win and one third-place finish in seven career starts.
He needs to improve his Beyers to win here, but the one thing he has going for him is that he has been improving them by 10 on each of his three races this year.
He comes into the race with the best work of any horse—a :58.4 for five furlongs—and all signs point to him being ready to win a big race.
Watch out for this horse—if you are looking at big money for this race, this might be your best bet.