Italian Open 2012: Predicting the Women's Tournament
May 12, 2012

Jasper Juinen/Getty Images
The women leave the smurf-like blue clay in Madrid and head to Rome for this week's Italian Open.
With tournaments in back-to-back weeks it will be a tough turnaround for some of the players who did so well in Madrid.
Most of the players, however, will be more comfortable on the red clay in Rome. This will be the perfect tune-up for the French Open and will reveal some of the top favorites for Roland Garros.
Here are my predictions:
Quarterfinals
First Quarter
No. 1 Victoria Azarenka is the top seed here, but could have some tough early matches. Roberta Vinci has been playing well, and you have to think the Italians will be motivated in their home country.
In the bottom of this section, Li Na will get through, but the way Azarenka has been playing this year it's hard to go against her.
Semifinalist: Azarenka

Second Quarter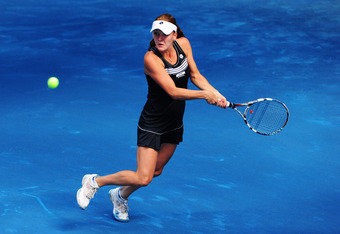 Jasper Juinen/Getty Images
No. 3 Aggie Radwanska can beat anyone not named Azarenka. She has not lost to anyone besides Vika this season. Radwanska could have some tough matches in this section.
Serena Williams and Caroline Wozniacki are at the bottom of this section.
Williams has been on a roll, however, she's due for a loss. It's hard to play back-to-back weeks without many days off.
Wozniacki's steady game will get the job done in three sets over Williams. However, if Williams does somehow get through this section, I think she will be hard to stop—and the rest of the tour better start to worry.
In the quarters, I like Radwanska to sneak through and get to yet another semifinal against the one player she can't beat.
Semifinalist: Radwanska
Third Quarter
No. 4 Petra Kvitova is the top player in this section. It would seem she has a decent draw, but she has really been struggling lately.
Can she put it all together in Rome? I don't think so.
I think she will get through to the quarters, but I think Angelique Kerber will knock her off at that point.

Semifinalist: Kerber

Fourth Quarter
No. 2 Maria Sharapova, the defending champion, has a decent draw. However, there are some good players in her section who could take her out if she isn't on top of her game. Sharapova could have Christina McHale in her first match, which could be a real thriller if McHale plays her best.
Ana Ivanovic and Svetlana Kuznetsova are playing each other in the first round, and one them could get Sharapova in the third round, but I still Sharapova getting through.
In the top part of the section, Sam Stosur, Venus Williams and Francesca Schiavone will be battling it out. I think Schiavone will play some of her best tennis, but will come up short to Sharapova in the quarters.

Semifinalist: Sharapova

Semifinals

Azarenka vs. Radwanska
I could be bold and pick an upset, especially since it will be very hard for Azarenka to play her best after a great week in Madrid.
The match will be there for the taking, but Azarenka is sure to be tired from two long weeks of tennis.
I just don't think Aggie believes she can win this match, although it is likely she will take a set from Vika.
Finalist: Azarenka in three sets

Kerber vs. Sharapova: If Sharapova is off her game, she can easily lose this match. Kerber has already beaten her once this year. I think this will be another tough match, but once again Sharapova's mental game will be the difference.
Finalist: Sharapova in three sets

Finals
Azarenka vs. Sharapova
Both players will be very tired by this point, but it will be a good match that will go the distance.
Sharapova won in Germany a few weeks ago, but I think Vika will prevail this time around. A win here would really solidify Azarenka's place at No. 1.
Champion: Azarenka in three sets