2012 NHL Playoffs: Washington Capitals vs. NY Rangers Game 7 Live Blog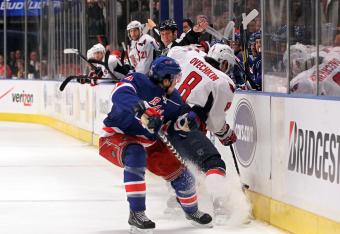 Bruce Bennett/Getty Images
The New York Rangers defeated the Washington Capitals 2-1 in Game 7 of their Eastern Conference semifinal series at Madison Square Garden.
Scroll down for updates from throughout the game.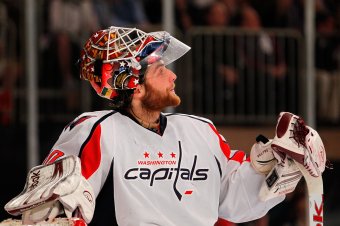 Paul Bereswill/Getty Images
NYR 2, WSH 1- Final: 31-22. The Caps got outshot, outplayed, and outworked by a hungry top-seeded Rangers team. Does this mean that the Ovechkin-Backstrom-Semin-Green era Caps should be at least partially dismantled? If the Caps plan on keeping Hunter, no. In short, the Capitals have a talented core, with a nice group of bangers to compliment them. The Rangers on the other hand, as the Rangers fan in the room said "played like it was Game 7." And both teams got what they deserved. The Rangers will likely move on to play for the Cup in the Finals, while the Caps will spend another offseason wondering what went wrong. The answer to their quandary is not much besides a lack of effort during the regular season. They played 14 great postseason games against the top two seeds in the Eastern Conference, and went 7-7 in a system they never seemed comfortable with until three weeks ago. Both teams played a great series, but what may prove to be more important for Washington is this: they finally found their goalie of the present, not just the future.
NYR 2, WSH 1- Final: For Rangers fans, this game represents a seminal moment in the franchise's history. It's the first time this team has advanced into the Conference Finals (or equivalent in seasons past) without a marquee superstar...which is a testament to the coaching staff and level of commitment put forth by this Rangers squad. The Caps, on the other hand, proved their meddle by playing one hell of a series, but it'll be a long offseason for Ovechkin and co.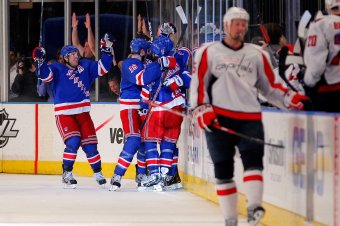 Paul Bereswill/Getty Images
NYR 2, WSH 1- Final: Can't say I didn't see this coming. The Caps have a tendency of coming up short in big games, and it only continued tonight. If only they'd closed out Game 5 when they had the chance.
NYR 1, WSH 0- 0:38 3rd: No pressure, nothing generated offensively, the Rangers deserve this one. Predicting this now: the Rangers will win the Stanley Cup.
NYR 2, WSH 1- 3:23 3rd: Capitals are toast. The Rangers' pressure is unwavering, and the Caps can't so much as get the puck in New York's end.
NYR 2, WSH 1- 6:13 3rd: A timely penalty by Backstrom after a pretty brutal power play by the Caps...and the refs disallowed what should have been an easily distinguishable good goal by the Rangers. Uh oh.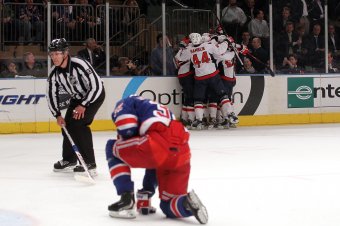 Bruce Bennett/Getty Images
NYR 2, WSH 1- 9:15 3rd: DID THAT JUST HAPPEN? Roman Hamrlik scores, the Rangers take a penalty? If the match-fixing conspiracy theories are true, the NHL is doing a great job of causing perspiration on the foreheads of fans in New York and Washington.
NYR 2, WSH 1- 9:50 3rd: Really....? Ovechkin has a great scoring chance, misses the net and the Rangers score? So typical in this series.
NYR 1, WSH 0- 13:40 3rd: Ovechkin's quick shot off the draw goes just wide...that might've been the chance for the Caps. The upside of using Hunter's defensive system is low-scoring games. The downside? It's not easy to score when you're down a goal.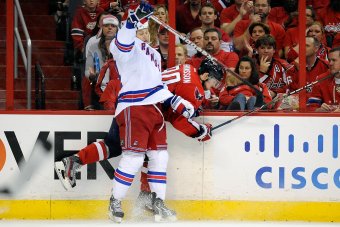 Greg Fiume/Getty Images
NYR 1, WSH 0- 15:20 1st: When is Marcus Johansson going to stop being the easiest player in the league to knock off the puck?
NYR 1, WSH 0- Start of 3rd: Ovechkin has been neutralized for most of the game....here's hoping he can save the Caps. Come to think of it, how many times has Ovechkin scored a big goal in a decisive postseason game? Here's hoping King Henry can't keep this magic up, cause Ovi's track record isn't great when it comes to lifting his team in the Playoffs.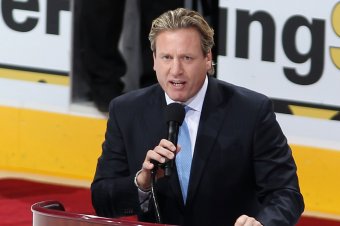 Christian Petersen/Getty Images
NYR 1, WSH 0- 2nd intermission: For someone who used to don a Caps jersey, Keith Jones doesn't show a whole lot of love for his former team. However, anything's better than Milbury. I guess Roenick didn't get the call for tonight...is it because NBC noticed he doesn't like to show up during the Playoffs?
NYR 1, WSH 0- 1:10 2nd: The Caps have been getting their shots, but the Rangers are executing their game plan perfectly. Something tells me King Henry won't be letting anything in tonight. He's a blocking goaltender who relies on his instincts, and when they're on, nothing beats him. The Caps will need something extraordinary to knot this game up.
NYR 1, WSH 0- 3:00 2nd: As the Caps continue to mount an attack, just wanted to share a Tweet from one of the NHL's hottest young stars.
"tylerseguin92: Happy birthday marchyyy. I heart you. #bromance"
Don't know how anyone could feel this strongly about a guy like Marchand, but regardless...the phrase "heart you"? Really Tyler?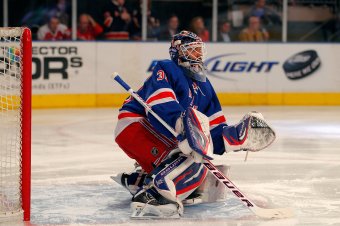 Paul Bereswill/Getty Images
NYR 1, WSH 0- 8:00 2nd: A frantic collection of chances in the Rangers' zone, but Henrik had an answer for everything. We seem to be getting dangerously close to seeing a goalie who's in one of those "you won't score on me no matter what you do" sort of zones. For Caps fans, this may also be referred to as "the Halak effect."
NYR 1, WSH 0- 13:35: Close call for the Caps...Doc Emerick's voice makes it even more agonizing.
NYR 1, WSH 0- 18:10 1st: Caps keep overpassing the puck. Everyone wants to be the set-up man, no one wants to be the hero...go figure.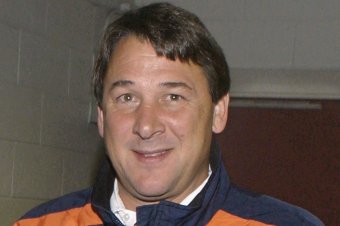 Getty Images/Getty Images
NYR 1, WSH 0- First Intermission: Why is it that as soon as people start mentioning Carl Hagelin's power outage (0 points since Game 1 against Ottawa), he sets up Richards' goal? And why is it that Mike Milbury hold chalk talk sessions on NBC despite the fact that as the Islanders GM, he a) traded Roberto Luongo in order to draft Rick DiPietro, b) dealt Jason Spezza and Zdeno Chara for an aging Alexei Yashin, and singlehandedly set that franchise back 10 years? The world may never know.
NYR 1, WSH 0- End of First Period: Ovechkin with a classic Ovi move, but way over the cage. And there's a shot of him with smelling salts on the bench...hope he didn't need those to wake up for this one.
NYR 1, WSH 0- 1:00 1st: What a move by Mike Green, but he waited too long to do anything with the puck.
NYR 1, WSH 0- 3:20 1st: I'm patiently waiting for the day that one of the players snaps while listening to Pierre McGuire discuss their poor play. Just plain rude of you, Pierre!
NYR 1, WSH 0- 8:01 1st: King Henry is one of the league's best, but his one glaring weakness is rebound control. Just as I point out the missed calls, the Caps get whistled for a behind-the-play infraction on Hendricks. For anyone out there wondering, the NHL headquarters are located walking distance from MSG.
NYR 1, WSH 0-10:51 1st: A couple of missed calls on the Rangers early...but you didn't really expect the refs to call something in favor of a road team in Game 7, did you?
NYR 1, WSH 0 -13:15 1st: Caps are generating chances, but the Rangers are playing a physical game, forcing Washington to shoot from perimeter. Not a good sign, but the Caps haven't done much according to the script this year.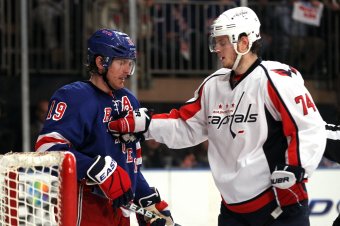 Bruce Bennett/Getty Images
John Carlson went from being potentially the Caps' most inconsistent defenseman in the regular season to possibly the most steady at both ends during the postseason.
This article is
What is the duplicate article?
Why is this article offensive?
Where is this article plagiarized from?
Why is this article poorly edited?

Washington Capitals: Like this team?