London 2012: Americans Gay, Burroughs and Lopez Look to Shine on Olympic Stage
March 8, 2017
Dean Mouhtaropoulos/Getty Images
The United States of America routinely sends top talent from around the country to compete in the Olympics. This year will be no different. In London there will be many American athletes that will shine in the world stage. 
They will represent America with such valor and honor that they deserve the medals and spectacular wreaths that will be bestowed upon them. 
Here are some important American Olympic hopefuls that will shine from the field to the podium. 
Tyson Gay, Track and Field
Gay's last trip to the Olympics was filled with disappointment. He went into Beijing with quite a bit of hype and never once reached the podium. That heartache will fuel him to compete his heart out this time around in London. 
Gay is one of the few men who will be able to knock off Usain Bolt in the 100-meter. His time of 9.69 seconds in the 100-meter makes him the second-fastest man in the world. 
The individual rivalry between Gay and the Jamaican will be one of the best in the games. The fire is burning and the American needs revenge. That just may propel him to a gold.  
If anyone will beat Bolt in London, it will be Gay. Keep your eyes glued on this speedster.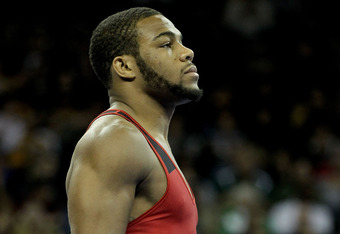 Matthew Stockman/Getty Images
Jordan Burroughs, Freestyle Wrestling
Imagine a golfer winning every event ever for three years and counting. He would be considered some sort of demigod. Perhaps, some would call him the greatest. 
Now switch the sport from golf to freestyle wrestling and the athlete from an unnamed golfer to Jordan Burroughs. 
Burroughs, in a word, is dominant. He has won every tournament he's entered since the beginning of the 2009 season. 
He is an up-and-coming superstar who hopes to make his name known in London. It won't be hard for the New Jersey native, as he won Gold in the 2011 World Championships in Istanbul, Turkey. He also nabbed first place in the 2011 Pan American games.
That same year he became the fourth wrestler ever to win a NCAA championship and World Championship in the same year. 
Jordan Burroughs aims to shine in 2012—and the world will be watching.
Steven Lopez, Taekwondo
You may never have heard of him but Lopez is the face of Taekwondo in America. He won gold in 2000 at Sydney and nabbed another gold at Athens in 2004. He's won gold in every World Championship since 2001, in Jeju, Garmisch, Madrid, Beijing and Copenhagen. 
And just to make you feel worse about yourself, Lopez also appeared in People Magazine's 50 Most Beautiful People. 
But last Olympics in Beijing, Lopez failed to win a gold. Or a silver, for that matter. He went back home with a bronze medal. 
For an athlete that is so used to winning, that must have hurt. Lopez will be incredibly hungry in London and watching a man get revenge and go for gold will be a treat.