NBA Playoffs 2012: Superstars Who Will Take over the 2nd Round
May 12, 2012
Jeff Zelevansky/Getty Images
With the first round of the 2012 NBA Playoffs winding down, it is a great time to begin looking at the next round of the premier basketball event. 
Superstars are always supposed to carry their respective teams to a victory, but in the playoffs the pressure is on and the drive to succeed becomes incredibly apparent. 
Here are a few superstars that will take over the second round of the playoffs. 
This shouldn't come as a surprise to anyone who has even slightly followed the NBA. The newly crowned MVP should lead the Miami Heat to an Eastern Conference finals berth and James will do it in king-esque fashion. 
The Heat were 3-1 against the Indiana Pacers in the regular season, with James averaging 26.8 points per game against Danny Granger and company. 
But the superstar is a different animal in the playoffs. Fueled by the critics and energized by his quest for a ring, James should easily take over the second round of these 2012 NBA playoffs. 
Rajon Rondo was undoubtedly the Boston Celtics' MVP in the first round of the playoffs. His physical style and undeniable motor was key for Beantown as they trumped the Atlanta Hawks in six games.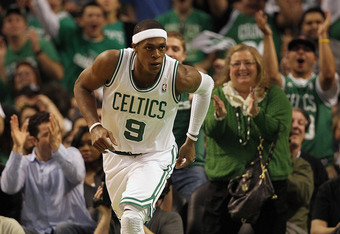 Jim Rogash/Getty Images
The 76ers are a beatable team for Rondo and his squad, but they have a big emotional advantage and are riding a vast momentum wave after knocking out the Chicago Bulls. 
The point guard should be able to squash that momentum. Rondo has his work cut out for him as he battles Jrue Holiday, but whether he is racking up points or dishing out dimes, No. 9 will have his fingerprints all over this series.  
Kevin Durant 
The Oklahoma City Thunder swept the defending champs Dallas Mavericks in the first round of the NBA playoffs, and are now waiting patiently as the Los Angeles Lakers and Denver Nuggets battle for a right to take on Kevin Durant and company. 
Durant has quickly become one of the most electrifying players in the league, as he won this year's scoring title. 
The superstar averaged 28 points per game this season and should continue his thrilling ways deep into the playoffs. 
The Thunder are looking much farther than a second round series, and Durant is the key to their vision.