LeBron James: Winning 2012 NBA MVP Increases Pressure on King James to Win Title
May 12, 2012

Jeff Zelevansky/Getty Images
According to sources close to Miami Heat superstar LeBron James, it has been confirmed to ESPN.com's Brian Windhorst that "The King" will be named the NBA's MVP for the third time. But now, the real pressure begins for James.
After the season James had—he averaged 27.1 points, 7.9 rebounds and 6.2 assists, to go along with 53 percent shooting and 1.9 steals per game—it's hard to make a case that he didn't deserve it. Only once in NBA history has someone put together a season in which they exceeded the numbers of LeBron his year: Michael Jordan in 1988-89, when he averaged 32.5 points, eight rebounds, eight assists and 2.9 steals on 54 percent shooting. The funny thing is, though, that he didn't even win the MVP that season.
In NBA history, only seven other players—Jordan, Kareem Abdul-Jabbar,, Bill Russell, Wilt Chamberlain, Larry Bird, Magic Johnson and Moses Malone—have won at least three MVP awards.
James has proven his regular season dominance, which no one ever doubted. But now he has to do it in the playoffs, and there are doubts about whether or not he can get it done.
Winning the MVP trophy just adds to the expectations and increases the pressure on LeBron. If you don't think he will feel added pressure, then you're kidding yourself.
From the time LeBron walked off the court last season without a ring, all anyone has talked about is if he will finally get a ring in 2012. From the start of the season, most people didn't seem to care what James did in the regular season; all the MVPs in the world don't mean much without a ring, after all.
The MVP adds the incentive and the extra pressure for LeBron to get it done this season.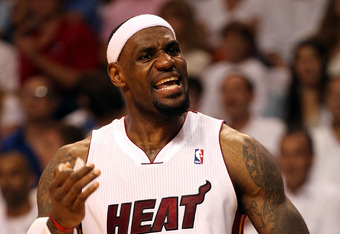 Marc Serota/Getty Images
If Round 1 against the Knicks is any indication, then James may not have a great deal to worry about. Both he and the Miami Heat looked as dominant as ever in the first round.
As the Heat move on in the postseason, the pressure will mount on James to finally capture that elusive ring. If he does, then LeBron has just about done it all in his still young career. But if he doesn't, he will be looked at as a guy who can accomplish as much as he wants to during the regular season, but doesn't have the postseason accomplishments to back it up.
At the end of the day, all the MVP trophies in the world will mean nothing at all if James doesn't win a championship. Like it or not, that's additional pressure on LeBron's shoulders. We will see if he can handle it.