Chelsea vs. Blackburn: Preview, Start Time, Live Stream and More
May 12, 2012

Laurence Griffiths/Getty Images
Chelsea close out their disappointing 2011/12 Premier League campaign against an even more disappointing Blackburn Rovers, whose loss to Wigan last week secured their relegation. Neither team has anything at stake on the final match day as whatever result they get cannot change their respective league positions of sixth and 19th.
However, there are implications that could affect both teams' futures.
Chelsea of course have their eye toward their all important Champions League final next week. A competition that once was just a coveted trophy that Blues owner Roman Abramovic has sought with a fervor since he bought the club, now has massive financial stakes as their 4-1 loss to Liverpool over the week makes a win in Munich the only way to qualify for Champions League next season.
Roberto Di Matteo will be fielding a squad with that in mind, not willing to risk the already limited personnel he has due to suspensions and injuries.
Blackburn has no more than pride at stake, but to an athlete, that is as big as anything. In all likelihood, there will be massive overhauls made in the summer as the fans at Ewood Park have been incredibly vocal about the clubs recent shortcomings.
Steve Kean is looking more and more like a manager on his last legs and the ownership has not escaped criticism either.
When you have some of your most loyal season ticket holders flinging those tickets on to the field at the end of a loss, there is obvious change to be had.
Here is everything you need to know for the game.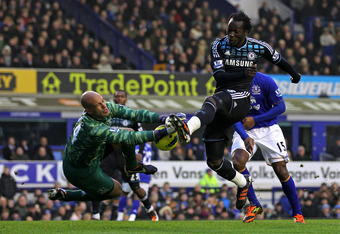 Alex Livesey/Getty Images
Where: Stamford Bridge, London
When: Sunday, May 13, 10 a.m. EDT
Watch: Speed
Live Stream: Foxsoccer2go.com
Player To Watch: Romelu Lukaku
I know this may be a bold proposition, but I honestly think Romelu Lukaku could finally get his first Premier League start. The teenager who cost the Blues £18 million has found his playing time very sparse this season.
Under Andre Villas-Boas he rarely saw the field for unknown reasons. But at this point, nothing the Portuguese manager did seem to make sense. When Di Matteo took over, it was a must win every game situation and he could not take the risk on an unproven youngster.
However, with absolutely nothing at stake against Blackburn, it would be the perfect time to finally give him a shot.
Di Matteo has already hinted that Drogba will not figure into his plans on the final matchday, at least as a starter to give him rest before the final. With Ramires and Raul Meireles for that match, odds are that Fernando Torres will be starting with Drogba in Munich and could be rested as well.
That leaves a perfect scenario for Lukaku to come in and show why he was such a highly coveted prospect.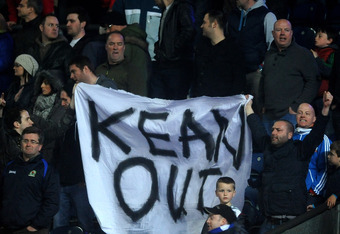 Laurence Griffiths/Getty Images
Stats Tell the Story
No one has taken more shots this Premier League season than Chelsea (489) and no one has taken fewer than Blackburn (311). However, their shooting accuracy is nearly identical at 45 percent and 44 percent respectively.
Interesting/Pointless Trivia
Chelsea last lost three league games in a row in the 1999/2000 season.
What They're Saying
Di Matteo seems to be approaching the game as somewhat of a formalized scrimmage. Without John Terry or Branislav Ivanovic, and David Luiz and Gary Cahill's fitness still under question for the final, he is testing out rookie center-backs on the backline:
We'll practise different solutions, just in case. At the moment, we have the other two centre-halves training but I'm trying other solutions as well…[Sam Hutchinson has] got a chance of being involved [on Sunday], yes.
Jose Bosingwa serves as another possibility, moving him from the right side to the middle, where he performed so well against Barcelona.
On the other side Steve Kean is doing everything he can to save his job. With nothing on the line tomorrow, the future is the only thing that is uncertain and matters, backing the your boss in that uncertain future can never hurt:
Moving forward it is going to be an exciting time for the club. We have taken a massive backward step but we have to look forward and make sure we can get back at the first time of asking.

The owners are not going anywhere, I'm not going anywhere.
Probably not what the fans like hearing as in their minds both should have been gone the day before yesterday. Only time will tell how this plays out.
For all my articles, follow me on Twitter: @thecriterionman