Bryce Harper's Nine Biggest Roadblocks to MLB Superstardom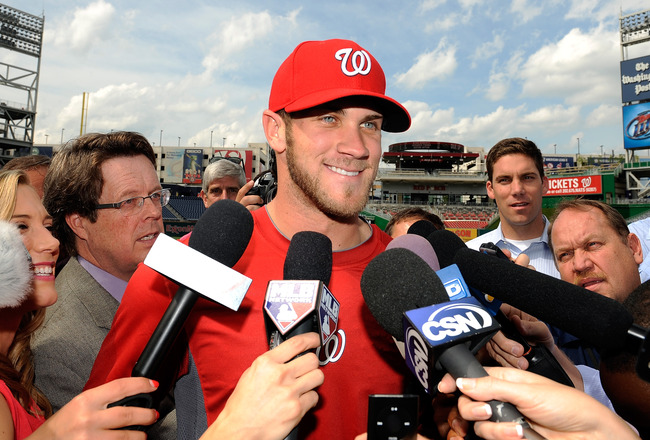 Greg Fiume/Getty Images
Bryce Harper has already left a mark on Major League Baseball.
Since his debut on April 28, Harper has made a spectacular catch in center field, made an amazing throw from left field and stolen home plate. He is on his way to becoming a superstar.
Or is he?
Here are nine obstacles that block Harper's predetermined path to superstardom.
9. Teams Won't Pitch to Him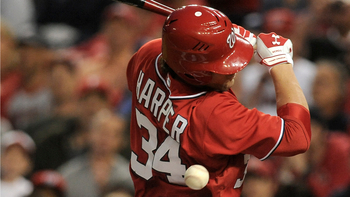 deadspin.com
Every team in baseball knows that Bryce Harper is the next super prospect.
But no team wants to let Harper beat them.
He has already drawn six walks and received a memorable beaning. That hit-by-pitch happened in the third game of a three-game series in which he finished 2-10 with two strikeouts and zero RBI.
Imagine what teams will do when he starts heating up.
8. He Can't Hit Breaking Balls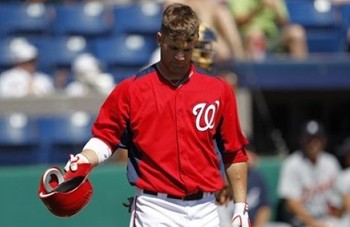 washingtonexaminer.com
When teams do pitch to Bryce Harper, they quickly discover his weakness.
Harper can't hit breaking balls, and he can't lay off them either. Teams will feed him a steady diet of breaking balls until he learns how to hit them.
Harper won't produce his projected power numbers if he never sees a fastball.
7. He Can Get Injured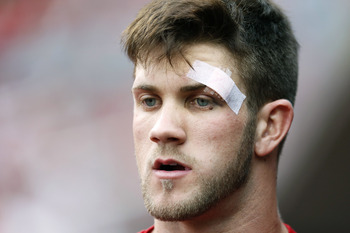 Joe Robbins/Getty Images
Bryce Harper plays baseball like he's Pete Rose, but playing with reckless abandon can lead to injuries.
He can't be one of the best players in the league if he's not actually playing.
6. No One Likes an Attitude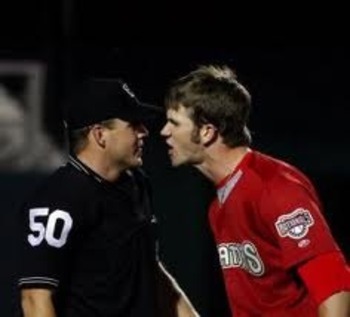 broadandpennsylvania.com
Bryce Harper has already built a reputation as a cocky teenage punk, and that will be hard to live down.
Fans won't soon forget the video of Harper blowing a kiss at an opposing pitcher after hitting a home run last season. The mohawk and war paint don't help either.
This attitude will alienate teammates, reporters and fans. But most importantly, it will scare off endorsement deals.
You can't be a superstar without a memorable ad campaign.
5. He's Not Named Stephen Strasburg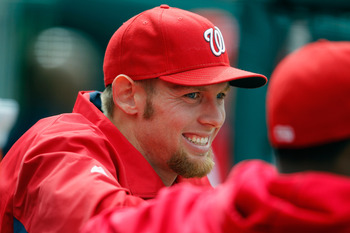 Rob Carr/Getty Images
Bryce Harper was one of the most hyped prospects in MLB history.
But he's not even the most hyped prospect on his own team.
By the time Harper debuted, Stephen Strasburg had made his own highly-publicized debut, grabbed the national headlines with his on-field performance, and been named the Nationals' Opening Day Starter for this season.
Strasburg has already won over the hearts of both Washington Nationals fans and baseball fans in general. He'll never be accused of having an attitude or being over-confident.
No matter how bright a star Harper becomes, he'll never outshine Stephen Strasburg.
4. Success Will Go to His Head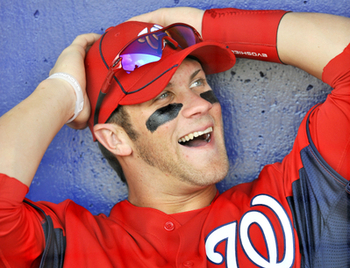 rotoprofessor.com
Bryce Harper has been told he is great for a long time. Sports Illustrated anointed him "Baseball's Chosen One" when he was only 16.
Sooner or later, he will believe what everyone's been telling him, if he doesn't already.
Harper's attitude is an issue now, but it will become worse when he starts living up to the hype on the Major League level.
3. He Parties Like a Rockstar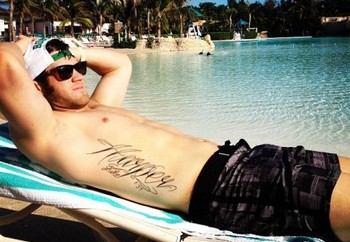 misterirrelevant.com
Bryce Harper is a highly recognizable 19-year-old living in a big city and spending half the year on the road. There will be plenty of temptations, and plenty of ways to get in trouble.
Harper has already said he wants to be the next Joe Namath. If he fully emulates his idol, his baseball career will suffer.
2. He Plays Baseball in Washington, DC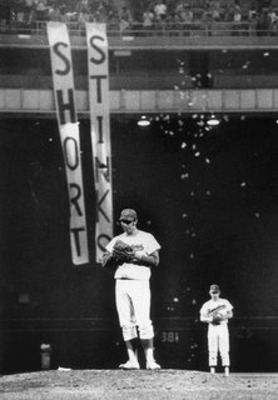 federalbaseball.com
Throughout the history of Major League Baseball, the biggest superstars have become synonymous with the cities they play in, like Derek Jeter in New York, Cal Ripken, Jr. in Baltimore, Roberto Clemente in Pittsburgh, Ted Williams in Boston and Stan Musial in St. Louis.
But Bryce Harper will never achieve that same iconic status, because he plays in Washington, D.C., and baseball in D.C. doesn't last.
Both previous Washington baseball teams left town, including the most recent incarnation in 1971. Owner Bob Short moved the Senators to Texas after only 11 seasons in Washington.
Even with the name "Nationals," this team may still suffer the same fate as the Senators. Departure of the Washington Nationals will leave a black hole in D.C., and Harper's star will fade as a result.
1. He Plays for a Cursed Franchise
thegoodpoint.com
The Expos/Nationals franchise has only made the playoffs once, and has never appeared in a World Series. The best record in franchise history was ruined by the strike-shortened season of 1994.
But it hasn't been for lack of talent. You can build a formidable All-Star team from the players who began their promising careers with this franchise: Gary Carter, Andre Dawson, Andres Galarraga, Randy Johnson, Larry Walker and Moises Alou.
Carter and Dawson are already in the Hall of Fame, and Johnson will soon join them.
But besides Carter and Dawson, none of these players became true superstars until they joined another team.
Harper's biggest roadblock to superstardom is the franchise he plays for.
Keep Reading

Washington Nationals: Like this team?