Bobby Valentine Wimps out on Criticizing Josh Beckett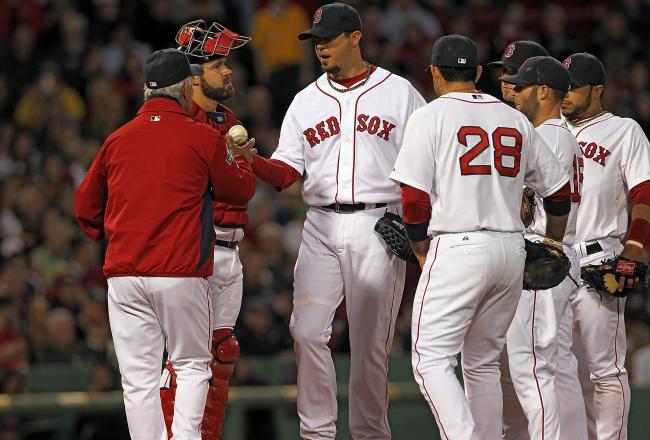 Here Bobby, going for some chicken and beer
Jim Rogash/Getty Images
You remember Bobby Valentine, don't you?
He was the brash, outspoken manager hired by the Boston Red Sox to replace Terry Francona, who won two World Series but apparently had lost the clubhouse.
Valentine might not have any World Series victories in his resume, but he was going to change the country club atmosphere in the Red Sox clubhouse and lay down the law.
No more chicken and beer.
No more inmates running the asylum.
And whether you like his style or not, Valentine lived up to his reputation when he made a calculated comment about Kevin Youkilis in mid-April, saying the Red Sox third-baseman was not "physically or emotionally into the game as he has been in the past..."
No one had ever questioned Youkilis' commitment or passion before; he was the last person that anyone figured Valentine would criticize.
Youkilis said he was confused, and Dustin Pedroia, speaking for his teammates, questioned Valentine's motives, adding, "that's really not the way we go about our stuff here. I'm sure he'll figure that out soon."
Apparently Valentine got the message. He apologized about his remarks, and then Youkilis went on the disabled list where he remains.
And the tail is wagging the dog again in Boston.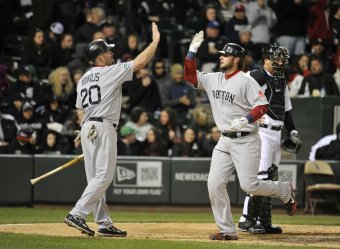 Bobby Valentine questioned Kevin Youkilis' commitment.
Brian Kersey/Getty Images
That's because the manager has defended Josh Beckett, the supposed ace of the staff who missed a start because of an injury and was out golfing the next day.
Bobby V. said he didn't know of any players who got injured playing golf.
Maybe not, but he might want to ask Tiger Woods and other PGA pros whether you can suffer knee, back and shoulder injuries playing golf.
Red Sox management has played deaf, dumb and blind to Beckett's ill-advised off-day venture to the golf course.
Beckett, who was shelled in his next start did not apologize or explain why he decided to play golf when he was too injured to pitch.
"I spend my off-days the way I want to spend them. My off-day is my off-day," Beckett defiantly told the media in a post-game interview.
Beckett makes around $17 million a year, and the Red Sox are saddled with him for three more years.
He was the ringleader of the beer-and-chicken controversy in which he and other Red Sox starters such as John Lester were eating fried chicken and drinking beer during games in the clubhouse.
This is the equivalent of Nero fiddling while Rome burned because the Red Sox collapsed last September and Beckett was unable to play the role of stopper.
It cost Francona his job and all he did was win two World Series and end the Curse of the Bambino.
The September collapse has led to a 2012 hangover. The hole the Red Sox are digging isn't too deep yet.
Things should improve when Youkilis and Jacoby Ellsbury return from the DL.
There's always the hope that Carl Crawford might be available during the second half of the year.
But you have to wonder about the pitching staff and what is going on between Beckett's ears.
Ownership and the front office have failed to scold Beckett for playing golf when he was too injured to pitch; Valentine has gone out of his way to defend him.
They might as well put chicken and beer back on the clubhouse menu.
The Red Sox will have to make the playoffs despite themselves.
This article is
What is the duplicate article?
Why is this article offensive?
Where is this article plagiarized from?
Why is this article poorly edited?

Boston Red Sox: Like this team?